In our previous discussion, we looked at the reasons vacuum technology is important to the thermal processing industry and discussed a few of the most common applications for vacuum furnaces. Here, we will talk about the major components of a batch vacuum furnace and briefly consider continuous (aka semi-continuous) vacuum furnaces. Batch vacuum furnaces are made up of various subsystems (Fig. 1): vacuum pumps; a hot zone complete with a heating source, insulation, hearth/load support structure; vessel or shell with structural support system; power components; and instrumentation.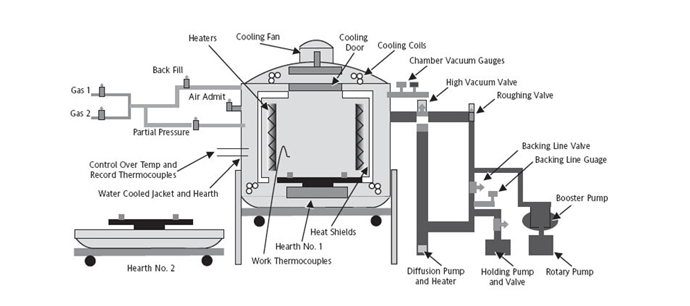 Vacuum Pump System
The purpose of vacuum pumps and the related components is to remove the air from the heating chamber. Although the vacuum pumping system does not remove all the air, the goal is to remove enough of the remaining air so that any oxygen present will not react with the material being processed in the furnace. There are two categories of pumps employed on typical vacuum furnaces: a primary pump with or without an optional booster pump (aka blower) and an optional secondary diffusion pump (Fig. 2).
For most batch vacuum systems, a combination of a mechanical pump (i.e., wet or dry pump) and booster pump will reduce the pressure to roughly 10-3 mbar (millibar) which is considered a medium to high vacuum. For reference, 1 bar is atmospheric pressure, whereas a millibar is 1 thousandth (0.001) of current atmospheric pressure. Therefore, 10-3 mbar is 1 millionth (0.000001) of atmospheric pressure. The primary pump is used for the initial pump-down from atmospheric pressure via the opening of a roughing valve. When the efficiency of the primary pump or primary pump plus booster pump drops off, the roughing valve is then closed and the poppet valve is opened to the secondary (diffusion) pump. The secondary pump is designed to reduce the pressure to very high or ultra-high vacuum, as low as 10-10 mbar.
A vacuum furnace using only a primary pump will remove enough air to prevent surface reactions (i.e. discoloration) when heat treating typical stainless steels or tool steels. However, more reactive metals like titanium and many superalloys require very high vacuum levels and therefore a secondary pump (most commonly an oil diffusion pump) is necessary. Diffusion pumps are recommended for many vacuum brazing applications and are considered an important accessory for most batch vacuum furnaces (or at least a port for the future addition of a diffusion pump).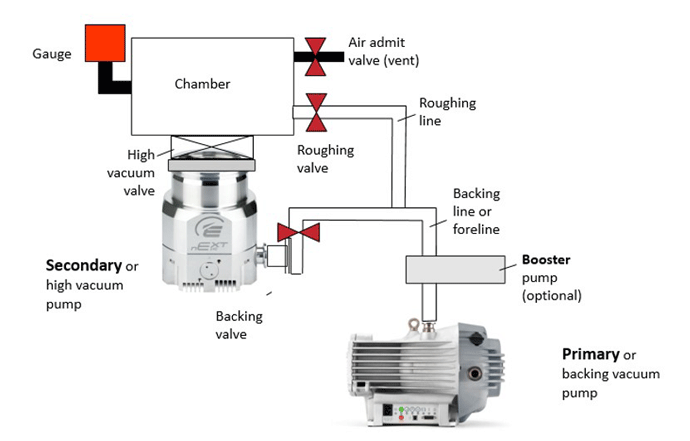 Hot Zone
The vacuum furnace hot zone consists of four subsystems: the insulation system, the heating elements, the hearth/load support system, and the structural shell that surrounds and supports the furnace (Fig. 3). In most cases, the hot zone, by design, is removable from the vacuum chamber for maintenance, repair or replacement. Since the design of the hot zone greatly influences the equipment's performance, various material choices (all metal, all graphite, combination) and construction methods are selected for different temperature ranges and applications.
Insulation
The hot zone insulation system is designed to minimize the heat transfer through the furnace wall and keep the heat inside the furnace. Since vacuum furnaces operate at temperatures up to 3000°C (5400°F), the insulation system is very carefully engineered to reduce heat loss by all three modes of heat transfer (radiation, conduction, and convection).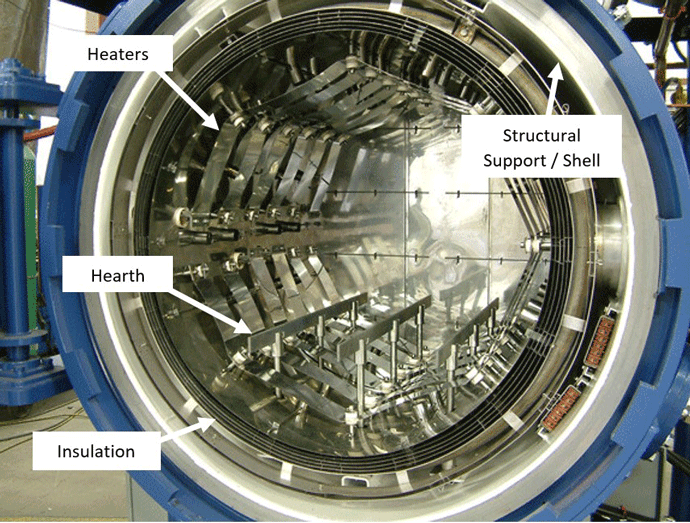 There are several insulating system designs common in vacuum furnaces: all-metal insulation, all-graphite insulation, and composite designs integrating both metal and graphite. The all-metal insulation system utilizes several layers of heat shielding, with air gaps between each layer (Fig. 4). Each layer serves to reduce radiant heat transfer with each shield having a cumulative effect. A common shield arrangement for a furnace rated at 1315ºC (2400ºF) is two molybdenum shields backed by four stainless steel shields.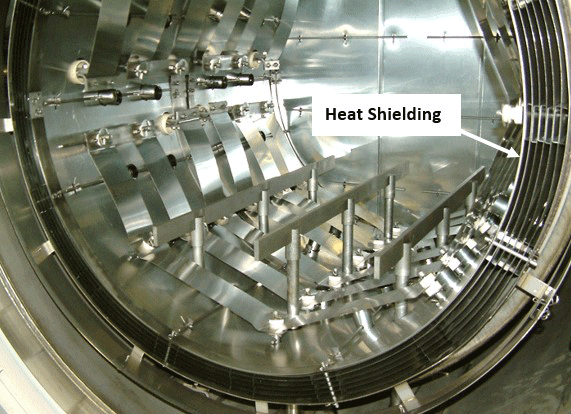 Due to its high-temperature resistance, graphite insulation is often utilized in furnace construction. A typical graphite insulation system employs 38 – 50 mm (1.5 – 2.0 inches) of insulating graphite board or blanket material, with an inner layer of graphite foil or foil-bonded carbon composite, for reduced emissivity (increased reflectivity) of the radiant heat. Graphite insulation offers superior insulating properties and is typically less expensive than all-metal hot zones. However, graphite carries a slightly higher risk of heat zone contamination due to trapped gases such as water vapor within the insulation, as well as possible outgassing or breakdown of the graphite.
Heating System
Vacuum furnaces are almost exclusively heated with electric resistance type elements. The choice of electric heaters is based on the furnace's maximum operating temperature. Nickel-chromium alloyed heaters are typically utilized at low temperatures, and graphite or molybdenum varieties are employed in higher temperature applications like hardening or brazing. Tantalum and graphite are used in applications above 1482°C (2700°F) since they have a higher melting point and better corrosion resistance. In the past, molybdenum was the most common element material, but this changed as graphite technology improved making graphite a popular option today. The heaters are typically mounted in a 360° octagonal arrangement or curved strips (Fig. 5) that fully surround the load to provide good temperature uniformity.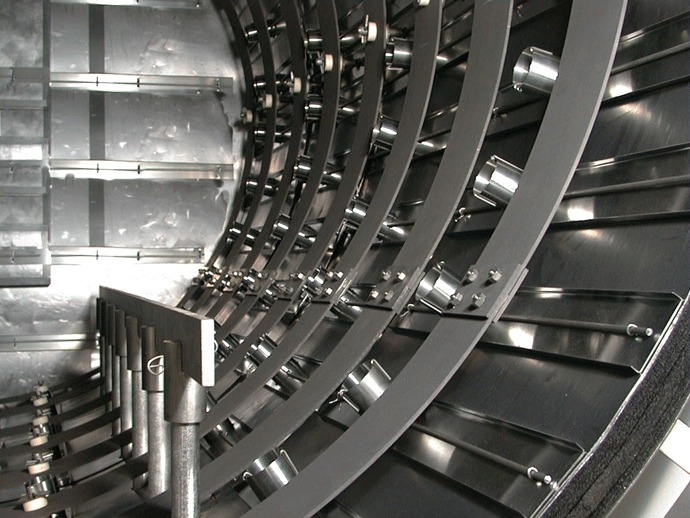 Hearth/Load Support System
The furnace hearth consists of multiple support rails that are mounted parallel to the furnace length, with spaces in between to allow clearance for loading via fork truck or other means (Fig. 6). Posts through the furnace floor support the weight of the load, transferring it to the exterior furnace structure below. Vacuum furnace hearths are most commonly made of graphite or molybdenum.
In the graphite design, the hearth rails are often slotted on top to contain molybdenum or ceramic rod inserts. This minimizes the possibility of load contact reactions such as eutectic melting, which is localized melting of the load in the area of contact with the graphite. Other solid-state diffusion reactions are also avoided.
Molybdenum has a higher strength than graphite. Therefore, a molybdenum hearth can be lighter than a graphite hearth rated for the same load weight. This allows for faster furnace heating and reduces the heat input required. However, graphite hearth rails are generally less expensive than molybdenum but less durable. There are new, more expensive graphite hearth materials available that have greatly improved durability, but their cost can exceed that of molybdenum. Molybdenum is susceptible to warping after repeated heating, is brittle and can be damaged by a sudden impact. It must occasionally (and very carefully) be hot straightened. Graphite hearths do not have this drawback and will maintain their shape over time.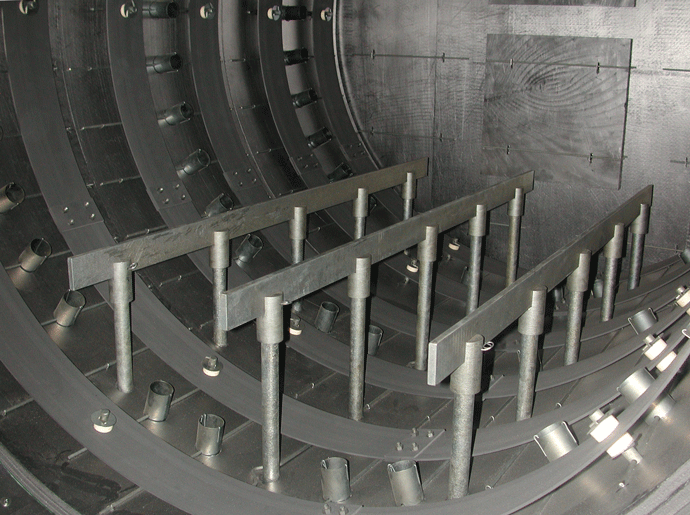 Furnace Structural Support System
Vacuum furnaces utilize an exterior shell, usually cylindrical, that supports the insulation system, load hearth, and heating elements. This shell can either be plain carbon steel, stainless steel or, in some cases, aluminum. The cylindrical design is more common than rectangular due to its inherent strength in resisting the pressure of the atmosphere on the shell exterior while the equipment is under vacuum. A vacuum furnace experiences tens of thousands of kilograms of collapsing force while under vacuum. A double wall construction, with an annular spacing of 25 – 38 mm (1 – 1.5 inches) is common so that a coolant (water or a water/ethylene glycol mixture) can be circulated between the interior and exterior walls of the shell. The cylindrical shape takes advantage of the same principle used in dam design (Fig. 7), whereby the dam wall is arched so the water pressure exerts a compressive force to the wall as it transmits the force to the foundation or abutments.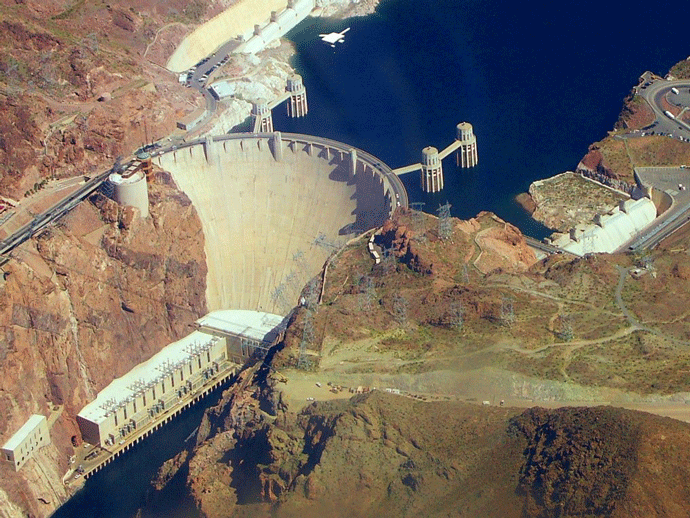 Vacuum Furnace Power and Instrumentation Control System
A vacuum furnace control system uses a closed-loop controller in conjunction with SCR power controllers to provide PID (proportional, integral, derivative) control of the furnace temperature. In addition to temperature, the furnace control system must also control the machine functions such as vacuum, backfill gas control, and shell cooling. A hybrid controller or PLC is commonly used for this. More advanced furnaces incorporate a supervisory control and data acquisition (SCADA) system to record temperatures, collect maintenance and alarm data, and provide recipe storage. This type of system typically incorporates a large color touchscreen operator interface (Fig. 8) designed for use in a factory environment.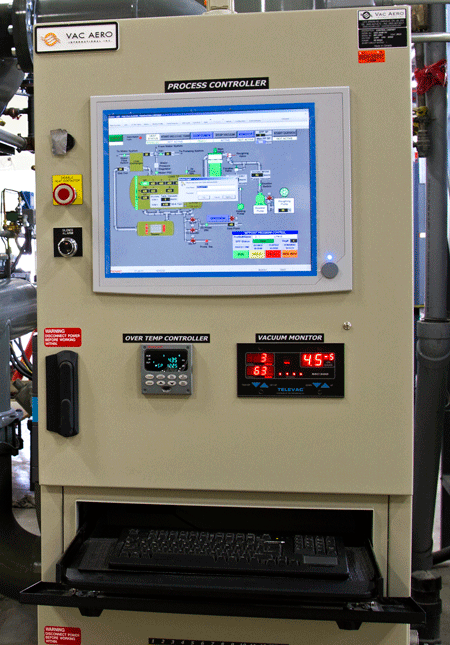 The system is often connected to the company's network to make process information accessible to operators and engineers throughout the organization. A modem can be included to allow remote offsite problem diagnosis or debugging by equipment vendors. The systems can also be designed to send an email in the event of an alarm condition or end of a cycle.
Continuous Vacuum Furnaces
Although the majority of vacuum furnaces utilize a batch configuration, for some applications a continuous design can be advantageous. Continuous vacuum furnaces function in a semi-continuous manner where the load is processed through multiple heating zones sequentially and commonly utilize a pusher system to move the load from one chamber to the next. The continuous vacuum furnace consists of different modules connected in an in-line manner: the load module, heating module(s), cooling or quench module, and unload module. Each module is separated from the others by a vacuum-sealed door.
The first module (called the load module) accepts the incoming cold load. After the door closes, a vacuum is drawn on the load module while it contains the unheated load. Next, the load is transferred from the load module into the heating module(s) for the heating process to be performed. Typical continuous furnaces utilize from one to six heating modules. The heating modules are put under vacuum prior to the load entering, so the load is not exposed to the factory atmosphere during the transfer.
After being processed through the heating modules, the load enters the unload module, which works similar to the load module by using an intermediate door to isolate it from the heating modules. Some furnaces incorporate an oil or gas quench prior to the load entering the unload module, providing similar quenching capabilities to a batch furnace. Another design cools the load in a cooling module while maintaining vacuum. In this design, a water-cooling jacket cools the shell of the cooling module, and the load releases its heat via radiant heat loss.
Due to the material handling systems and the multiple modules required, continuous vacuum furnaces carry a higher price tag than batch designs but can offer higher throughput productivity. These costs and complexities can only be justified if running large quantities of identical or similarly sized parts. Continuous vacuum furnaces are not economical in small or medium lot production lines due to the high capital requirement and large footprint. In addition, the user is vulnerable to downtime in the event of equipment failure or maintenance. This is in contrast to a scenario where several batch furnaces are incorporated to handle the same load volume, and failure of one furnace does not bring the entire heat treat line to a halt. Some applications for continuous vacuum furnaces include hardening of high-speed steel, sintering and low pressure carburizing.
Summary
Whether your choice is a batch or continuous style furnace, knowing the various features of the design, their advantages and limitations is critical to successful operation. Each design requires its own unique maintenance requirements so the ultimate decision should be based on application and productivity.
References:
1. Vac-Aero International (https://vacaero.com)
2. Edwards Vacuum (https://www.edwardsvacuum.com)
3. Wikipedia (www.wikipedia.org)