By Dan Herring
We continue our discussion of ways to improve vacuum performance by understanding how to maximize the operation of our vacuum systems.
Tip #2: Select The Right Vacuum Level for the Job
When selecting the right vacuum level (Fig. 1), one must ask oneself, "What type of vacuum level does my application require?" For example, while many vacuum systems using modern high speed pumps can, in a clean, dry, empty and outgassed chamber, reach vacuum levels as low as the 10-9 torr range, we must ask ourselves, "Is this level of vacuum really necessary?" Remember, either too low or too high a vacuum level could result in undesirable surface conditions – from vaporization of elemental constituents to oxidation of surfaces causing rework or even scrap.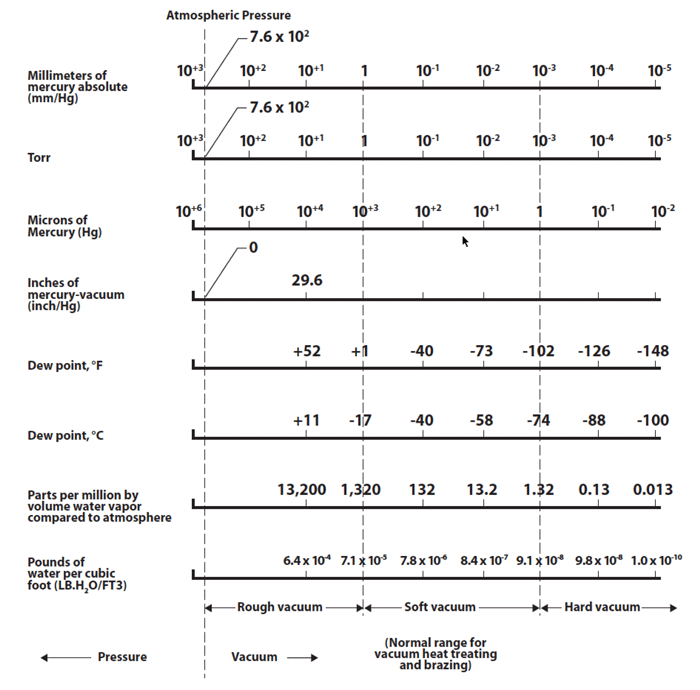 In general, applications involving vacuum heat-treating can be broken down into four main (4) categories:
Processes that can be done in no other way than in vacuum;
Processes that can be done better in vacuum from a metallurgical standpoint;
Processes that can be done better in vacuum from an economic viewpoint;
Processes that can be done better in vacuum from a surface finish perspective.
The more molecules that are removed from a vessel, the better the vacuum. The quality of a vacuum is described by the degree of reduction in gas density (i.e. gas pressure). In the field of heat-treating, processes are normally carried out in four (4) of the six (6) classifications of different vacuum levels (Table 1). Most heat treatment processes (e.g. hardening, brazing) are carried out at intermediate or so-called "soft" vacuum levels. The majority of applications are processed in this intermediate vacuum range. By contrast, at 200 miles above the earth the vacuum in space is 1 x 10-8 torr. At 400 miles it is 1 x 10-10 torr and in deep (or outer) space is 1 x 10-16 torr.

Notes:
[a] The SI unit of pressure is the Pascal (1 Pa = 1 N m
-2
)
[b] Normal atmospheric pressure of 1 atmosphere is 101,325 Pa or 1013 mbar (1 bar =10
5
Pa)
[c] Normal atmospheric pressure of 1 atmosphere is 760 Torr (1 Torr = 133.3 Pa)
[d] Ultrahigh vacuum is defined as the pressure range between 10
-6
Pa (Europe) and/or 10
-7
Pa (USA) to 10
-10
Pa.
Finally, an integral part of the pump selection process is detailing what you need your vacuum system to do. An important question to ask up front: "Do you need to protect the process from the pump (e.g. hydrocarbon contamination) or perhaps you need to protect the pump from the process (e.g. the ingestion of a potentially explosive or corrosive, dirt or contaminant mixture)?" Other questions for consideration may include asking yourself, "Will the pumping system only be required to pump down a chamber to a certain vacuum level and then be taken off line or will it remain at the attainable blank off pressure?" Perhaps you need the vacuum system to handle a specific mass flow while holding at a specific pressure (e.g. low pressure vacuum carburizing). Maybe you need rapid pump down to crossover pressure of a secondary vacuum pump and then the system will be used in series to back a secondary vacuum pump such as a vapor booster or diffusion pump. Often the vacuum system will execute a pump down and then hold at vacuum under specific mass flow conditions or maybe rapid cycling from atmosphere to vacuum is required. Once these factors are determined, the right pumping system can be selected for the required vacuum level.
Tip #3: Avoid Eutectic Melting
Eutectic melting (Fig. 3) occurs when two (2) elements of a specific chemical composition melt at a lower temperature than any other composition of those elements. The temperature at which this occurs is called the eutectic temperature and the composition at that temperature produces a eutectic point (Fig. 4). For example, carbon and nickel react by melting at temperatures as low as 1326°C (2421°F) and cause localized (i.e. eutectic) melting.
Since nickel is a common element in many steels (particularly stainless steels), these materials should not be allowed to come into contact with graphite hearths or fixturing materials during heat-treating or during bake-out cycles. For this reason, graphite hearth rails are usually designed to accommodate ceramic or molybdenum inserts that separate the load from the graphite. Severe eutectic melting reactions can cause extensive damage to workloads and furnace hot zones.
| | |
| --- | --- |
| | |
| Figure 3 – Eutectic Melting of M62 Tool Steel at 1175°C (2150°F) Due to Contact with Carbon (Soot) Present on the Baskets | Figure 4 [3] – Phase Diagram Depicting the Eutectic Composition, Temperature and Point |
To avoid damage, it is best to understand the alloys, which you will be heat-treating and the materials of construction of your vacuum furnace. In particular it is important to know the eutectic melting temperature (or temperature range) or any suspect combination of elements. See Reference 3 for a complete listing of eutectic melting temperatures. Once this information is known it will be possible to separate potentially reactive materials from each other by the use of completely non-reactive insulators.
There are several choices for protecting parts including high purity ceramics such as aluminum oxide or zirconium oxide. These are often available in the form of papers, cloth blanket, plates or other solid shapes upon which the work pieces can be placed. It should be noted that some ceramic papers and cloths are hydroscopic (i.e. retain moisture) and can release fiber particles that can lead to deleterious effects on vacuum pumping systems. Ceramic materials are also available in the form of stop-off paints that can be applied liberally to furnace baskets, grids or other fixtures. These coatings must be inspected and touched up regularly as they will deteriorate with use. The same materials can be applied by plasma spray. This process provides a thicker and more durable protective finish but is slightly more expensive than the paint-on versions
Tips For Improving Vacuum Performance & Operation, Part 1, Part 2, Part 3, Part 4, Part 5, Part 6, Part 7.
Reference
Herring, Daniel H., Vacuum Heat Treatment, BNP Custom Media Group, 2012.
Luby, Jeffrey P., How to Select the Right Pump for the Application, Industrial Heating, 2006.
Critical Melting Points and Reference Data for Vacuum Heat Treating, Osterman, Virginia and Harry Antes, Jr. (Eds.), Solar Atmospheres, Inc., September 2010.
The Vacuum Technology Book, Volume 1, Pfeiffer Vacuum
---
Daniel H. Herring / Tel: (630) 834-3017) /E-mail: [email protected]
Dan Herring is president of THE HERRING GROUP Inc., which specializes in consulting services (heat treatment and metallurgy) and technical services (industrial education/training and process/equipment assistance. He is also a research associate professor at the Illinois Institute of Technology/Thermal Processing Technology Center.