By Dan Herring
We continue our discussion of ways to improve vacuum performance by understanding how to maximize the operation of our vacuum systems.
Tip #5: Diffusion Bonding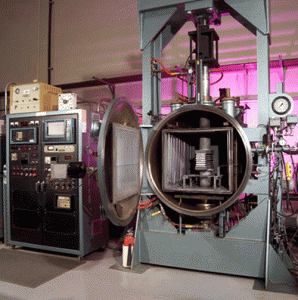 Diffusion bonding is a solid-state joining process involving both vacancy and interstitial diffusion of atoms between surfaces in intimate contact with one another. The process is capable of intentionally bonding together a wide range of metal and/or ceramic part combinations, forming strong metallurgical bonds. Applications include hot compacting of oxides, nitrides, borides, carbides, sulfides and their mixtures to near theoretical densities as well as sintering ceramics and powder metals.
Diffusion bonding processes often involve vacuum hot pressing of multiple stacked component layers. Since many metals are easily oxidized, the process is commonly run in specialized vacuum furnaces (Fig. 1) operating in the range of 10-2 to 10-5 torr or in a special partial pressure atmosphere. A typical hot-press furnace system can operate at temperatures from 500°C – 1650°C (930°F – 3000°F) with up to 15 tons (30,000 lbs.) of compacting force. Other systems are capable of extending the maximum operating temperature, pressure and vacuum levels.
In diffusion bonding, the metal parts are held together under an applied force while they are heated, causing atoms from each part to diffuse to the other. Unlike brazing, no filler alloy is used. Diffusion Bonding is used instead of brazing for many end-use applications where the use of a filler alloy might compromise intricate features and/or vacuum integrity of components. It is also used where the temperatures of the end-use application are very high and there would be risk of the alloy material's softening and the joint's weakening in service.
Pressing conditions depend on type of metal matrix, for example bonding composite copper – tungsten wires involves temperatures of 700°C (1300°F), pressures of 100 MPa, and times of around 600 seconds while bonding composite aluminum – boron fiber involves temperatures of 450°C (840°F), pressures of 40 MPa, and times around 600 seconds.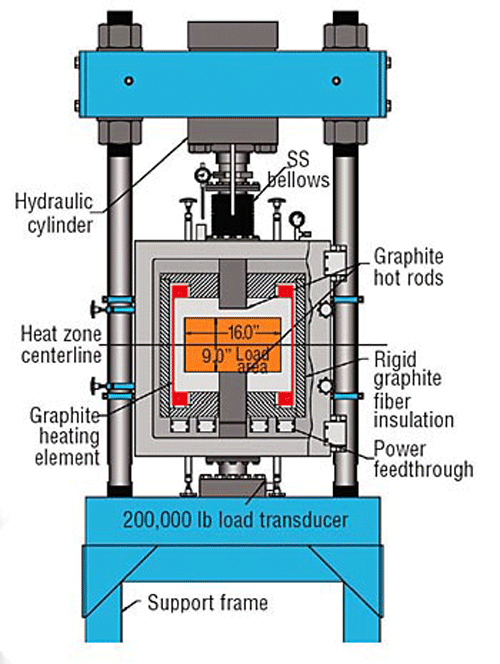 The five key parameters required for effective diffusion bonding are:
Cleanliness of the parts
An inert or oxygen-free atmosphere
The unilateral application of force holding the components in contact with each other
Temperature
Time at temperature
In those instances, however, where our intent was not to join components together, diffusion bonding can be an unexpected problem.
In vacuum processing, metal surfaces remain very clean and free of oxides. When these near-perfect surfaces are in contact with each other or other surfaces (e.g. baskets or fixtures), certain elements have a tendency to interact between these surfaces via solid-state diffusion (i.e. interstitial diffusion of atoms across the interface). The result is that the parts "stick" together or stick to the baskets or fixtures, the equivalent of being welded on a microscopic level. In some cases the effect is minor and a slight tapping of the components separates them and the surface "damage" is inconsequential. In other cases, parts are fused together so strongly that the surfaces have to be literally ripped apart, ruining the components.
In most metals, the presence of oxide layers at the surface will affect the ease of diffusion bonding. For some metals and alloys, their oxide films either dissolve in the bulk of the metal or decompose at the process temperature (e.g. steel, copper, titanium, tantalum, columbium and zirconium), and so metal-to-metal contact can be readily established at the interface (Fig. 3). However, if the oxide film is chemically stable, as for aluminum alloys, then the chances for diffusion bonding to take place are limited.
The loads involved are usually below those that would cause macro-deformation of the parent material(s). Temperatures of 50% to 90% of the absolute melting point (0.5-0.9Tm where Tm is the melting point in ºK) are needed. Time at temperature for the effect to take place can range from as little as one (1) minute to sixty (60) minutes or more. This depends upon the materials being bonded, the joint properties required and the remaining bonding parameters.
An example of diffusion bonding is when loads of saw blades or knives are packed closely together in fixtures so as to minimize distortion during vacuum processing. This pressure, in combination with high temperature, is enough to cause sticking to occur, even though partial pressures of nitrogen are commonly used. In most instances, the parts can be tapped gently and separated. In extreme cases, they bond together and must be scrapped. To negate the effects of diffusion bonding, partial pressure levels can be set high enough to prevent inter-surface diffusion or coatings (e.g. magnesium oxide or boron nitride) can be applied to the part surfaces in question to prevent sticking from occurring.
Figure 3 [5] – The Mechanism of Diffusion Bonding

(a) Initial 'point' contact, showing residual oxide contaminant layer

(b) Yielding and creep, leading to reduced voids and thinner contaminant layer

(c) Final yielding and creep, some voids remain with very thin contaminant layer

(d) Continued vacancy diffusion, eliminates oxide layer, leaving a few small voids, which ultimately disappear as bonding is complete.
Tips For Improving Vacuum Performance & Operation, Part 1, Part 2, Part 3, Part 4, Part 5, Part 6, Part 7.
Reference
Solar Atmospheres (www.solaratm.com)
Centorr Vacuum Industries (www.vacuum-furnaces.com)
Rogers, Bill, Hot-Press Furnace Systems Handle Extreme Operating Conditions, Industrial Heating, September 2004.
McCurdy, Kevin J., Vacuum Furnace Maintenance – Brazing and Sintering, ASM International Vacuum Maintenance Seminar, Anaheim, CA, 2008.
Vacuum Process Engineering (www.vpei.com)
Herring, Daniel H., Vacuum Heat Treatment, BNP Media II, 2012.
---
Daniel H. Herring / Tel: (630) 834-3017) /E-mail: [email protected]
Dan Herring is president of THE HERRING GROUP Inc., which specializes in consulting services (heat treatment and metallurgy) and technical services (industrial education/training and process/equipment assistance. He is also a research associate professor at the Illinois Institute of Technology/Thermal Processing Technology Center.