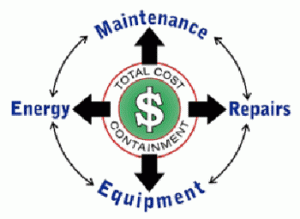 Today, the maintenance of heat treatment equipment is a point of major emphasis and this is especially true for vacuum furnaces. Over the next few articles we will explore various aspects of vacuum furnace maintenance providing useful tips and practical techniques to simplify the work and make sure that it is done correctly.
Let's begin by understanding the importance of the role of maintenance, and more specifically, how planned preventative maintenance is helping to manage the overall cost of equipment operation (Fig. 1).
Accepting the Inevitable
Maintenance is a fact of life for heat treat equipment. In general, the cost of maintenance increases dramatically as the operating temperature increases and/or the process environment becomes more severe (e.g. carburizing versus hardening). This remains true in vacuum furnaces despite the fact that they are often operated below their maximum temperature ratings. As with all equipment, some styles and designs require more attention than others. It is interesting to note, however, that construction of heat treat equipment can often be classified as "heavy duty" or "light duty" by the amount of maintenance required. Of course, if any furnace is operated outside their design limitations, this almost always translates to a need for more extensive maintenance.
A great deal of money can be spent – and wasted – if careful thought and clear understanding of the equipment design as well as the extent of the repair is not taken into account. Not taking the time to determine the root cause of why a component failed can have disastrous bottom line consequences.
Proper maintenance maximizes "up-time" productivity, and the utilization of planned preventative maintenance programs result not only in better equipment reliability but in improved process repeatability and control – essential to producing good parts with consistent metallurgical and mechanical properties.
Once management understands, accepts and budgets for maintenance expenditures, the operation of all heat treating equipment and especially vacuum furnaces become far more reliable.
Which Type of Maintenance Program is Right For Me?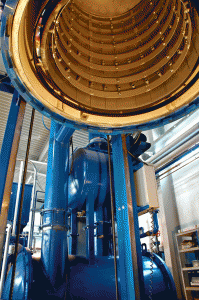 Over the years, two distinct styles of maintenance practices have emerged in the heat treating industry, namely "planned preventative maintenance programs" and "repair as needed" strategies. While each approach has been found to require similar costs to perform, the trend today is toward planned preventative maintenance programs to better match the production demands of modern manufacturing.
A planned preventative maintenance program involves the following: Planning the activity, Executing the plan, Evaluating the results of the maintenance effort and Revising the plan to make it better going forward (the PEER system). This includes the following activities:
Identifying essential spare parts (via critical spare inventories)
Monitoring of component usage times (via hour meters)
Detailed record keeping
Root cause determination when problems do occur
Complete explanation of repairs (why, what, where, when and how)
Establishing Mean Time Between Failure (MTBF) of critical components
For success of any planned preventative maintenance program, it is critical to:
1. Understand the external constraints imposed on you with respect to such issues as:
a. Equipment usage
b. Budget
2. Understand the equipment being serviced, in other words:
a. How should it operate?
b. How is it working now?
3. Tailor the plan to meet realistic expectations including:
a. Identifying critical spares and have them in stock
b. Understanding which spares must come from an OEM provider and which spares can be purchased from third-party suppliers
4. Divide the furnace and work effort into manageable parts serviced by specific disciplines.
a. Focus on those components or assemblies (internal or external) that are critical to the functionality of the operation.
b. Do an exterior and interior review and observe how components interact.
5. Put the repair information into usable (i.e. searchable) and retrievable form.
a. Review needs with management
b. Get feedback through team meetings
c. Revise the plan as needed
6. Establish a mean time between failure for key components
a. Conduct cause and effect analyses
b. Determine the root cause of a failure (don't just fix the obvious)
7. Be disciplined
a. Realize the benefits by having a carefully structured, rigorously adhered to program (this is not punishment but prevention)
8. Do the job right (or not at all)
a. Have the tools and supplies on hand to succeed.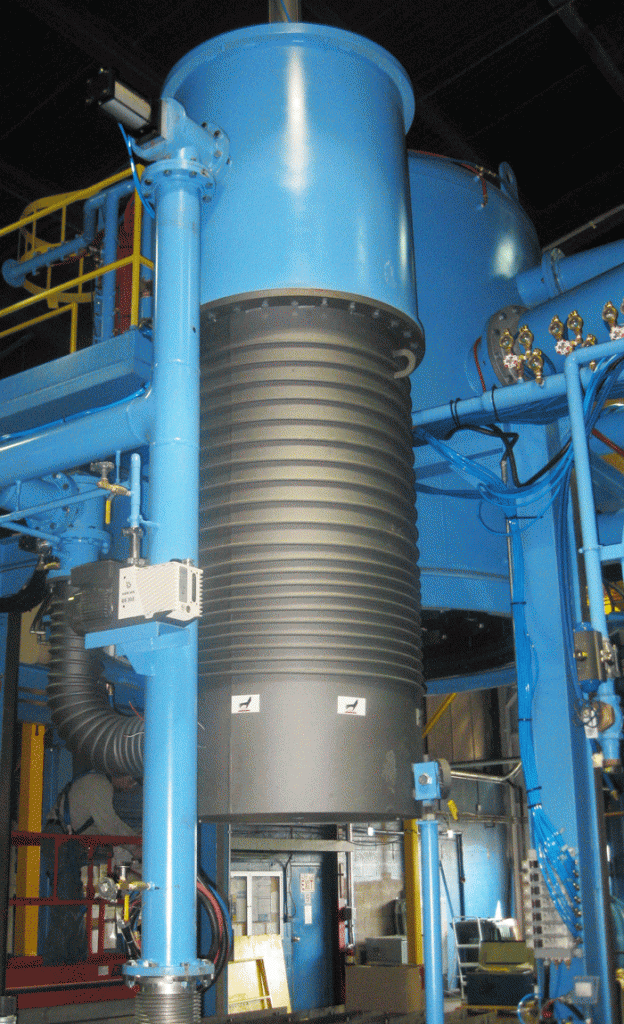 Good electronic record keeping is an important element of today's planned preventative maintenance programs. An operational logbook as well as a detailed maintenance log should be kept and every action noted. A key aspect of these logs is that they should be reviewed periodically to look for trends, identify problem areas, and used to gain a better understanding of the types of maintenance (and personnel skills) that are required.
Record Keeping
Having the correct spare parts, detailed construction drawings, and the right tools on hand is essential to minimizing downtime. Support by the plant engineering staff, the original equipment manufacturer (OEM) or a third party is often necessary. Remember, successful planned maintenance is a team effort.
But what happens if you buy a used furnace or "inherit" a piece of equipment from another location? First, try to gather as many facts as possible about its history. For example, find out when it was built, for whom, and for what application it was originally intended. Ask the OEM to look at his spare parts records to identify both the type and frequency of parts sales. This is a good first indictor of places to look for problems. Obtain a copy of the instruction manual and obtain as many detailed prints as possible (there is often a fee for such items).
Next, completely inspect the unit, inside and out. Look for the obvious, and ask yourself the reason for everything you see (and don't see). Last, don't rush the equipment into service. Measure and record such items as the speed of moving components, for example doors or load transfer mechanisms and elevators. Once operational, record pumpdown speed, leak rate values, current draws, incoming voltage and power gas usage, and install hour meters, energy monitors and other reporting devices. In other words, learn as much about the normal operation of the equipment as possible before putting it in service, so that you can monitor changes and quantify degradation that occurs over time.
Establishing a PM Plan
Divide and conquer. Begin by understanding the heat treat process(es) you will be asking the unit to perform and compare these to the design ratings/limitations of the equipment, items such as:
Temperature Rating

Normal and maximum operating temperature
Cyclic operating conditions
Idling conditions

Loading

Load size including volume or weight limitations
Load distribution and the necessity for load ballast
Maximum and minimum gross load weight as a function of temperature

Atmosphere Requirements

Type and function of gas(es) – partial pressure and backfill
Gas flowrate, pressures, etc.

Quench Requirements

Type of quenchant
Volume of quenchant – if a liquid (in relation to gross load weight)
Quenchant temperature
Flow characteristics of the quenchant around the part

Special Requirements

Baskets & fixturing
Quench restrictions
Access & site ports
Water systems

Design Specific Features

Special features
Support/ancillary items (heat exchangers, water circulating systems, etc.)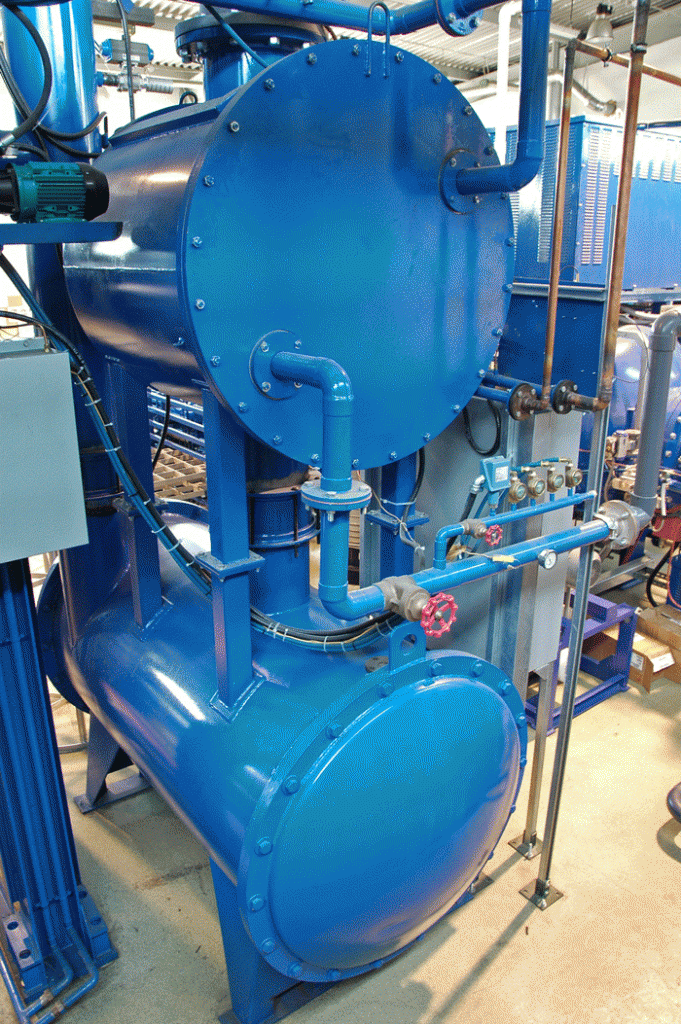 Now take the time to divide the equipment into logical "sections" so that the maintenance on each of these areas focuses on those components or assemblies that are critical to their functionality (and ultimately that of the entire machine). Then walk around the exterior and inspect the interior. Note: confined entry training/permits may be required. Observe how all components interact. This takes a surprisingly short amount of time and yields a significant amount of information.Next, understand the "external" constraints being placed on the equipment (usage, budget, etc.). These factors are important in tailoring your plan to meet expectation. Identify critical spare parts and have them in stock. Understand which spare parts must come from the OEM manufacturer and which ones can be purchased through alternative suppliers.
Finally, put this information into a useable form (such as a spreadsheet), review with management, and implement your planned preventative maintenance program. Remember that feedback and refinements to the plan will occur constantly. Make sure that the reasons for the changes are captured in the documentation for later use, and make the system independent of changes that will inevitably occur in either the maintenance department, the heat treat department, or in management.
Establish a mean time between failure (MTBF) for critical components and be sure to conduct a "cause and effect" analysis whenever a part fails prematurely.
In order to realize the benefits of a planned preventative maintenance program, irrespective of the type of equipment being used, a carefully structured, well disciplined, and rigorously plan must be created, implemented and followed. It is amazing how, years later, many plants struggle to performance maintenance on older equipment because of poor record keeping.
Finally, understand that the frequency of maintenance (i.e. interval between routine repairs) is highly dependent on such factors as:
The type and number of heat-treating processes performed;
Skill level of the operators and maintenance personnel;
Equipment design;
Quality of prior maintenance;
Type of spare parts used;
Type of support structure.
Heat Treat Checklist
Here is a list of questions that should be asked in order to determine if your heat treat or Heat Treater has the process under control and is operating equipment that is properly maintained.
Is the overall operation in control?

Are written instructions, operating procedures and all rules & regulations being utilized on a daily basis or do they exist only for show?
Are all procedures understood by the workforce or only by management?
Are the heat treat practices being used effective?
Is maintenance planned (predictive maintenance) or does it occur only when machinery breaks? Are the repairs patchwork fixes or permanent solutions to the problem, which caused them to occur?
What types of quality control checks being made on the furnace daily? Weekly? Monthly? Semi-annually? Annually?

How effective is the pre-cleaning of parts?

Are the incoming parts clean?
How are they being cleaned?
How effective is the cleaning method?
How well is it controlled?
How often is it monitored?
Is a bath chemistry check performed?
How often are the washers monitored for proper concentration and pH?
How are the washers being cleaned?
Are oil skimmers in use and are they properly maintained?

How often is the furnace inspected?

What method(s) is used?
What are the criteria for acceptance?
How effective are the inspections?
Are they frequent enough?
Does the process parameters remain steady state or do they fluctuate?
What method is being used to check the furnaces for leaks?
What type of thermocouples are being used?
Are they adequate for the temperature range being run?
When maintenance is performed on thermocouples are their insertion depths per equipment manufacturer's recommendations?
Has the insertion depth of the thermocouples changed?
When is the last time a temperature uniformity survey (of the workload area) was performed?

With respect to the quench system

How is the quench gas or oil being monitored?
How is the quench gas or oil being controlled?
Is the degree of agitation sufficient for the quenching operation being performed? How is the quench gas being introduced into the chamber and is there any signs of damage?
How often is the quench oil sent out for analysis?
How is the quench media checked for particulates?
Is the motion of the elevator (batch integral quench vacuum furnaces) smooth and quick (2 – 3 seconds being typical)?
How often is the quench tank serviced?
How much "drag out" (removal) of quench media occurs?
What is the transfer time of the workload to the quench?
What type of quench tank maintenance is performed and how often?

Are trays, baskets, screens and other fixtures/racks being inspected?

What is the transfer time of the workload to the quench?
Is proper inspection and maintenance of tray sensors being performed? If they are cracked or sticking, trays will cause jamups or otherwise damage the interior of the furnace.
READ MORE: Maintenance of Vacuum Furnaces – Part  One | Part Two | Part Three
References
Herring, Daniel H., Equipment Maintenance Presentation, Furnaces North America 2014, Nashville, TN, October 2014.
Herring, Daniel H., Vacuum Heat Treatment, BNP Media Group, 2012.
---
Daniel H. Herring / Tel: (630) 834-3017) /E-mail: [email protected]
Dan Herring is president of THE HERRING GROUP Inc., which specializes in consulting services (heat treatment and metallurgy) and technical services (industrial education/training and process/equipment assistance. He is also a research associate professor at the Illinois Institute of Technology/Thermal Processing Technology Center.