For those of us who participate in the Heat Treatment group of LinkedIn (https://www.linkedin.com/groups/1855932), which by the way is 8795 members strong (!), an important vacuum processing question was recently asked and what follows is a stimulating exchange of ideas, suggestions and good advice. Here's a recap of the lively (and very timely) exchange that took place, which illustrates the mentoring nature of our industry. Specifically:
Question: Staining of titanium parts after vacuum heat treatment following a gas quench, your thoughts on possible causes and remedies?
– Adrian Goodbrand, CEng, Product Sales Manager at Vacuum Furnace Engineering Ltd
[2 hours later] "It would sound like your process quench gas is contaminated. Get your gas supply company to do a gas analysis on the quench gas buffer tank. I have had that experience. It is not so much in your furnace, but in your buffer tank."
– David Pye, Consultant
[12 hours later] "You have a lot of possibilities: 
INTERNAL of the furnace
- leak on the furnace depending of the temperature/pressure/part moving (O'ring of a cylinder / heat feedthrough /scratch on a cylinder),
- a retrodiffusion of the secondary vacuum (if it's a diffusion pump) with many sources too
 – or a degasing piece (old or replacement or introduced by misfortune) …
EXTERNAL of the furnace : gas as mentioned before, or something on the process before the step of the furnace changed.
Good luck and if you find it, come back to us !"
– Christophe Brault, Mechanical/Industrial Engineer, Lyon France
[13 hours later] "From prior experience, when quenching close to atm [atmospheric pressure], if the door seal or the overpressure valve seal have become embrittled (per say [sic]), and have lost their quick viscoelastic response, air enters the vessel in very small quantities, and can give you very colored parts. The coloration however does not always translate into Alpha Case. Good luck!
– Andres Virgen, Metallurgist and Materials Engineer, GKN Aerospace
[13 hours later] "The proportion of this coloration, the location on pieces compared to their position inside the furnace, the repeatability…?
 So many sources, then the best it's to be near the furnace, examine the environment with a curious eyes and start by checking where are positioned coloration in the furnace to focalize the search. Then you can trace a Root Cause Analysis (Ishikawa diagram). Don't overlook an evident/simply cause."
– Christophe Brault, Mechanical/Industrial Engineer, Lyon France
[1 day later] "The only one we've experienced that hasn't been mentioned yet is the backfill level of gas immediately prior to the quench. If your chamber backfills too much, the seals could let in some atmosphere even when you don't actually have a leak. Getters don't work when your production pieces are already titanium."
– Erin Combs, Senior Materials Engineer, DePuySynthese Joint Reconstruction
[1 day later] "Graphite or moly hot zone? Graphite hot zones will always outgas causing stains. If the furnace has a moly hot zone, then everyone else has pretty much listed the problems (leak, purity of quench gas, etc.)"
– Thomas Lord, Sales Engineer, Vacuum Group, SECO/WARWICK Corporation
[1 day later] "Is it a stain or discoloration, if a stain then you could have a ore-clean or has it been a build up over a period of time (?) problem. If it is discoloration, you could have a leak (air) or you have contaminated quench gas. I have experienced contaminated gas. (nitrogen, and caused by not purging the buffer tank prior to a nitrogen refill. Has the problem just occurred. Sincerely, David"
– David Pye, Consultant
[1 day later] "What quench gas are you using? What is the grade of Ti. What is the leak up of the furnace prior to processing? What is the ultimate vacuum level during processing? What is the process temp. and soak time.
The suggestions presented by the other respondents are valid but knowing the details of the process and furnace condition of the furnace is crucial, especially is the Ti is very sensitive."
– Michael Mercer, President, Mercer Technologies Inc.
[1 day later] "Check pipework between furnace gas in let and buffer tank, pipework under positive pressure will not leak, but under vacuum during the quench air can be sucked in through the ball vales and other components in this line. In China some companies are using hydraulic tubing for connection between their buffer tank and furnace, under positive pressure this will not show leaks, and went in quench their can be sucked through the rubber hose!"
– Byron Stewart, Consultant, China
[2 days later] "Mainly about the purity of your quenching gas. You have to check the dew point closer as possible of your quenching cell (not only the dew point of the delivered gas).

Your requirement for the limit value has to be stringent.

You have to check that as frequently as you can (daily for example)."
– Jean-Luc Dupain, Heat Treat Specialist, Essier-Bugatti-Dowty, France
[2 days later] "Could be as mentioned. Not mentioned yet is a furnace in need of a burn out and racks/fixturing that are outgassing. Solution: Use getter material."
– Douglas Shuler, Consultant
[2 days later] "Also check the cleanliness of Ti parts before heat treatment"
– Sergey Mironets, Fellow at UTC Aerospace Systems
"You can isolate this to a point, by heating sample material, allowing to vacuum cool, to near room temp. if there is not any discoloration, then the issue must be a leak or quality issue of the quench gas line or quench gas. The quench gas line should be a (short as possible) direct run from the supply tank, preferably NO taps, or if there are, there should be a check valve at the origin of each.
Helium Leak Test of supply line, not simply "soap test" of line is essential."
– Paul Zettler, Vacuum Heat Treating Equipment Field Service, Alphatek
[3 days later] "For which process and at which temperature?"
– Krishna dev Mishra, Sr. Engineer Production, Oerlikon Balzer
[3 days later] "yup it could be an air leak. If you want it spotless the vacuum level has to be very, very good. What's your drop test result like??
Going back a few years one of our customers did a survey of supplier vacuum furnaces for this issue. 
it can also be the oxide layer on the surface prior to ht."
– Martin Durkan, NACE Certified Level 3 Inspector, MD Paint Inspections LTD
[3 days later] "I agree with Martin Durkan, you may also want to check your quench gas, more importantly the dew point and the line itself, while a good chamber vacuum is essential, a leak in the quench line can spoil things by drawing in air/moisture. you may want to leak test the quench gas line."
– Steve Chambers, Sales & Marketing Manager, Morgan Ward NDT, Ltd.
[3 days later] "I share Steve's sentiments – especially regarding the vacuum tightness of the line. When high velocity gas goes from static to in motion it can actually suck in ambient air (Venturi principle) during the quench. 

Many people also wrap Ti parts before HT with various foils to "get" the oxygen."
– Michael Lister, Vacuum Products Team Leader, SECO/WARWICK
"All. thank you for your comments, this is solely happening during a gas quench in a vacuum furnace with a graphite hot zone. During a natural cool this doesn't happen. The furnace including the gas line is leak tight, the [discoloration] is purely brown staining and it is more evident at the bottom of the load than the top which is where the gas enters. The material is Ti 286 and 400 series. The dew point of the quench gas is being measured and monitored. With the furnace being quite old our initial thought was it could be the internal heat exchanger leaking but there is no evidence of this affecting the vacuum level. We will digest your comments and get back to you. Many Thanks"
– Adrian Goodbrand, CEng
Phenomenal suggestions by everyone! A wealth of great information here. So, what else could be happening? Let The Doctor add a few thoughts to the discussion. First, the fact that the discoloration (staining) is brown in coloration suggests that the oxide is forming on the part surface during cooling when the temperature is in the range of (approximate) 245ºC – 270ºC (475ºF – 520ºF). This is supported by the fact that the oxidation does not occur "during natural cooling" (which we assume to mean cooling under vacuum). Second, the fact that the discoloration is more evident at the bottom of the load suggests the phenomenon is (gas exposure) time dependent, that is, the longer the parts take to cool through the critical range, the greater the chance for discoloration. Third, a "steel-copper-stainless steel" test will be helpful in isolating if it is a water (Fig. 1) or air (Fig. 2) leak. Leaks in heat exchangers have been known to "open up" during the cooling cycle when exposed to hot gases and close up again at room temperature (Fig. 3). The writer has personally experienced this – the solution being the replacement of the old heat exchanger at which time the problem went away. Fifth, look in all the places suggested by those who responded, but remember to make only one change at a time and evaluate its impact in order to find then correct the problem.
Finally, as an unabashed promotion of my books on Vacuum Heat Treatment (Volume II of which comes out this fall), there are a number of sections that discuss this very issue in considerable detail covering subjects such as "Vacuum Furnace Contamination and Cleanup Cycles", "Leaks External to the Vacuum Furnace Proper" and "Factors Affecting Performance: Discolored Work" to name a few. Good luck!
– Dan Herring, "The Heat Treat Doctor"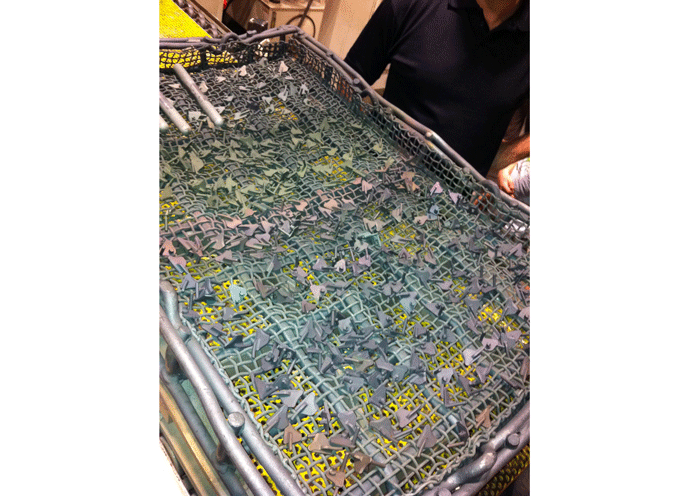 Figure 1 | Severe discoloration of stainless steel parts and fixturing discolored by a water leak.

Figure 2 | 13-8Mo precipitation hardening stainless steel medical part discolored by air in the backfill gas.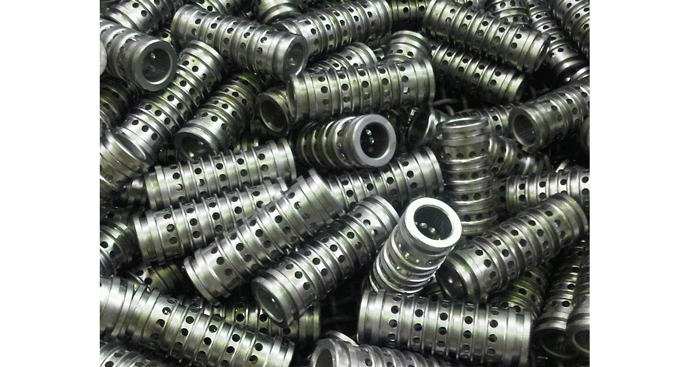 Figure 3 | 303 stainless steel parts discolored (gray/greenish tint) by a heat exchanger leak opening up with exposure to hot gases during quenching then closing up again at room temperature.
---
Daniel H. Herring / Tel: (630) 834-3017) /E-mail: dherring@heat-treat-doctor.com
Dan Herring is president of THE HERRING GROUP Inc., which specializes in consulting services (heat treatment and metallurgy) and technical services (industrial education/training and process/equipment assistance. He is also a research associate professor at the Illinois Institute of Technology/Thermal Processing Technology Center.