As in any discipline, understanding the underlying scientific principles has profound practical implications when properly understood. In this series of articles we will review the first principles of vacuum technology and explain them using real world illustrations.
Most industrial vacuum systems can, in broad based terms, be categorized in terms of low (i.e., "soft"), medium, high (i.e., "hard") and ultra-high vacuum (Table 1). These ranges are very useful in describing the various pressure, flow, and other phenomenon encountered, which leads to a better understanding of vacuum pump selection and operation, and system operational requirements at the different vacuum levels.
| | |
| --- | --- |
| | |
| Table 1 –|Typical pressure ranges of industrial vacuum systems | Table 2 | Density of gas (molecules per cm3) for various pressure ranges |
As shown by the difference in pressure from low to ultra-high vacuum, industrial vacuum systems must operate under an extremely wide range of pressure. In fact, the range is so large it is hard to actually comprehend. Consider a volume of gas at a pressure of 1000 mbar (atmospheric pressure) in a 1 meter by 1 meter by 1 meter container sealed so that no molecules can escape or enter. It is easy to understand that if the container is expanded in volume while still remaining sealed, the pressure will decrease (and a vacuum will be created) in direct proportion to the increase in volume (in accordance with Boyle's law). If, for example, the container volume is doubled to 2 cubic meters, the pressure will decrease by half, to 500 mbar. When this relationship is expanded to the scale of industrial vacuum systems, the result is striking. If we take this same 1 cubic meter volume of gas and increase its volume sufficiently for the pressure to be reduced to 10-12 mbar (ultra-high vacuum), the container will be a staggering 99 km long x 99 km wide x 99 km high, or 200 times the volume of the grand canyon!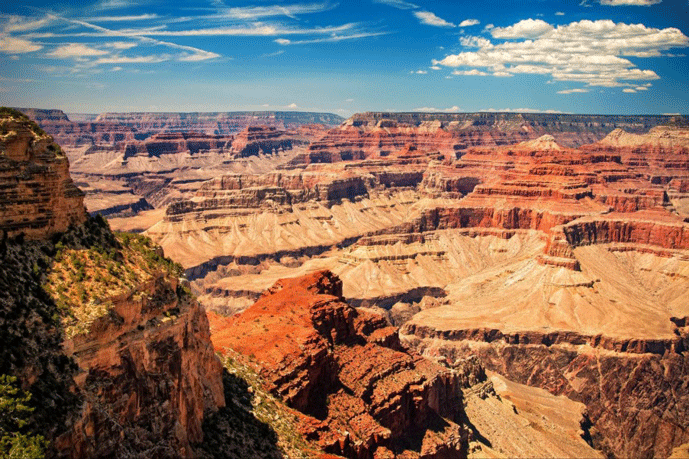 Figure 1 | The Grand Canyon National Park1
Another way to understand the operating pressure range of industrial vacuum systems is to consider gas density or the number of gas molecules that reside in a given volume. There are roughly 2.65 x 1019 or 26,500,000,000,000,000,000 molecules in a cubic centimeter of gas at 103 mbar, which is atmospheric pressure at sea level (Table 2). Under lower and lower pressure, the molecules spread out further and further, until at ultra-high vacuum (10-12 mbar), there are only 2.65 x 104 or 26,500 molecules per cubic centimeter. At this density there is only one molecule roughly every 0.33 mm in space. Since the diameter of each gas molecule is much less than this (4 x 10-8 cm for air, for example), there is a great deal of space between molecules. To put it into proportion, if gas molecules were grains of sand, at ultra-high vacuum they would be 1,650 meters apart. At these extremely low pressures, the collisions between molecules, which normally dictate the properties of gases, become very infrequent and a different theoretical model is required to explain their properties (the so-called Kinetic Theory of Gases).
The Continuum Theory and The Kinetic Theory of Gases
At or near atmospheric pressure, and in non-vacuum systems, the so-called continuum theory accurately describes the properties of gases. In simple terms it tells us that collisions between gas molecules dictate the properties of a gas. The continuum theory is what we call macroscopic in nature, and governed by the gas laws such as The Ideal Gas Law, Boyles Law and Daltons Law.
Ideal Gas Law: In a perfect or ideal gas the change in density is directly related to the change of both temperature and pressure
Boyles Law: The pressure exerted by a given mass of an ideal gas is inversely proportional to the volume it occupies, at constant temperature
Dalton's Law of partial pressures: In a mixture of non-reacting gases, the total pressure exerted is equal to the sum of the partial pressures of the individual gases
After vacuum pump technology developed to the extent that fewer and fewer gas molecules were possible in a given volume, the governing principles affecting the properties of these gases changed, and molecular considerations became primary. Namely, the gas molecules become so spread out that intermolecular collisions between gas molecules no longer dominated, but rather collisions with the chamber walls were the determining factor affecting the gas properties. This led to the Kinetic Theory of Gases, which applies not only at low pressures (high vacuum) but is also accurate over the entire range of pressures seen in industrial vacuum systems.
Molecular Density and Mean Free Path
The primary concept of the kinetic theory is that a gas consists of a great number of individual particles (molecules) each moving individually and randomly, and that the collisions between them, as well as their collisions with the vessel walls, determine the pressure created by the gas. The molecular density, or number of gas molecules per unit volume (Table 2), varies in proportion to pressure. Further, the mean free path (or the average distance a molecule must travel before colliding with another molecule) increases greatly as the pressure decreases (Fig. 2). Most importantly, the increased mean free path at reduced pressure dictates that molecular collisions with the vessel walls govern the gas properties at reduced pressure.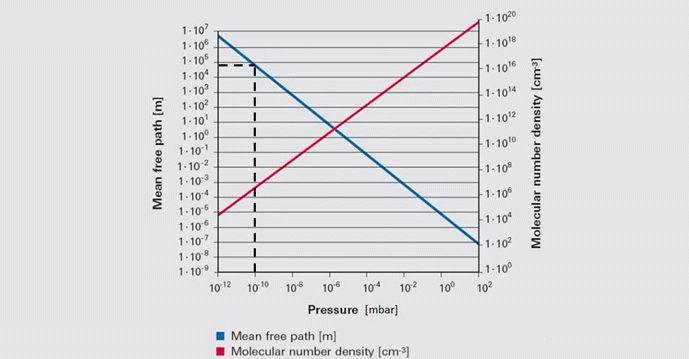 Figure 2 |

Mean free path and molecular density related to pressure, for nitrogen at a temperature of 0° C (Derived from graph provided by Pfeiffer Vacuum)



Note in this figure that at ultra-high vacuum of 10-10 mbar the mean free path is nearly 105 or 100,000 meters. This means that collisions between gas molecules are so infrequent that each molecule has to travel an average of 100,000 meters before a chance collision with another molecule. Since the sides of the vessel are much closer than this, collisions with the vessel wall are much more frequent than with other molecules. For this reason, at high and ultra-high vacuum molecular collisions with the walls of the vessel (Fig. 3) dictate the pressure exerted by the gas on the walls of the vessel.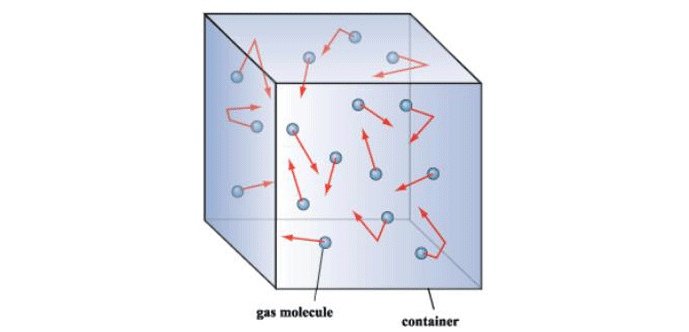 Figure 3 |

Collisions between gas molecules and the walls of a vessel generate the pressure in the vessel

2

This understanding leads to the formulation of gas pressure as a function of gas density, (mean square) velocity, and mean free path of the individual gas molecules. With this foundation, referred to as the Kinetic Theory of Gases, calculations of pressure, flow and conductance over the entire vacuum operating range are derived.
The kinetic gas theory is based on the following five assumptions.
Gases are comprised of a large number of particles that behave as inelastic, spherical objects in a state of constant, random motion.
The particles move in a linear manner until colliding with another particle or the walls of their container.
The size of the particles is negligible in relationship to the space between them and therefore most of the gas volume consists of empty space.
There is no force of attraction or repulsion between gas particles or between the particles and the walls of their container and thus their total energy is simply equal to their kinetic energies.
Collisions between gas particles and collisions with the container walls are 100% elastic. None of the energy of a gas particle is lost when it collides with another particle or with the walls of the container.
Considering the above assumptions, we can derive a formula (Equation 1) to describe the pressure of a gas under the kinetic gas theory.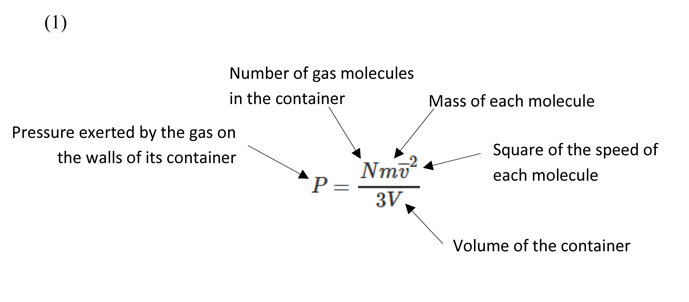 The above is related to the principle in classical mechanics where kinetic energy = 1/2 m v2, developed by Leibniz and Bernoulli and originally described in 1722 by Gravesande in a series of experiments in which brass balls were dropped from varying heights onto a soft clay surface. Gravesande found that a ball with twice the speed of another would leave an indentation four times as deep, from which he concluded that the force generated by a body in motion is proportional to the square of its velocity. This same principal applies to the kinetic gas theory where the force of the molecules impacting the walls of the vessel is what generates the gas pressure, in proportion to the square of their speed.
As an example it is useful to consider nitrogen, since air is mostly made up of nitrogen. Each individual nitrogen molecule in a closed container is rapidly moving in a straight line, until bouncing off another nitrogen molecule or off the container wall, essentially like a bunch of billiard balls. At a gas temperature of 20° C, each individual nitrogen molecule travels at an average speed of 518 meters per second, or 1,864 km per hour. Although each molecule is tiny, the cumulative impact force generated from all the molecules striking our skin each second (roughly 3 x 1027 per square meter) is the pressure of ordinary air on our bodies.
In actuality, the gas molecules in a system move at a wide range of velocities, but the average (mean) velocity is used for the purposes of calculating pressure and other effects. In other words, molecules of the same gas exhibit a distribution of speeds (Fig. 4), with the mean represented by the peak of the curve. Some move faster, and others slower.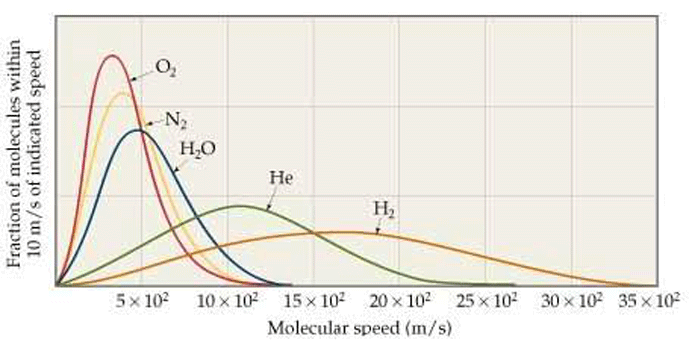 Figure 4 |

Distribution of Molecular Speeds for Various Gases

3

There is an interesting consequence of the distribution of molecular speeds in a gas. Due to the bell-shaped curve of the speed distribution, there are significant numbers of molecules with a speed much faster (about 6 times faster) than the average. The escape velocity from earth for any moving object (including gas molecules) is 11.2 kilometers per second. The fastest nitrogen molecules will travel 518 × 6 = 3108 meters per second. This is well under the escape velocity and therefore nitrogen does not escape earth's gravity.
On the other hand, hydrogen molecules in the Earth's atmosphere will move as fast as 2700 × 6 = 16,200 meters per second or 16.2 kilometers per second. This is above the earth's escape velocity. So the fastest hydrogen atoms, those in the tail of the distribution, are energetic enough to overcome the grip of gravity. Hydrogen will therefore escape into space, as will helium. Earth's gravity retains heavy gases but lighter gases drift into space.
Next time: More thoughts on vacuum fundamentals.
References
www.grayline.com
http://web2.uwindsor.ca/courses/physics/high_schools/2005/Brownian_motion/kinetictheory.jpg)
http://wps.prenhall.com/wps/media/objects/3311/3391331/blb1008.html).

---
Daniel H. Herring / Tel: (630) 834-3017) /E-mail: [email protected]
Dan Herring is president of THE HERRING GROUP Inc., which specializes in consulting services (heat treatment and metallurgy) and technical services (industrial education/training and process/equipment assistance. He is also a research associate professor at the Illinois Institute of Technology/Thermal Processing Technology Center.