The heart of any vacuum furnace is said to be its hot zone and if properly constructed and well maintained will help ensure that the furnace performs in an optimal manner. One of the most important aspects of the hot zone is its insulation and the choice of materials used in its construction. The focus here will be on all metal hot zones.
Thermal Insulating Systems
We begin, however, with a brief discussion of the three modes of heat transfer, namely convection, radiation, and conduction (Fig 1). To perform properly, the hot zone insulating system must contend with the all three.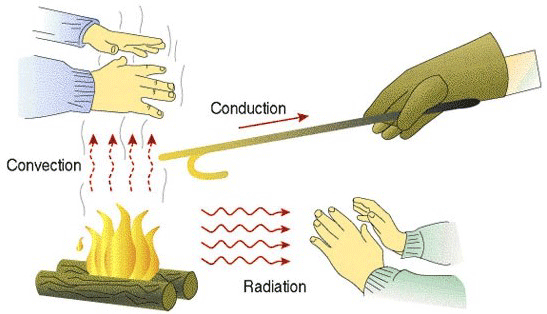 In simplest terms, conduction and radiation may be thought of transferring energy to the surface of the part, while conduction is responsible for the heat to penetrate into the center of the parts.
Conduction or conductive heat transfer occurs by direct molecular collision. On a microscopic scale, the kinetic energy of molecules varies in direct proportion to their temperature. So, as the temperature rises the molecules increase in motion and gain kinetic energy. They then collide with cooler surface molecules, transferring their kinetic energy and hence their heat, to the part surface (Fig. 2).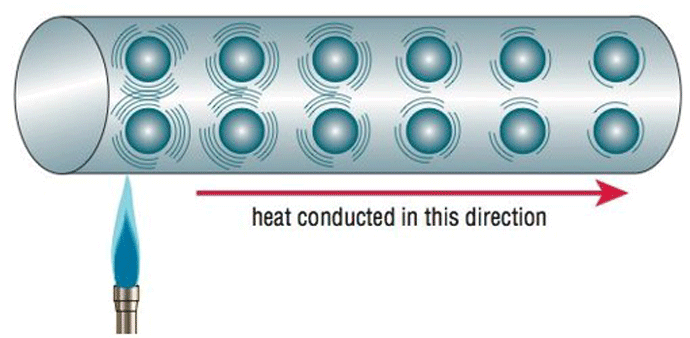 Since this happens only when there is direct physical contact between a hot and a cool material, conduction heat transfer is of particular concern in hot zone design wherever there are penetrations through the furnace wall, such as cooling nozzles, fittings, thermocouple ports, or structural hearth supports to name a few. These openings provide a direct path for the heat to conduct from the inside of the hot zone to the outside cage or walls of the furnace. For non-metallic insulation systems, the insulation (ceramic, graphite board or blanket) must be designed to minimize conduction, since this is the primary means by which heat will be transferred through the insulation.
Convection heat transfer in an insulation system occurs when a gas such as air carries the heat from the hot side of the insulating system to the cool side, penetrating through the insulation due to its porosity. Although the insulation in non-vacuum furnace styles must be designed with convection heat transfer in mind, vacuum furnaces are somewhat insensitive to convective heat transfer once the furnace is operating under vacuum. As long as the chamber is under vacuum during operation, this mode of heat transfer is practically non-existent, as convection requires the presence of gas molecules to transfer heat energy by bulk movement, and there are few molecules present in the evacuated chamber. Where convection plays a role is in convection heating where the furnace is backfilled with nitrogen or another inert gas to positive pressure (typically 1 – 2 bar) and a convection fan circulates the gas to preheat the load. Another instance where convection plays a role is when partial pressure is used, for example, to prevent vaporization of elements present in the parts (such as chromium in stainless steels). Convection also plays a significant role during high-pressure gas quenching.
The third mode of heat transfer, radiant transfer, occurs when the temperature difference between two bodies causes heat energy, in the form of electromagnetic waves, to travel from the hotter body to the cooler body. Since the rate of radiant heat transfer is proportional to the fourth power of the (absolute) temperature of the heat emitting surface, a considerable amount of heat energy can theoretically be transferred through the furnace walls by radiant means as the furnace temperature rises. In addition, radiant heat does not require a medium or intermediate material to transfer the heat. In fact, a vacuum is the optimal condition for transferring radiant heat since in a vacuum there is no gas in the way to scatter or absorb it. As a result, the insulating system in a vacuum furnace must be specifically designed to reduce radiant heat transfer.
There are several insulating system designs common in vacuum furnaces
All metal hot zone design
All graphite hot zone design
Composite designs using both metal and graphite or ceramic insulation
All Metal Construction
We now want to discuss how all metal hot zone construction, consisting of layers of heat shields minimizes heat transfer through the furnace wall. Most standard vacuum furnaces operate at either a maximum temperature of 1315ºC (2400ºF) or 1650ºF (3000ºF). Some manufacturers have extended the lower temperature rating to 1340ºC (2450ºF) or 1450ºC (2650ºF) to accommodate high-temperature bake out cycles. Specialized vacuum furnaces are capable of operating at much higher temperatures, up to 3,000°C (5,400°F) and in these instances, the insulation system must be very carefully engineered due to the increased radiant energy effects.
Today, hot zones are primarily constructed in a so-called all metal construction or all graphite construction. Composite hot zones are still being produced, the most common of which involved metallic elements and graphite insulation or graphite elements and metallic shields.
In an all-metal hot zone, the insulation system consists of multiple layers of thin metal with gaps between them (Fig. 3). These strips of metal are referred to as heat shields, the layers having an air gas (or perhaps more accurately a vacuum gap) between them to retard the transfer of radiant energy.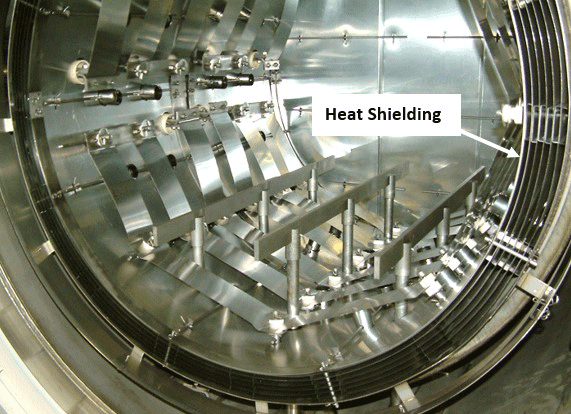 The number of heat shields and their materials of construction is a function of the temperature rating of the furnace. Each shield has an additive insulating effect. It is common for the system to incorporate a total of five or six shields, two or more layers of molybdenum on the hot face, backed by several layers of type 304 or 316 stainless steel. Molybdenum has a maximum operating temperature of 1700°C (3100°F), in comparison to 980°C (1800°F) for stainless steel. Molybdenum also has a superior (lower) emissivity than stainless steel (Table 1). This reduced emissivity allows it to reflect more of the radiant heat and absorb less.
Tantalum sheet, with a maximum operating temperature of 4350° F (2400° C), is used in place of molybdenum for higher temperature furnaces, as is tungsten. Tantalum also has a very favorable emissivity.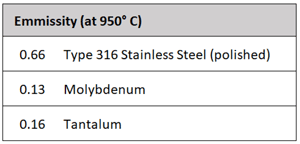 Molybdenum and molybdenum alloys experience a phase change at temperatures somewhere above 1150°C (2100°F) depending on the alloy and the result is that the molybdenum becomes brittle. Embrittled (aka recrystallized) heat shields will readily fracture along the grain boundaries when impact loaded and are susceptible to damage in an industrial setting so extreme care must be taken when inspecting or performing maintenance on an all-metal hot zone.
Recrystallization also limits the use of pure molybdenum for furnace racks and high-temperature fixtures. In order to reduce embrittlement, molybdenum can be doped with lanthanum oxide or other rare earth elements. This is in contrast to alloying, where a larger amount of the secondary material is combined with the primary to produce a distinct alloy. Lanthanum oxide doping stabilizes the molybdenum grain structure, reducing brittleness in the event of recrystallization. Lanthanum oxide holds the grain growth of the molybdenum grain boundaries to a tolerable level, at which strength and ductility are preserved. Whereas undoped molybdenum's grain boundaries continue to grow and expand to the point of embrittlement, doped molybdenum resists embrittlement at temperatures up to 1850°C (3360°F).
Although all metal hot zones tend to be more expensive than their graphite counterparts due in large part to the high cost of molybdenum and/or tantalum, as well as the higher labor costs involved with their manufacture, they are appealing for ultra clean applications such as processing aerospace parts or medical devices, especially those involving titanium or superalloys.
The Importance of Emissivity
Since the function of the all-metal insulating system depends heavily on its ability to reflect radiant heat, it is worth taking a moment to review the property of emissivity, which quantifies this. Emissivity defines the proportion of radiant energy a material, such as a metal reflector, absorbs vs. how much it reflects. A material with an emissivity of 0 would absorb 0% of the radiant energy and reflect 100% of it. A material with an emissivity of 1.0 would reflect none of the heat, but rather would absorb all of it.
The goal, therefore, when designing all metal insulating systems is to select materials with a low emissivity, and to maintain this low emissivity over time. One of the enemies of good reflector performance is oxidation. An oxidized metal surface has a greatly increased emissivity over a clean surface (Fig. 4), and therefore reflects much less of its heat energy. One other item worth noting is that emissivity of a material is also dependent on the wavelength of the radiant heat, which is itself dictated by its temperature. Higher temperatures correspond to shorter wavelengths. This is advantageous for vacuum furnaces because at temperatures above 695°C (1280°F), corresponding to a wavelength of 3 microns, the emissivity starts to reach a minimum, and therefore the maximum heat energy is reflected. At higher temperatures, the wavelength continues to drop slightly and then level off.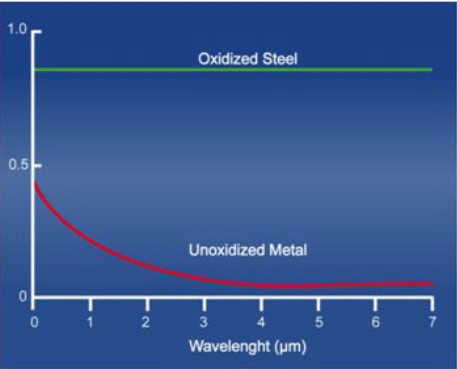 Contamination of All Metal Insulating Systems
The principal issue with all metal insulating systems is the loss of emissivity due to contamination of the metal heat shields. This can be due to air leaking into the chamber, oxygen/water vapor present in the inert gas backfill lines, or to contaminated backfill gas. Backfill lines, regulators, valves and other components undergo considerable operational stress during repeated quench and reheat cycles. Although the equipment is tight when brand new, after years of repeated cycling the seals and threaded connections start to leak, components begin to fail, and soft solder joints can experience cracking. This allows air to leak into the chamber and causes surface oxidation and dulling of the heat shields and furnace interior (Fig. 5).
The result of air infiltration is a reduction in the reflectiveness of the shields, and since they insulate by reflecting radiant heat, this dulling process drastically reduces the effectiveness of an all-metal insulating system. One of the ways to detect this (other than visually) is to monitor power usage, which will increase as the thermal efficiency of the hot zone deteriorates. At some point, the furnace, which may have originally only required 50 – 60% of the installed power, has a difficult time reaching temperature even at 90 – 100% input.
Over time, this gradual contamination results in less effective insulating of the furnace and increased power consumption of the furnace heating system. Not only does the furnace consume more power to make up for these losses, but the external cooling system that removes the heat from the shell in the cold wall design has to work harder to remove that heat. As a result, the owner pays for the loss of insulating efficiency not once, but twice.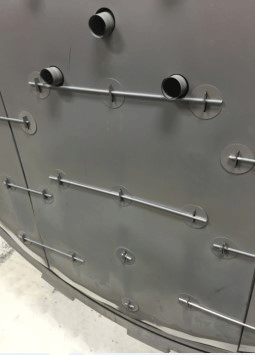 In addition to gradual contamination caused by air leaks, the heat shielding can be oxidized in the event of a mishap, such as opening the furnace door at elevated temperature or the failure of a component which allows air entry. Oxygen-laden air enters quickly and contaminates the heat shields. This can be severe enough to render the furnace unusable, despite attempts to run hydrogen clean-up cycles, forcing the shielding to be replaced.
Another way heat shielding can change emissivity is from the release of contaminants from the load, such as oils, greases, binders, brazing pastes and other outgassed products, which accumulate over time to render the shielding ineffective. To prevent this, care must be taken to properly clean the loads.
Still another source of heat shielding contamination is moisture from the factory during loading and unloading of the furnace, or if the furnace is turned off and the left open when not in operation. If the dew point of the air is below the temperature of the cold wall, condensation will occur, depositing moisture, which will release its oxygen under vacuum, and cause oxidation of the heat shielding.
Next time: We will discuss graphite hot zone construction.
References
CeraMaterials (www.ceramaterials.com)
Vac-Aero International (www.vacaero.com)
Smore.com
Pakton.net
Plansee (www.plansee.com)
Ircon, A Fluke Company (www.fluke.com)