Vacuum furnaces are available in both batch and (perhaps less common) continuous styles with the vast majority of furnaces in use categorized as either vertical (Fig. 1a) or horizontal (Fig. 1b) in orientation. In this two-part article, we will discuss the uses and features of batch vacuum furnaces and provide an introduction to continuous furnace design.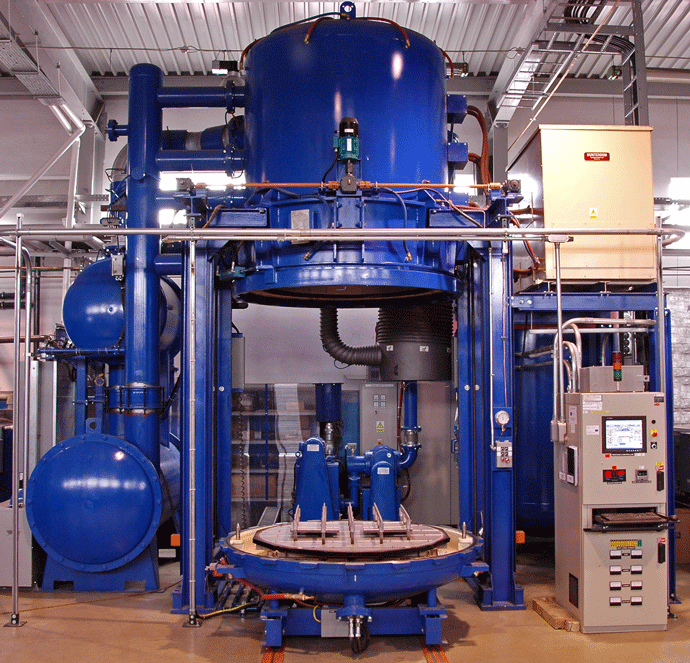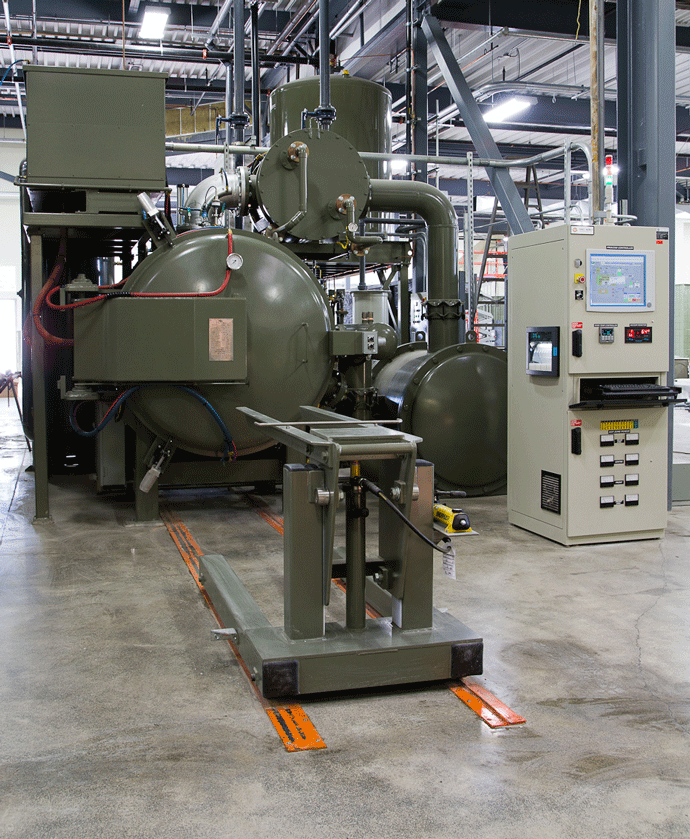 Why Use Vacuum?
Let's briefly review why vacuum technology is so important for heat treatment. The primary reason has to do with air and the reactive constituents contained within it. Air is a gaseous mixture that contains varying amounts of water vapor, oxygen, carbon dioxide, nitrogen and hydrogen (Fig 2) and each of these constituents of air are reactive with various metals. At room temperature these chemical reactions occur too slowly to be problematic, however, these reactions are greatly accelerated at the elevated temperatures required for heat treatment. There are changes to the microstructure of a material's surface when a heated metal is exposed to air. The changes experienced can be either surface contamination or a thin exterior layer that is harder or softer than the interior of the part being heat treated. For example, a piece of steel will discolor when heated above about 200°C (392°F), forming a thin layer of ferrous oxide. This presents a challenge when heat treatment is necessary for applications where part cleanliness or appearance is important.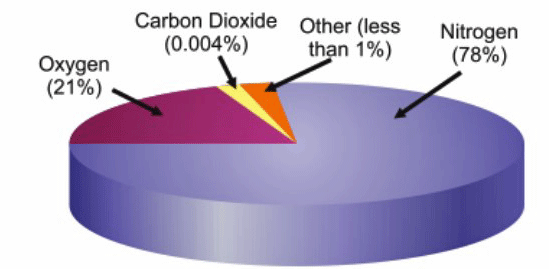 One solution to this problem is removing the air from within the furnace chamber prior to heat treating thus eliminating the source of any contamination. This is the underlying principle behind vacuum furnace technology. At the end of the vacuum process, an inert gas such as nitrogen, helium, argon or a gas mixture, is injected into the furnace's heating chamber under high pressure to cool the load prior to opening the door.
Industries Served by Batch Vacuum Furnaces
Batch vacuum furnaces are used in virtually every industry but are predominately used in the aerospace, automotive, and tool & die manufacturing industries (Fig. 3). Parts heat treated in vacuum furnaces include (by industry):
1. Aerospace – jet engine components, sensors, gears, honeycomb material, hydraulic system parts, airframe components, high strength titanium parts.
2. Vehicular and Marine – steering and suspension parts, transmission pinions, gears and other components, catalytic converter cores, camshafts, timing gears, diesel injectors.
3. Tool and Die – tools, dies, punches, cutting tools, drills.
4. Communications and Electronics– satellites, semiconductors, heat exchangers, lithium batteries.
5. Energy – nuclear reactor equipment, fasteners, pump components.
6. Fasteners – construction bolts, miniature high-performance medical screws, superalloy bolts for nuclear reactors.
7. Food processing machinery – blades, cutters, gears.
8. Household items – sporting equipment, hand tools, silverware, scissors, knives.
9. Medical & Dental – parts for hip, knee and other joint replacement, surgical instruments, dental implants, orthodontic braces, and retainers.
10. Military and personal defense – triggers and other components for rifles and handguns, rockets and missiles, naval propulsion systems.
11. Power transmission – shafts, sprockets, gears, and pinions.
12. Commercial heat treatment – all of the above.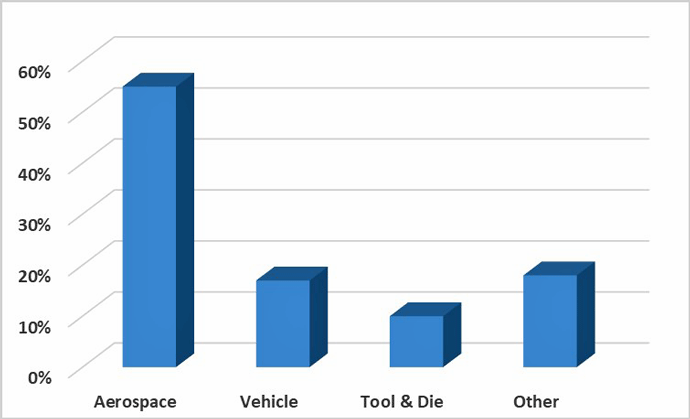 Applications Performed in Batch Vacuum Furnaces
Batch style vacuum furnaces are used wherever product quality is critical. Here are a few of the more common processes performed in batch vacuum furnaces.
Vacuum Brazing Under Vacuum
One of the most common uses of batch vacuum furnaces is vacuum brazing which is defined as a joining process, performed under vacuum, which melts a filler metal (called a brazing alloy) that joins two or more metal parts. Advantages of vacuum brazing include: high joint strength, minimal alteration of the base material properties (in comparison to welding), no flux residue, joining of dissimilar metals, minimal residual stresses, and high-quality joints with no voids. The process can be used to join nickel, copper, ceramic to metal, and is frequently employed in the manufacture of radiators (Fig. 4) and oil coolers.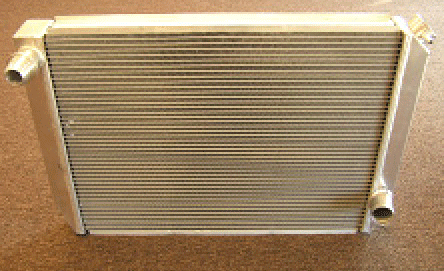 The quality of brazed connections depends greatly on the heating time and temperature, with the alloying and wetting action of the filler metal increasing with increased furnace temperature. The filler material must have a melting point lower than the substrate metals because it needs to be melted before it can flow into the joint by capillary action. In general, the lowest successful brazing temperature is preferred. The filler melting point is the primary, but not the only, factor to be considered when determining the furnace temperature. A lower furnace temperature minimizes heat growth and potential distortion, reduces chemical interactions between the base and filler materials, and maximizes the life of the fixturing. In addition to minimizing the temperature, the heating time (Fig 5) is also kept as short as possible. This has some of the same advantages as reduced temperature and also reduces operating costs.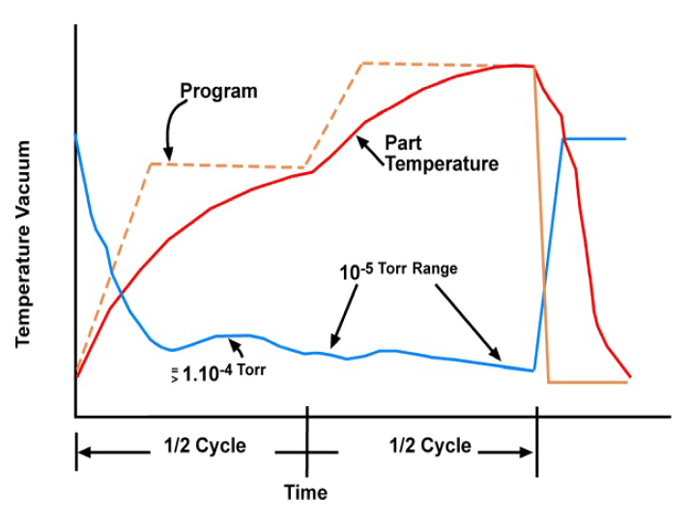 In order to achieve a high-quality joint, the parts must be carefully fitted to minimize the gap between them. The substrate metals are typically prepared using chemical or abrasive cleaning as they must be uncontaminated and oxide-free. In the case of abrasive cleaning, a specific surface roughness must be achieved to allow the capillary action of the filler material to properly occur. In vacuum aluminum brazing, magnesium is used as an additive to the filler metal or the base metal, and this serves two purposes. After it starts to vaporize at approximately around 570°C (1058°F), the magnesium attracts oxygen and water vapor, serving as a getter material, which increases the purity of the environment in the furnace and provides a better joint. The magnesium additive also lessens the alumina oxide on the surface of the aluminum, improving adhesion between the filler and joint surfaces.
Vacuum Hardening
Another common process for batch vacuum furnaces is vacuum hardening. Steel and its alloys are not hard enough for many uses until they are hardened. The types of steel most commonly vacuum hardened are tool steels containing chromium, tungsten, molybdenum, and high speed and hot worked steel alloys. Hardening steel in a vacuum furnace consists of heating the parts to the austenitic range and rapid quenching in oil or a high-pressure inert gas. The choice of quenchant is determined by the metallurgy of the steel and the shape and application of the material being hardened. In order for hardening to occur, the steel must first be heated to its hardening temperature, as determined from the equilibrium diagram. At this point, it is in the austenite phase. The quick cooling during quenching causes the structure of the steel to change from austenite to a very hard state referred to as martensite (Fig. 6). In the martensitic state, the steel has a needle-shaped (aka acicular) grain structure.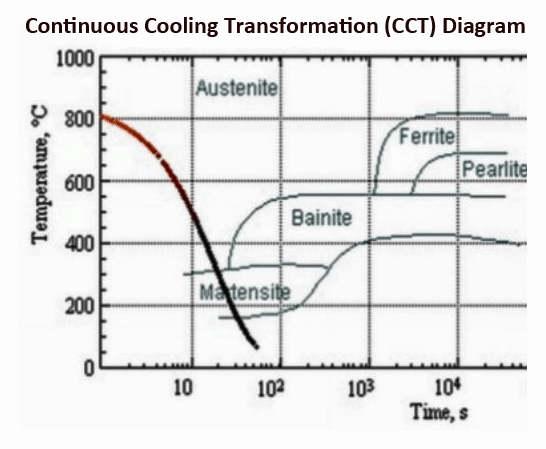 Steel requires at least 0.3% carbon to be successfully hardened, and the hardest steel occurs at approximately 0.9% (Fig. 7). In order to provide a successful quench, the cooling must be fast enough that the carbon atoms in the steel do not have time to diffuse out of the crystal structure in sufficient quantities. If the cooling is not rapid enough, the steel will transform from austenite to the much softer ferrite, and result in a failed process.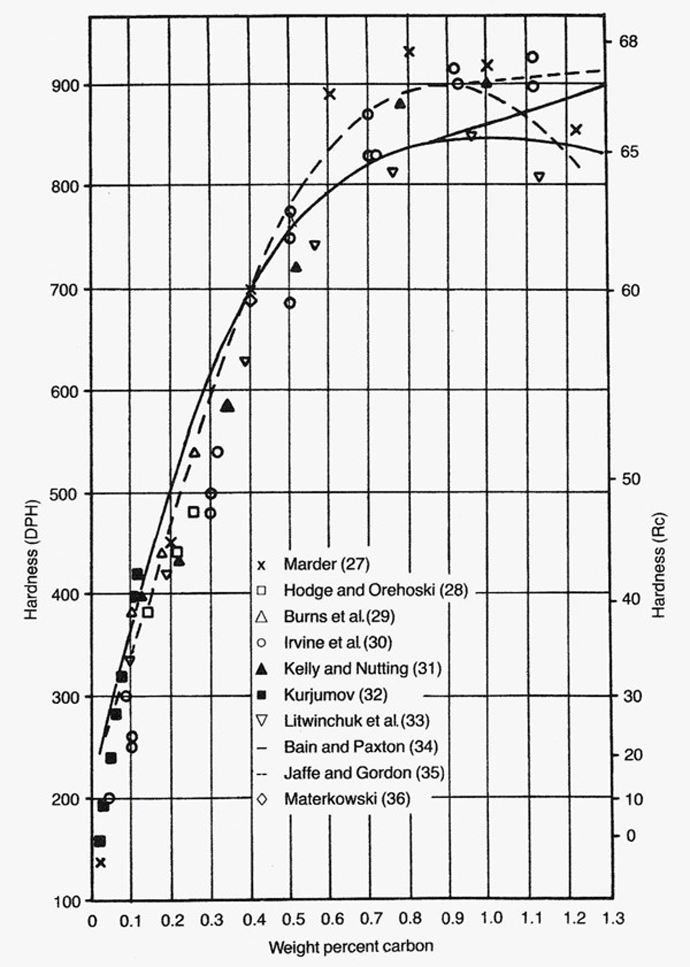 The quenching process produces a brittle steel and generates thermal stresses due to uneven cooling and residual stresses due to variations in the grain structure. The variations in cooling speed between the outer and inner material layers result in more martensite in the outer layers of the part than the interior. The steel crystals in the martensitic state are slightly larger than the austenitic. The outer martensitic layers, therefore, are under stress as they are prevented from growing because the interior austenitic crystals do not enlarge to the same extent. In order to mitigate this stress, tempering is necessary.
Tempering Steel in a Vacuum Furnace
Hardening is typically followed by tempering since the as-quenched material is brittle and lacks toughness and ductility. Vacuum furnaces operate using radiant heat transfer, whereby heat energy is transferred directly from the heating elements to the work, without an intermediate gas. Radiant heat transfer is most effective above approximately 650°C (1,200°F), but steel is usually tempered at temperatures below 600°C (1,112°F). Tempering in vacuum should be performed using a convection fan option so as to achieve a temperature uniformity of ± 6ºC (± 10ºF) or better. Without this feature, one may not be able to achieve the consistency of temperature needed to ensure that parts are properly tempered.
Tempering quenched steel at temperatures between 66°C and 148°C (151°F and 298°F), has minimal effect, other than slight stress relief. Tempering between 148°C and 205°C (298°F and 401°F), will result in significant stress relief and a reduction in hardness (Fig. 8). Materials requiring more hardness than toughness, such as tool steels, are typically not tempered above 205°C (401°F). Rather, the tempering time is varied to provide the desired hardness. Tempering from 260°C to 340°C (500°F to 644 °F) causes a reduction in ductility and an increase in brittleness. This is called the tempered martensite embrittlement (TME) range, and it is normally avoided. When greater toughness is necessary, higher tempering temperatures of 370°C to 540°C (698°F to 1,004°F), are utilized, although this comes at the expense of strength. Tempering at yet higher temperatures, between 540°C and 600°C (1,004°F and 1,112°F), will produce even greater toughness, but at a significant reduction in strength and hardness. If steel is heated above 600°C (1,112°F) for too long, it can experience yet another stage of embrittlement, called temper embrittlement (TE). In this range, steel is heated only briefly and must be quickly cooled to avoid temper embrittlement.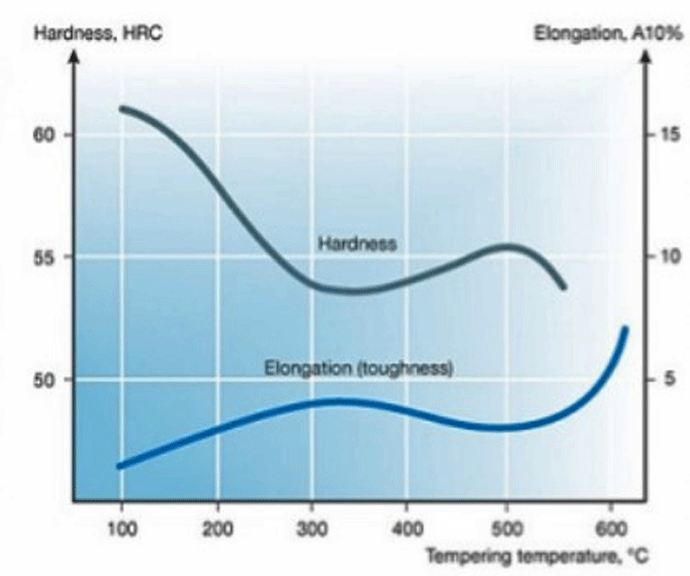 Summary
All manufactured parts will benefit from vacuum processing and the number of applications in which vacuum technology is being used is virtually unlimited. Batch vacuum furnaces dominate the landscape and equipped with either high gas pressure quenching or oil quenching offer the industry tremendous flexibility with respect to processing all types, sizes, and materials.
Next Time: We will introduce the major components of a typical batch furnace, and then take a brief look at how continuous vacuum furnaces differ from them.
References:
1. Vac-Aero International (https://vacaero.com)
2. Learn Hive (http://www.learnhive.net)
3. Chart generated by the author – data from Technavio (https://www.technavio.com/), 2012.
4. API Technologies (http://micro.apitech.com/default.aspx)
5. California Brazing (https://www.californiabrazing.com)
6. G. Krauss. Martensitic Transformation, Structure, and Properties in Hardenable Steels, in Hardenability Concepts with Applications to Steel, D.V. Doane and J.S. Kirkaldy, eds., AIME, Warrendale, PA, 1978, pp. 229-248.
7. Naman M. Dave Assistant Professor, Mechanical Eng. Dept. Gandhinagar Institute of Technology. Material Science & Metallurgy 2131904 Chapter 8 Heat Treatment.
8. Callister Jr., William D., and David G. Rethwisch. Material Science and Engineering, an Introduction. 1985.