Earlier we addressed some aspects of vacuum furnace safety in our article: Vacuum Furnace Safety Part One: Hazardous Materials (January 1, 2018) and before we talk about confined entry spaces and how this applies to vacuum furnaces, it is worth remembering what we talked about previously when we said:
"When problems arise, especially those related to safety, we want to know that we have isolated the root cause and instituted corrective action measures so as to avoid their reoccurrence. Worker safety and the safe operation of heat-treat equipment is both MANDATORY and NON-NEGOTIABLE, especially when operating and maintaining vacuum equipment where dangers of asphyxiation, electrocution, and explosion are as real as they are with any other type of thermal processing equipment. "It won't happen to me" is not a phrase that belongs in the heat-treat shop and provides a false sense of security to all involved. There is no substitute for understanding the inherent dangers, taking the necessary steps and placing the right safeguards in place to prevent accidents from happening. Safety and safety issues are a serious matter and should be treated as such by all individuals within the company."
We went on to talk about such topics as: (a) incidents involving gases; (b) incidents involving liquids and (c) incidents involving explosions. Now we need to address an important safety aspect that may apply when servicing vacuum equipment – confined spaces.
What is a Confined Space?
In simplest terms, a confined space is one in which there is only one way in and one way out. Thinking about most single chamber vacuum furnaces – either horizontal (Fig 1) or vertical (Fig. 2), this definition applies. As such, there are a number of rules, procedures, and training that must be followed, some of which will be briefly discussed below. Appropriate signage (Fig. 3) should also be provided.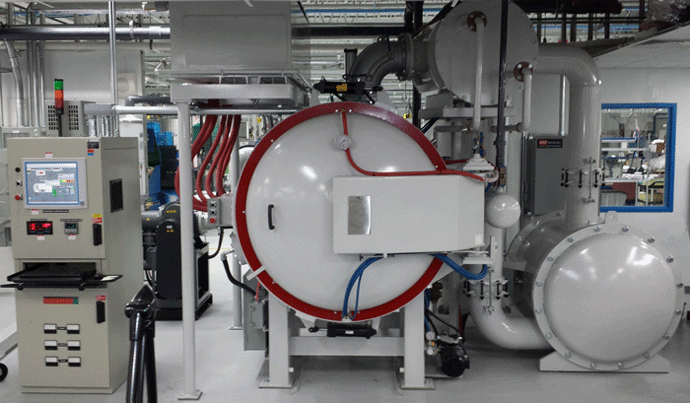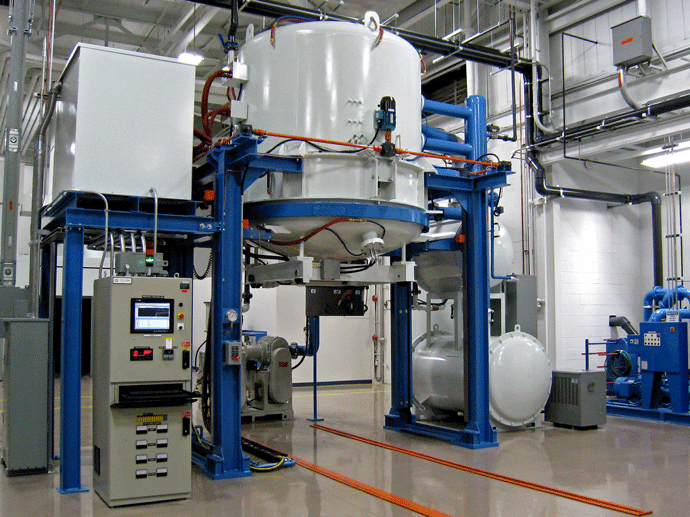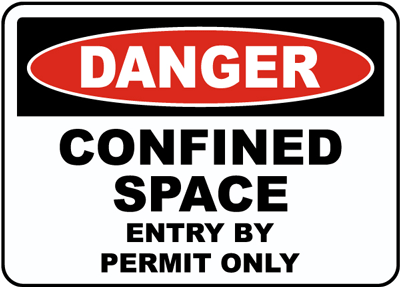 Confined Entry and Permit-Required Confined Entry Spaces
It is the employer's responsibility to identify all confined entry spaces (Fig. 4) in the workplace and to then distinguish between a confined space and a permit-required confined space (Fig 5). These terms can be defined as follows:
"Confined space" – a space that meets one or more of the following:

Is large enough and so configured that an employee can bodily enter and perform assigned work;
Has limited or restricted means for entry or exit (for example, tanks, vessels, silos, storage bins, hoppers, vaults, and pits are spaces that may have limited means of entry);
Is not designed for continuous employee occupancy.

"Permit-required confined space" – a confined space that has one or more of the following additional characteristics:

Contains or has a potential to contain a hazardous atmosphere;
Contains a material that has the potential for engulfing an entrant;
Has an internal configuration such that an entrant could be trapped or asphyxiated by inwardly converging walls or by a floor which slopes downward and tapers to a smaller cross-section; or
Contains any other recognized serious safety or health hazard.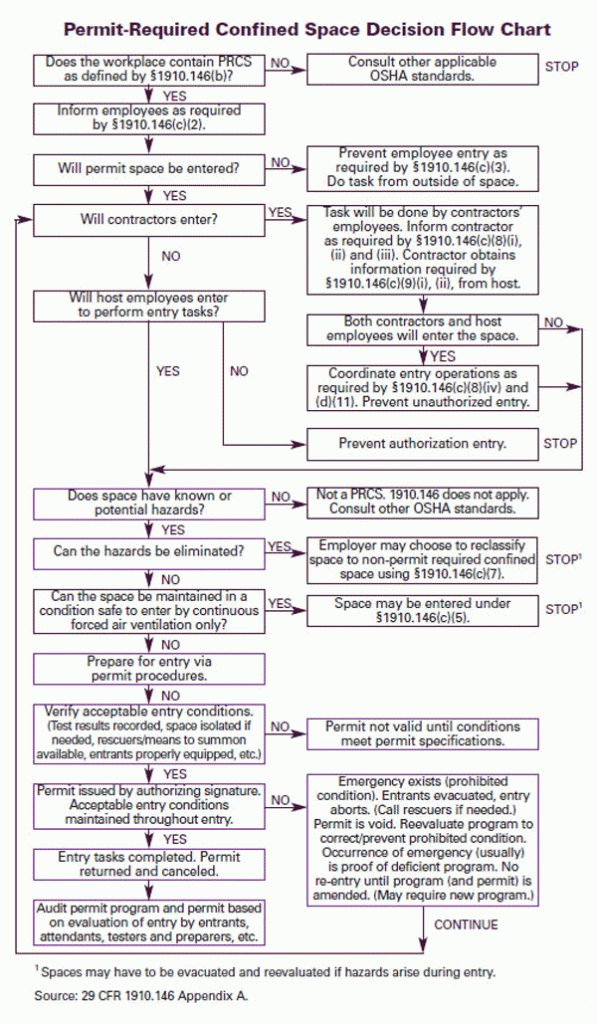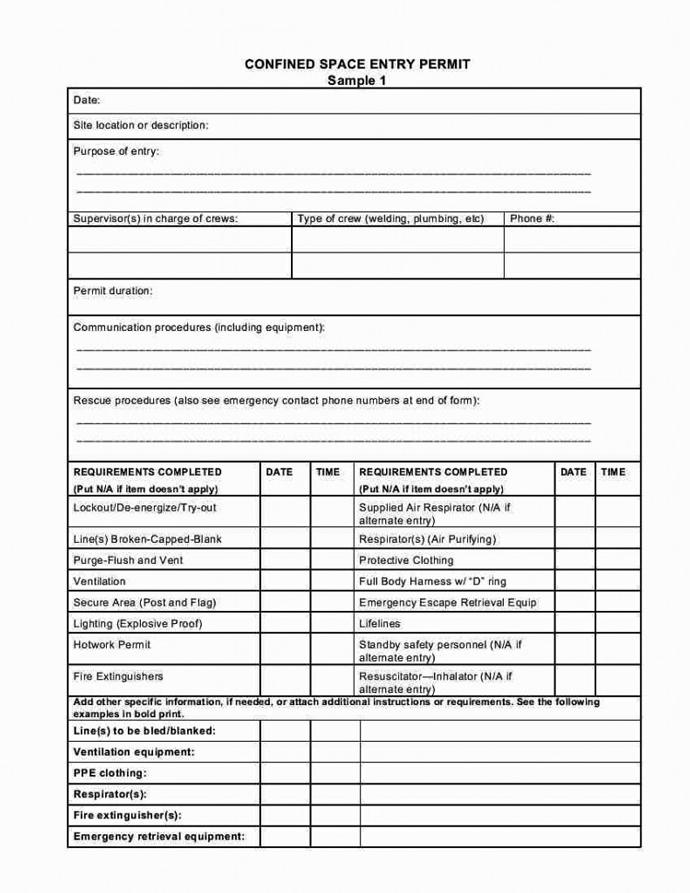 Other Definitions
We also need to understand other terms that are commonly used by OSHA and other agencies when talking about confined spaces, namely:
"Entry" – the action by which a person passes through an opening into a confined space. Entry includes ensuing work activities (e.g., maintenance activities) in that space and is considered to have occurred as soon as any part of the entrant's body breaks the plane of an opening into the space.
"Entry permit" – the written or printed document that is provided by the employer to the employee allowing entry into a permitted confined space. The entry to a permitted space is witnessed by members of the plant safety team who are required to be in attendance.
"Authorized entrant" – an employee who is authorized by the employer to enter a permitted space. This authorization is typically granted only after some form of training on the hazards or potential hazards associated with the space involved. The space should have been tested to ensure proper air quality (see below) and the individual entering the space should have an oxygen monitoring device.
"Attendant" – an individual stationed outside a confined entry space or one or more permitted spaces and who monitors the authorized entrants and who performs all attendant's duties assigned in the employer's permit space program. NOTE: It is not the responsibility of the attendant to enter the space to assist an entrant experiencing difficulties in that space.
"Rescue service" – the personnel designated to rescue employees from a confined or permit confined space.
Remember that all confined spaces are potentially hazardous to enter. Potential hazards within a vacuum furnace involve such items as:
A space in which the atmospheric oxygen concentration may be less than 19.5%
A space in which there can be an atmospheric condition brought about by inadvertently introduced life-threatening gas (e.g. nitrogen, argon, acetylene, etc.) into the area that is immediately dangerous to life or health.
A space in which there can be the removal of oxygen from the space brought about by inadvertent activation of the vacuum pump(s) and that is immediately dangerous to life or health.
The potential for the presence of flammable gases, vapors, mists or other airborne contaminants, which can combust or exceed the lower flammable limit (LFL).
Before an employee enters a confined space, the internal atmosphere shall be tested, with a calibrated direct-reading instrument, for oxygen content, for flammable gases and vapors, and for potential toxic air contaminants, in that order. Any employee who enters the space, or that employee's authorized representative, shall be provided an opportunity to observe the pre-entry testing performed for each of these conditions.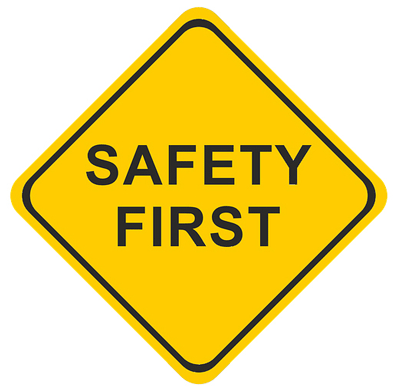 Typical Procedure
A generic procedure for individuals working within areas designated as confined spaces will follow. The reader is directed to procedures outlined in applicable Occupational Safety and Health Administration (OSHA) standards and State Office of Risk Management (SORM) guidelines for safe work practices, which supersedes the generic information contained here. See the partial list of other applicable documents below. The primary purpose of these procedures is to provide generic information to help ensure that individuals are protected from injury or death associated with working within designated confined spaces.
The Facilities Coordinator or his designate in combination with the plant safety committee must determine if work in the confined space is necessary after reviewing and evaluating options.
If confined space work is authorized by the Facilities Coordinator or his designate, a written Confined Space Entry Log and Debriefing Documentation must be maintained.
The authorized entrant must conduct an initial atmospheric test using a device for that purpose prior to entering the confined space. Adequate ventilation of the confined space must also be confirmed. The authorized entrant must ensure that atmospheric oxygen content is between 19.5% to 23.5% oxygen and that the LEL (lower explosive limit) is 0%. Otherwise, entry will not be permitted unless and until the condition changes or proper protective equipment is used to safely enter.
The authorized entrant must be equipped with the proper protective equipment, if required, ensure that it is functional and is used during the entry.
While the authorized entrant is in the confined space, a standby attendant must remain outside of the confined space entry location at all times.
The authorized entrant must have a means of regularly (at least every 10 minutes) communicating with the standby attendant when in the confined space area. Communication by cell phone, radio, or verbal contact is acceptable. The purpose is to access the condition of the individual in the confined space.
The standby attendant will contact 911 – Emergency Service Personnel and follow all additional plant rules and regulations should a rescue situation occur. The standby attendant must never enter the confined space for rescue or other reasons. The purpose for this is that the same hazard that affected the authorized entrant may overcome the standby attendant as well.
If rescue services are required, the standby attendant should next contact the Facilities Coordinator. The Facilities Coordinator should notify the Facilities Director, the Safety & Risk Manager and the plant safety committee members.
Training, Record Keeping, and Documentation
Annually, the Facilities Coordinator and other supervisory staff who may instruct employees to enter confined spaces and any employee who may be required to work within a confined space must participate in training and basic knowledge testing of confined space procedures. Initial and refresher training is to be provided so that employees will have an understanding of the procedures to be followed as well as the understanding, knowledge, and skills to perform confined space entry work safely.
Training is the responsibility of the Facilities Coordinator. For confined space entry training requirements, refer to OSHA standards and SORM guidelines. Annual training can be done by computer-based interactive CD-ROM's which include course testing and record-keeping documentation.
Training and basic knowledge testing documentation will be maintained by the Facilities Coordinator for audit and institutional compliance review purposes, for a minimum of three years following the close of the active fiscal year. Training records will include each employee's name, the signatures or initials of the trainers, and the dates of training.
The meter used to conduct the atmospheric testing and the LEL testing should be calibrated annually or per manufacturer's guidelines and per applicable industry standards. Employees conducting the testing should have initial training and annual refresher training on the proper use of the meter.
Confined Space Entry Log and Debriefing Documentation
Facilities Services will maintain a written Confined Space Entry Log and Debriefing Documentation of all confined space activities including contractor confined space entry.
The Confined Space Entry Log will include the following information as a minimum: The reason for entry, building or plant area location, standby attendant name, Authorizing Supervisor signature, authorized entrant's name and signature, date of entry, time in and time out. A debriefing document will ask each authorized entrant specific questions related to his/her activities in the confined space entry.
Contractor Confined Space Entry
When the company arranges to have employees of another employer (aka contractors) perform work that involves confined space entry, the company shall:
Inform the contractor that the workplace contains confined space entry and that entry is allowed only through compliance with confined space entry program meeting OSHA standards.
Apprise the contractor of the elements, including the hazards identified and the Company's experience with the confined space entry.
Apprise the contractor of any precautions or procedures that the Company has implemented for the protection of employees in or near the confined space entry where contractor personnel will be working.
Coordinate entry operations with the contractor by verifying that the contractor employees have been properly trained, authorizing the entry, providing the entry log and debriefing documentation, testing the internal atmosphere and ensuring the entry is performed safely.
In addition to complying with the confined space entry requirements that apply to all employers, each contractor who is retained to perform confined space entry operations shall comply with applicable Occupational Safety and Health Administration (OSHA) standards specifically 29 CFR Part 1910 – Permit-Required Confined Spaces, Section 1910.146 (c) (9) (i, ii, iii).
Annual Review
The Facilities Coordinator shall review annually this procedure and recommend any changes to the Safety & Risk Manager and plant safety committee. Changes may result from OSHA standards or SORM guideline changes or changes in company practices.
Sample Documents (Partial List)
The reader is directed to the OSHA website (www.osha.gov) for links to obtain copies of all documentation on this subject including but not limited to:
OSHA Permit-Required Confined Spaces (OSHA Document 3138-01R – latest revision)
OSHA Permit-Required Confined Spaces (OSHA Document 29 CFR 1910.146 – latest revision)
OSHA Safety and Health Topics | Confined Spaces
OSHA Confined space entry
Other OSHA documents that may apply include:
OSHA 1910.146 Permit-required Confined Spaces

OSHA 1910.146 App A – Decision Flowchart
OSHA 1910.146 App B – Procedures for Atmospheric Testing
OSHA 1910.146 App C – Examples of Programs
OSHA 1910.146 App D – Pre-Entry Check List
OSHA 1910.146 App F – Rescue Team or Rescue Service Evaluation
OSHA Small Business Training: Confined Spaces

Confined Space Entry: OSHA Regulatory News (SSPC)
Confined Space Entry (DOE)
Confined Space Entry Manual
Confined Space Entry Manual
Confined Space Entry: Glossary of Commonly Used Terms (RescueNet)
Confined Space Entry: No Room for Error! (RescueNet)
Confined Space Hazards (SafetyInfo)
Confined-Space Pre-entry Checklist (DOE)
Confined Space Pre-entry Checklist
Confined Spaces (Saftek)
Confined Spaces (Lab Safety Supply)
Confined Spaces Documentation Requirements Checklist (Saftek)
Confined Space Rescue (RescueNet)
A Guide to Safety in Confined Spaces
NIOSH Confined Space Entry Document (RescueNet)
Permit-Required Confined Spaces
Preventing Entrapment and Suffocation (NIOSH)
Preventing Occupational Fatalities in Confined Space (NIOSH)
Sample Confined Space Program
In Summary
Our intent was to introduce this important subject to the reader who is encouraged to seek additional information and training before making decisions as to whether to participate in activities involved with confined entry spaces.