Introduction
Many of today's vacuum furnaces are equipped with a partial pressure control system, which can be designed to operate with a single gas or multiple gases of various types – for example, nitrogen, argon, hydrogen and helium. Partial pressure is typically programmed into the furnace temperature controller (Table 1), activated as one of the programmed events.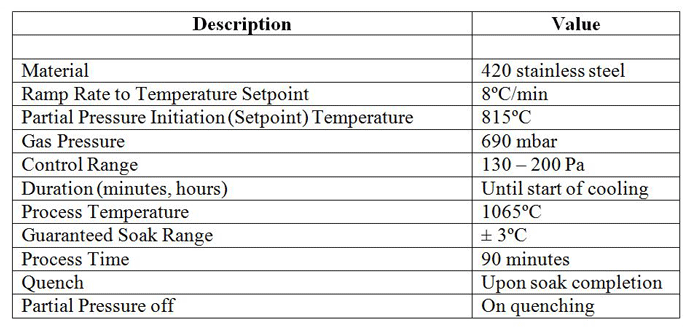 Why Use Partial Pressure?
The primary purpose of a partial pressure system (Fig. 1) is to avoid vaporization (i.e., boiling away) of elemental constituents, chromium as an example, from the component parts being run. Partial pressure also minimizes diffusion bonding (i.e. sticking or fusing of part surfaces together) that can take place on adjacent metal surfaces. In the case of brazing, it also serves to minimize or prevent vaporization of the constituents in the braze alloy. A secondary purpose of partial pressure control is to dilute and help sweep away unwanted vapors that may be present when outgassing occurs during heating. In most cases, however, a properly designed and robust pumping system will remove any outgassed vapors before the partial pressure setpoint is reached.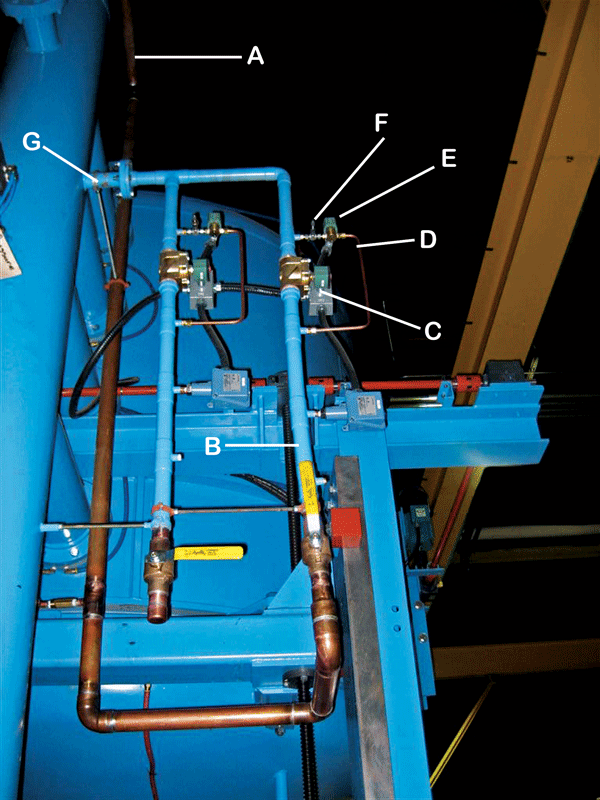 Key:
A: Incoming Gas Supply Line
B: Backfill Line No. 1
C: Quench Solenoid
D: Partial Pressure Line
E: Partial Pressure Solenoid Valve
F: Partial Pressure (Micrometer) Needle Valve
G: Inlet into Furnace
How Do Partial Pressure Systems Work?
The partial pressure system functions in the following manner. The partial pressure function is programmed into the cycle recipe. During the cycle, a pressure valve opens when the preprogrammed event setpoint is reached. Gas is introduced into the chamber and controlled within a pre-established range. Typical partial pressure settings for vacuum heat treatment are in the range of 65 – 200 Pa (500 – 1500 microns) depending on the material and process being run, but the setpoint value can, in general, be as low as 13 Pa (100 microns) and as high as 665 Pa (5000 microns) if desired (and if appropriate cautions are observed). A bypass circuit on the pumping system is used so that the gas pressure can be held in the desired setpoint value. It should be noted that the diffusion pump is not utilized, and the high vacuum valve is closed.
In some systems, a micrometer needle valve is also provided, often located in the line adjacent to the partial pressure solenoid valve, so that the pressure in the vacuum chamber can be maintained within closer set point limits than a system without such a device.
Another use of "partial" pressure is during convective heating, which takes place anywhere from sub-atmospheric pressure (in the range of 6.5 Pa (50 microns) or higher) all the way to a positive pressure in the range of 1 – 2 bar. Typically for a circulation fan to effectively move gas molecules, the pressure range must be a minimum of 65Pa (500 microns) or higher. After pumpdown, the furnace is backfilled to the selected pressure and heating begins. In this instance, partial pressure is used to reduce heat-up time with heavy loads and improve temperature uniformity throughout out the load.
Hydrogen Partial Pressure
Special consideration and NFPA specification requirements should be followed for partial pressure systems involving combustible gases, an example of which is a hydrogen partial pressure system. One of the important prerequisites to running hydrogen is to make sure that the vacuum furnace is "tight", that is, that the unit has a leak rate in the range of 2 – 5 microns per hour (maximum). This can be done manually, or in some systems it is performed automatically when hydrogen partial pressure is selected as part of the program recipe. As such, a leak check (see below) should be performed before every cycle involving the introduction of hydrogen. In addition, while hydrogen or any other combustible gas (e.g. acetylene, propane, etc.) is in use, the furnace should not be left unattended.
One of the other safety features required on the equipment is that the mechanical pump must be equipped with a (nitrogen or argon) purge system to dilute the hydrogen exiting the vacuum vessel out the pump exhaust so that it is non-combustible. In the case of a hydrogen partial pressure circuit, it is common to find a micrometer needle valve on the partial pressure line to minimize the oscillation around the desired setpoint. In addition, the upper setpoint limit is often reduced to a maximum of 1500 microns.
Today, inert gas safety purge systems are another feature commonly provided and activated (automatically or manually) in specific situations to dilute the combustible gas mixture. Another feature is the use of dual pressure relief valves on the vacuum furnace chamber (piped to exhaust outside the building) a common option offered by equipment manufacturers. Combustible gases are considered safe to use so long as the delivery systems, distribution systems, removal systems, and equipment are robust and "explosion proof". National Fire Protection Agency (NFPA) standards should be consulted and the vacuum furnace designed in accordance with NFPA 86.
Safety Considerations for Partial Pressure Systems
Leak Checks
In simplest terms, the leak rate (aka leak-up rate) of a vacuum furnace, typically measured in microns per hour, is the rate of pressure rise when the vacuum chamber is isolated from its pumping system and held for a given length of time. Two factors contribute to the value obtained, the actual rate of leakage due to the pressure rise from leaks in the chamber and leakage due to other factors (virtual leaks, permeation, diffusion, outgassing, backstreaming, etc.). The later values typically decrease over time.
Leak checks should be done for a one-hour duration, but it is common industry practice to reduce the amount of time and multiply by the appropriate value (for example, using a 30-minute test duration one would multiply by 2 to achieve a value "equivalent" to one hour). While an hour is always recommended, under no circumstances should the time for leak checking be under 10 minutes, and if unacceptable results are obtained, the re-test time duration should be increased.
Ideally, the vacuum furnace should be "clean, cold, empty and outgassed" in order to obtain accurate values. In the real world, however, this seldom happens. What is common, however, is to run a "clean up" cycle prior to performing a leak check. However, if leak checking is done before every cycle (automatically or manually), clean-up cycles are often relegated to once a week. If the furnace fails the leak rate test, it can be repeated. If the furnace repeatedly fails, the cause of the leak should be identified, isolated and corrected.
The leak check procedure involves evacuating the chamber with the furnace at ambient temperature to the lowest possible vacuum level (i.e., the ultimate vacuum achievable), isolating the chamber by closing the main vacuum valve to the chamber and noting the beginning vacuum level a minute or two after the valve closes. Measure the vacuum level again after the chosen time interval is over and calculate the rise in pressure per unit time. Acceptable leak rates for all-metal lined vacuum furnaces are in the 1 – 2 micron/hour range, while graphite hot zones can be in the 5 – 10 micron/hour range.
Gas Hazards

When dealing with any gas which may cause asphyxia, remember that oxygen may be displaced to a level of 16% of the gas/air mixture before symptoms appear. Marked symptoms appear when the oxygen concentration has been reduced to below 16%. Death will occur in minutes when the oxygen content is below 10%. First symptoms are hunger and rapid respiration. This is followed almost immediately by diminished mental alertness and impaired muscular coordination. Later, judgment is impaired and all sensations are depressed. Emotional instability and the rapid onset of fatigue are often reported. As asphyxiation progresses, there may be nausea, vomiting, prostration, loss of consciousness, convulsions, deep coma, and death.
Gases and liquefied compressed gases may be classified as:
Corrosive: Products that react chemically and deteriorate materials (such as skin) they come in contact with.
Cryogenic: Contact with these liquids cause "cryo burns" due to the freezing of skin as well as vaporizing rapidly, which if in confined spaces can cause asphyxiation.
Flammable: When mixed with air, oxygen, or another oxidant burns or explodes upon ignition.
High Pressure: A sudden release of pressure may cause serious damage to personnel or equipment.
Inert: These displace oxygen in confined spaces and threaten life support.
Oxidant: Gases that initiate and support combustion.
Toxic: Substances that may chemically produce injurious or lethal effects.
Some basic properties of gases used in vacuum systems are:
Argon (chemical symbol: Ar). Heavier than air. Difficult to purge from pits and recessed areas.
Nitrogen (chemical symbol: N2). Slightly lighter than air.
Helium (chemical symbol: He). Much lighter than air.
Hydrogen (chemical symbol: H2). Much lighter than air. Accumulates in ceiling areas and can reach dangerous concentration levels. Roof sensors tied to automatic ventilation systems are recommended.
Methane (chemical symbol: CH4). Very slightly heavier than air. Often confused with natural gas (typically 90 – 95% methane). Natural gas has an odorant added, methane does not.
Examples of gases whose primary hazard is an explosion if an air/gas mixture should occur include:
Ammonia. This gas has a lower explosive limit of 27% and is highly flammable.
Hydrogen. An odorless gas that normally burns with a colorless nearly invisible flame making it very difficult to detect. The lower explosive limit (LOL) of hydrogen is 4%.
Propane (chemical symbol: C3H8). A gas with a slight odor that is heavier than air and which can accumulate in pockets below ground level, such as pits.
Symptoms of gas poisoning
One should also be aware of the changes (either rapid or slow) in one's physical condition. Symptoms may include:
Dizziness
Headache
Stiff neck
Weakness
Nausea

In many instances, if a person collapses, the safety policy may tell you not to attempt to rescue the person in question until after ascertaining that the area is completely safe. Most people find this to be a very "disturbing" policy, but if you think about it for a moment you will realize that the problem that overcame a fellow worker may overcome you!
Be sure you are very clear on your company policy regarding this issue – ask questions and bring up numerous "what if" scenarios in safety meetings and remember to think before acting.
When possible, remove all personnel from, and seal off the area in question until proper ventilation is provided. In the event a person is overcome call for medical attention immediately and implement plant safety procedures.
Summary
The use of partial pressure in vacuum furnace systems can be extremely beneficial to the component parts being processed and is an option that should be provided on every new furnace and retrofit on those which do not have it now.
References
1. NFPA standards (www.nfpa.com)
2. Jones, William R., Partial Pressure Vacuum Processing – Parts I and II, Industrial Heating, September/October 1997.