It is not uncommon in the heat treatment industry to hear one talk about high-pressure gas quenching and in doing so refer to terms such as 2 bar, 6 bar or even higher pressures. In scientific terms, a bar is defined as a unit of pressure equivalent to 100 kilopascals. A bar can also be thought of as roughly equal to atmospheric pressure (the amount of force air exerts on the Earth at sea level). To be technically correct, one atmosphere of pressure is 1.01325 bar or to put it another way, one bar is equal to 14.5 psia. Conversion calculators and tables are available to change bar into other units (Table 1).
Another common unit you might come across when talking about (negative pressure) vacuum levels in a vacuum furnace is millibar (mbar), which is 1 x 10-3 bar.
Table 1 | Conversion Values for 1 bar (a) Metric system (b) British and US Imperial System (c) Atmosphere (d) Water (e) Natural Units 4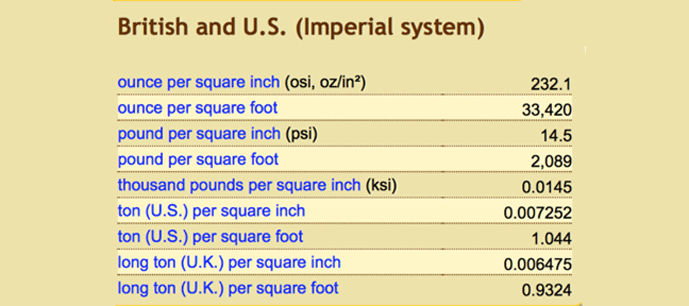 Absolute versus Gauge Pressure
When talking about high-pressure gas quenching you might also hear one say that that they are quenching at 6 bar, to which they might quickly add, "5 bar absolute". Just what are they trying to say here?
Absolute pressure is referenced against a so-called "perfect vacuum" and as such is equal to gauge pressure plus atmospheric pressure. By contrast, gauge pressure is referenced against ambient pressure (14.7 psia), so it is equal to absolute pressure minus atmospheric pressure. So, when one talks about 5 bar absolute, one must add 1 bar of pressure (think of this as going from negative pressure to atmospheric) to arrive at total pressure, in this case, 6 bar.
As an example, measurements in the English system that relate the pressure of a system to a reference pressure are given by specifying the pressure in terms of pounds per square inch absolute (psia) or pounds per square inch gauge (psig).
Pressure measurement (Fig. 1) is divided into three basic categories:
1. Absolute pressure – the absolute value of the force per unit area exerted on a surface. A "perfect" vacuum, for example, is a value of zero.
2. Gauge pressure – the measurement of the difference between the absolute pressure and (local) atmospheric pressure (which can vary due to such factors as temperature, altitude, and relative humidity). Negative signs are usually omitted when speaking of gauge pressure.
3. Differential pressure – the difference in pressure between two points.
Figure 1 | Relationship of pressure terms to one another 1,7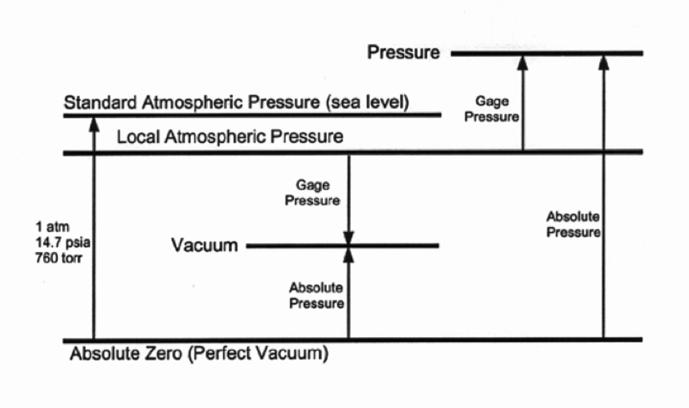 Examples of absolute pressure include atmospheric pressure, and vacuum levels while gauge pressure includes such items as tire pressure and blood pressure.
Gauges
Most of us in heat treat shops are familiar with pressure gauges but perhaps less so with vacuum gauges. Pressure gauges are essentially of two basic types:
1. A vented gauge, for example, allows the outside air pressure to be exposed to the negative side of the pressure sensing diaphragm, via a vented cable or a hole on the side of the device, so that it always measures the pressure referred to barometric pressure at ambient temperature.
2. A sealed gauge although similar have atmospheric pressure sealed on the negative side of the diaphragm. Examples are hydraulic gauges where atmospheric pressure changes will have a negligible effect on the accuracy of the reading, so venting is not necessary. This also allows some manufacturers to provide secondary pressure containment as an extra safety precaution.
A vacuum gauge is used to measure the pressure in a vacuum—which is typically divided into two subcategories, high (i.e., hard) vacuum and low (i.e,, soft) vacuum. To select the right pressure device for a specific application requires one to know the desired pressure range and the capability of the pumping system to achieve the desired pressure. Vacuum sensors measure a certain pressure in comparison to a reference pressure and can be divided into absolute, gage and differential devices (Fig. 2).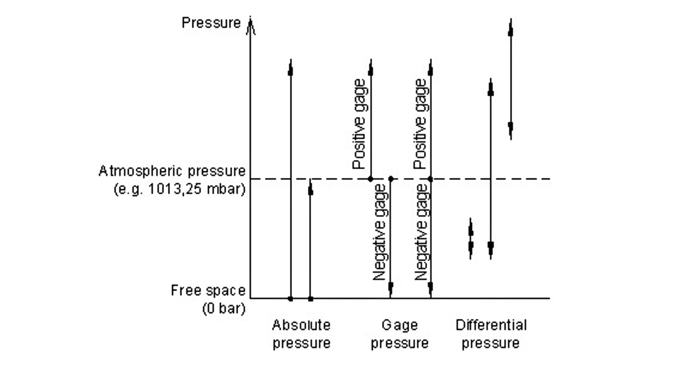 Vacuum Levels
The term "soft vacuum" is used in the heat treat industry when referring to negative pressure in the range of 10-3 Torr or slightly higher. An intermediate vacuum is often considered in the range of 10-3 to 10-4 Torr. The term "hard vacuum" is used in the heat treat industry when referring to negative pressure in the range of 10-5 to 10-6 Torr or less.
The process application normally dictates the vacuum level. For applications requiring monitoring both decreases in pressure below atmospheric pressure and increases in pressure above atmospheric pressure, differential pressure (psid) is normally used. It is positive and can relate to a reference pressure (Fig. 3). If the reference pressure is one atmosphere the differential pressure range is equal to gauge pressure range.

Summary
The terms "vacuum" and "pressure" can be misleading and are often misunderstood and at times misapplied when discussing pressure levels and choosing pressure sensing devices. By definition, vacuum is a space that is partially (not fully) devoid of matter (in practical terms we say that the operating range of our processes represents the highest degree of vacuum level practical) by artificial means (such as a mechanical pump, blower, and diffusion pump combination).
References
1. Herring, Daniel H., Vacuum Heat Treatment, BNP Media, 2012.
2. Herring, Daniel H., Vacuum Heat Treatment Volume II, BNP Media, 2016.
3. First sensor
4. www.convert-me.com
5. www.wikipedia.com
6. Heeley, David, "Understanding Pressure and Pressure Measurement", Freescale Semiconductor, Application Note AN1573, 2005.
7. Setra blog "Vacuum Pressure: What is it & How Do You Measure It?" (www.setra.com)