Hard chromium plating has traditionally been used on aircraft airframe components to provide corrosion protection and wear resistance. Chromium plating has been identified by governmental regulatory agencies as a health hazard due to the presence of hexavalent chromium within the plating solutions. This has prompted major airframe and landing gear manufacturers to search for alternative processes to chromium plating which do not pose a health threat to the process operators. The leading candidate for hard chromium replacement is tungsten carbide coating applied by the HVOF (High-Velocity Oxygen Fuel) thermal spray process. There are many practical considerations to account for when implementing a change of this magnitude.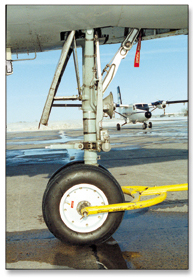 Canada is the world's foremost supplier of landing gears. With the U.S. Environmental Protection Agency imposing stricter limits on the use of hexavalent chromium, and other countries considering similar legislation, efforts are underway to adopt a new coating process. "It's in everyone's interest to be ready in time for that legislation," says IAR project director Dr. Jean-Pierre Immarigeon. "If new technology can be mastered, you can adopt it in advance of the legislation being passed."
The best clean alternative technology being considered by the aerospace industry is a ceramic/metal composite coating applied by High-Velocity Oxy-Fuel (HVOF), a thermal spraying process that is environmentally safer than chrome plating and has potential for cost and time savings.
As part of a Canada-U.S. effort to evaluate alternatives, IAR is working in partnership with Orenda Aerospace Corporation, NRC's Industrial Materials Institute (IMI), NRC's Innovation Centre (IC) in Vancouver, Vac-Aero International and the Department of National Defence to evaluate the corrosion resistance, fatigue properties and wear resistance of cermet coatings produced by the HVOF process. Orenda is leading the Canadian R&D effort to develop the coating process and examine the relationship between processing conditions and product quality. As part of this effort, IAR's Structures, Materials & Propulsion Lab is conducting coupon-level testing of tungsten carbide/cobalt with 4 percent chromium (WC-10Co-4Cr). At the same time, the U.S. team is testing a different version of the coating, tungsten carbide/cobalt (WC-17Co). Both countries are sharing the results.
IAR is drawing on expertise from NRC facilities and industrial partners across Canada to complete the project. Spraying parameters were developed in collaboration with IMI, and spraying was carried out by VAC AERO International.
Corrosion and fatigue tests are underway at IAR's facilities in Ottawa, while wear testing is being done by IC. "What IAR does is provide the infrastructure that is needed to perform such evaluation," says Immarigeon. "No one has the resources to do the in-depth studies that we are able to do."
HVOF shows strong potential to reduce downtime and maintenance costs for the military's Hercules and F-18 aircraft. The new process takes only one or two hours, as opposed to 24 hours for chrome plating, and requires less frequent maintenance. "It's an area where we can, through an R&D contribution, identify potential savings in using a coating which has more durability, is easier to install and is less toxic," says Ken McRae, Head of the Air Vehicles Research Section of DND Defence R & D Canada.
So far HVOF has held up well in corrosion and wear tests, performing equal to or better than chrome plating. One unexpected phenomenon turned up in fatigue tests — under extreme compressive stress (approximately 200 ksi) the coating tends to spall off. While most aircraft landing gear don't normally experience compressive stresses at these levels, it could occur in some situations. "For aircraft that are landing on aircraft carriers, the loads are quite high, up to 220 ksi," says IAR research officer David Dudinski.
IAR helped Orenda to analyze the cause of spallation and to mitigate the phenomenon, which may require modifying the coating composition or spraying parameters. Spallation at high loads may provide an advantage over chrome plating, which cracks under high compressive stress but doesn't spall off, making damage harder to detect. Unlike chrome plating, damage to the HVOF coating is clearly visible and can be repaired quickly and cost-effectively.
IAR will complete coupon testing during the next year. In the meantime, the three major Canadian landing gear companies – BF Goodrich, Messier-Dowty and Heroux Inc. — are preparing for full-scale tests.
Canada's involvement in the tests will help ensure our country is in a position to respond quickly when industry standards change. "We're trying to ensure that the know-how exists in Canada, so that Canadian companies will maintain the whole package as a Canadian product," says Immarigeon. "It's a good example of effort integration between different organizations for the sustained well being of Canadian industry."
For more information please visit our Coatings page.