With recent advances in technology, the vacuum furnace purchaser faces an array of new considerations when buying furnace equipment.  Innovations in hot zone materials, control packages, and quenching systems can offer many operating and performance improvements, but can also affect the price of the equipment.  As both a heat treater and vacuum furnace manufacturer, VAC AERO can provide informed answers to cost/value questions affecting difficult purchase decisions.
Hot Zone Materials:
Lightweight, curved graphite elements are becoming increasingly popular for vacuum furnaces.  These elements have a lower thermal mass than old-style graphite rod or bar elements.  Compared to molybdenum strip elements, the curved graphite element is more durable and has better resistance to operating hazards like accidental breakage or braze alloy spill.
Graphite insulation materials also exhibit excellent performance in vacuum furnaces.  Thousands of hours of operating service have confirmed that graphite felt insulation is suitable for almost all high vacuum applications, including brazing of advanced superalloys.  Less expensive and easier to maintain than graphite board or all-metal shielding, felt insulation can be combined with a reflective carbon composite hot face to maximize hot zone life, even in high-pressure gas quench furnaces.
VAC AERO offers a variety of hot zone designs customized for unique thermal processing applications and builds hot zones for all makes of vacuum furnaces.
Control Systems
Furnace instrumentation and control packages are constantly evolving with advances in hardware and software.  Even basic control systems now include easy-to-understand touchscreens with graphics displaying operating indicators and alarms.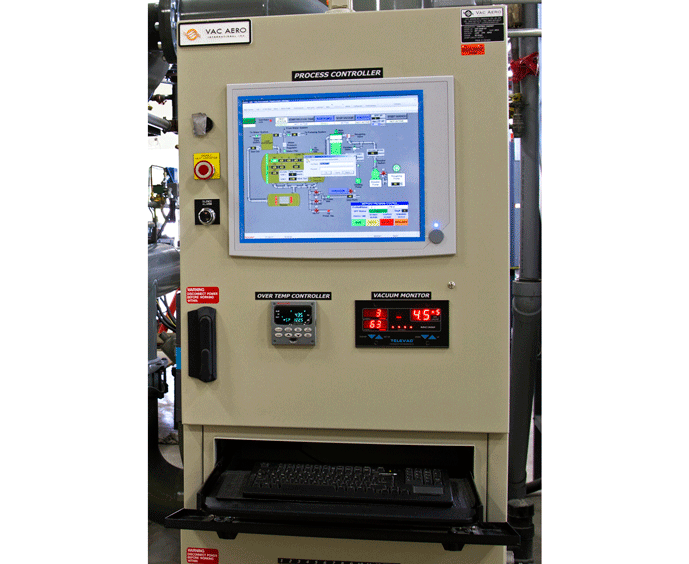 Where more advanced data management applications justify the higher cost, the PC-based control system is a user-friendly and versatile tool.  Perhaps its biggest advantage is an access capability that allows the user to analyze, adjust and download operating parameters from remote locations.  These systems can be connected to local networks for multiple user access and even to the Internet via secure connections.  New software, like that used in VAC AERO PC-based control systems, offers better graphics and improved versatility compared to older PC-based systems.
Quench Systems
Two bar, six bar, ten bar or twenty bar?  Quench gas composition?   Blower size?  Questions regarding the quenching capabilities of a vacuum furnace usually involve the most difficult cost/value decisions.  While the popularity of high-pressure gas quench furnaces has soared, some furnace users remain unaware that high-pressure gas quenching is a complex process with certain fundamentals that profoundly affect furnace design and heat treat quality.  Selection of a high-pressure gas quench furnace should be based on a careful analysis of the specific heat treating application.
From years of practical experience, VAC AERO can provide cost-effective equipment solutions for all vacuum heat treating challenges.