BY JEFF PRITCHARD
The air we breathe contains a number of elements that can react with metals under the proper conditions.  Moisture, oxygen, carbon dioxide and hydrogen are present in significant amounts in our atmosphere.  Each can react to varying degrees with many different metals.  While many of these reactions occur to only a small extent at room temperature, they are often greatly accelerated in the presence of heat.  Consider the example of a piece of polished metal held over a heat source.  It will eventually turn blue or black as the elements in the atmosphere react with the hot metal.
In most cases, the heat treater tries to minimize the extent of these reactions during heat treating.  The reactions cause changes in the surface properties of the metal that may result in a heat treated component with a "skin" that is much softer (or harder) than the rest of the component.  To minimize these undesirable reactions, the source of the reactive elements, air, must be eliminated from the heat treating environment.  Sometimes this is done by replacing the air in a heat treating chamber with a non-reactive atmosphere such as nitrogen, argon or other gas mixtures.  This is often referred to as controlled atmosphere heat treating.  Another alternative is to heat treat in a bath of non-reactive molten salt.  However, these environments still contain some very low levels of residual impurities so metals heat treated in a controlled atmosphere or salt usually exhibit a small amount of discoloration.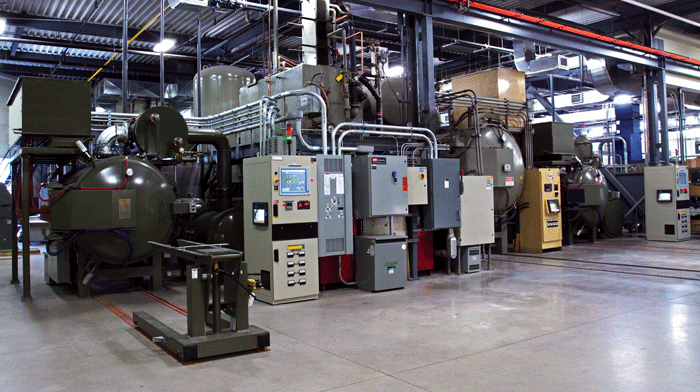 In vacuum heat treating, most of the air and its reactive elements are removed from the heat treating environment.  Most often, this is done by evacuating a tightly sealed heat treating chamber by means of a vacuum pumping system.  While the pumping system cannot remove all of the air, it does remove so much that there is hardly anything left to react with the metal being heat treated.  Some pumping systems are designed to remove more air than others.  A furnace with a mechanical pumping system alone removes enough air that there will be no apparent surface reactions (discoloration) during heat treating of most common metals like stainless steels or tool steels.  However, highly reactive materials like titanium and some superalloys (Inconel) will still discolor if heat treated in a furnace with mechanical pumping only.  To process these types of materials without any discoloration, an oil diffusion pump is added to the pumping system. The diffusion pump will remove even more air from the heat treating chamber to provide a "super-clean" environment for processing.  Diffusion pumped systems are also preferred for vacuum brazing furnaces.
Vacuum furnaces must be properly maintained to avoid developing leaks.  Even a small leak can be enough to cause contamination of the load during heat treating.  It is also important that the baskets or fixtures used to contain the workload as well as the workload itself are properly cleaned before being placed in a vacuum furnace.  Contaminants from dirty fixturing or workloads can "burn off" during heat treating causing discoloration of the workload and furnace hot zone.  Even when proper cleaning precautions are employed, some amount of contamination will eventually build-up within the vacuum heating chamber.  The recommended practice is to "bake-out" the empty furnace at regular intervals (perhaps once per week) to remove the contamination.  The bake-out cycle involves heating the empty furnace to a temperature at least 100°F higher than its normal operating temperature and holding it at that temperature for a period up to 30 minutes.  The heat causes the contaminants to burn off from the furnace internals and they are subsequently removed from the chamber by the vacuum pumping system.
As an experienced vacuum heat treater and manufacturer of vacuum heat treating and brazing furnaces, VAC AERO can assist you in choosing the best thermal processing solutions for your unique applications.
For more information on VAC AERO's Furnace Manufacturing please click here.