Lubricants for vacuum service are a diverse family of highly formulated products. The types of lubricants for vacuum service fall into three general categories: (a) wet, organic or silicone-compound based oils and greases, (b) dry lubricants including PTFE (Teflon®) and metal dichalcogenide compounds (e.g. molybdenum disulfide, tungsten diselenide) and (c) metal on metal combinations.
The choice of lubricant depends on a number of considerations that are highly dependent on the specific end-use applications including:
Operating temperature and vapor pressure
The presence or absence of sliding or rolling motion
The presence or absence of reactive species (e.g. plasma)
Loading characteristics
Frequency of usage
Lubricants are used in a vacuum system for three primary reasons: (1) in an "O" ring sealed system to help minimize externally applied forces on the ring material, (2) between moving surfaces to reduce the coefficient of friction, minimize wear and/or reduce/eliminate the formation of particular matter and (3) as anti-seizing agents where mating surfaces are likely to seize.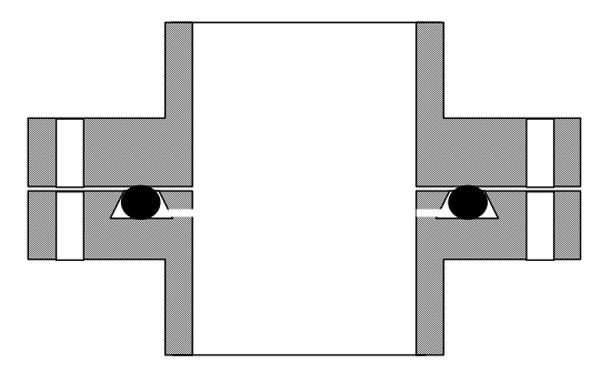 For the purpose of this discussion, we will turn our attention to "O" ring seals (Fig. 1), which are one of the most common types of mechanical connection used on vacuum furnaces. The seal arrangement typically consists of a groove or gland machined into the face of one of the flanges and an elastomeric (Buna N, Silicone, Teflon®) gasket material. Compressive forces exerted on the O-ring when the two flanges are tightened together squeeze the O-ring providing the seal. An extremely light coating of O-ring grease is applied to the O-ring, not to fill voids, but to allow the O-ring to move in the groove under the applied force to achieve the optimal position for a tight seal. A general rule of thumb with respect to O-ring grease is when you move your finger along the O-ring surface it will slide or glide unhindered with no appreciable amount of grease buildup. A thin coating is more than adequate and any application other than a light coating has no practical benefit, in fact, it may be a detriment to good sealing!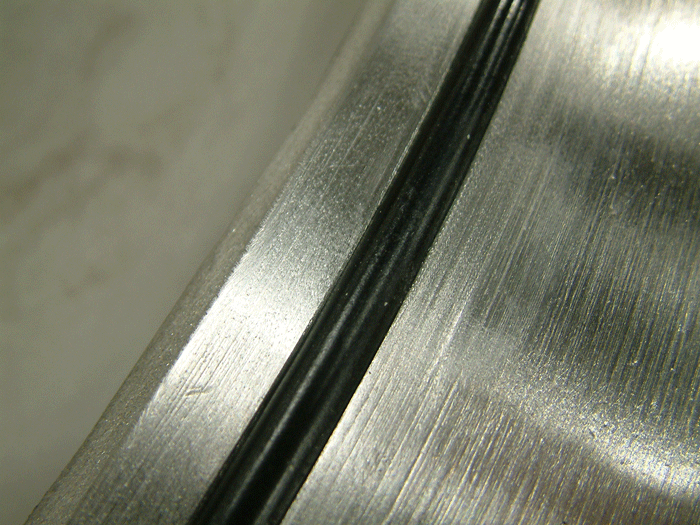 Using a suitable grease or oil during assembly helps protect the O-ring from damage by abrasion, pinching, or cutting. It also helps to seat the O-ring properly, speeds up assembly operations, and makes automated assembly line procedures possible. An additional benefit is the protection that the lubricant provides as a surface film. Proper lubrication also helps protect some polymers from degradation by atmospheric elements such as ozone and its presence helps extend the service life of any O-ring. A lubricant is almost essential in pneumatic applications requiring dynamic service. In vacuum applications, appropriate lubricants help reduce the overall leak rate by filling the micro fine inclusions of the gland's metal surfaces and lowering permeation rates of the elastomer.

"Vacuum grease" is the generic term used in the heat-treating industry to describe the family of lubricants intended to help seal joints in vacuum systems (Fig. 2). These lubricants have low volatility important to prevent evaporation, which would make lowering the pressure (below their vapor pressure) difficult and also ensure that they remain present on the surface to provide lubrication.
Several companies supply special lubricants that have vapor pressure and lubricating properties that are engineered for vacuum system applications. Here is a brief overview of some of these products.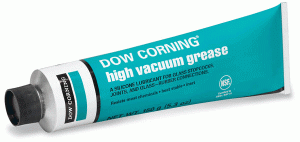 Dow Corning High Vacuum Grease (Fig. 3) is perhaps the most common product used in most vacuum heat treat shops. It is a silicone-based product, which is generally considered ideal for most high vacuum applications. The grease is uniform in consistency, firm but not rigid (i.e. soft but not runny) and can be used over a wide temperature (exposure) range. Important features of this high vacuum grease include its sealing ability, resistance to water, chemicals, temperature range (low and high) and low volatility. This grease can be used in most applications operating in the 10-5 to 10-6 Torr range and below (Table 1). The product has much higher stability at the higher end of the temperature range from -40° C to 200° C, than many other hydrocarbon greases. However, its initial room temperature pump-down characteristics are not quite as good taking noticeably longer to out-gas.
For many years this product was designated as Dow Corning 976 or 976V High Vacuum Grease but the name has now been streamlined to just "Dow Corning High Vacuum Grease".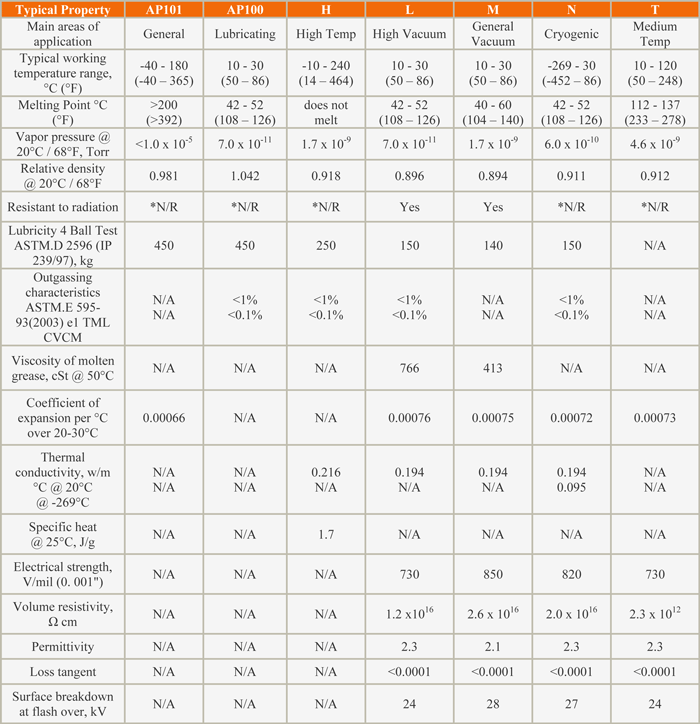 Dow Corning High Vacuum Grease is not recommended for use when
In contact with liquid oxygen. For these applications, Braycote high vacuum greases might be considered.
With silicone elastomers. Here either the hydrocarbon-based Apiezon greases or the Braycote greases may be more suitable.
On surfaces to be painted, since it will prevent a good adhesion between the paint coating and substrate. Virtually all greases will have a similar deleterious effect so there is no recommended substitute. If a surface is being prepared for a top coating, care must be taken to prevent contamination from any grease.
As a lubricant in metal bearings. Either the hydrocarbon base Apiezon greases or the fluorocarbon-based Braycote greases, may be appropriate depending on the temperature range and exposure to reactive chemicals.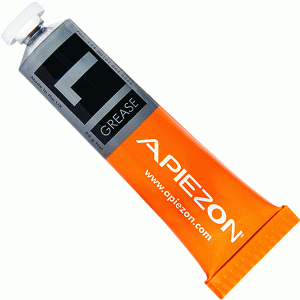 Apiezon manufacturers a wide range of vacuum products (Table 2) each having distinctive properties, a few of which are highlighted below:
Apiezon M grease is a silicone and halogen-free high vacuum grease and is designed for use in high vacuum environments at ambient temperatures, generally between 10 to 30°C. For higher temperatures, Apiezon AP101 or Apiezon H Grease may be more appropriate.
Apiezon AP101 extends the temperature range from -40°C to 180°C. It is a heavy duty lubricating grease gelled with lithium stearate (a silicone earth), and PTFE.
Apiezon H will withstand temperatures up to 250°C without melting. In fact, it stiffens at temperatures above 40°C. It is of a rubbery nature and intended for lubricating in applications where a high melting point grease must be used.
Special Application/Ultra Duty Products
UNIFLOR 8322 (Table 3) is a PTFE thickened, heavy viscosity, completely fluorinated grease intended for applications where plastic and elastomer compatibility and resistance to aggressive chemicals are required.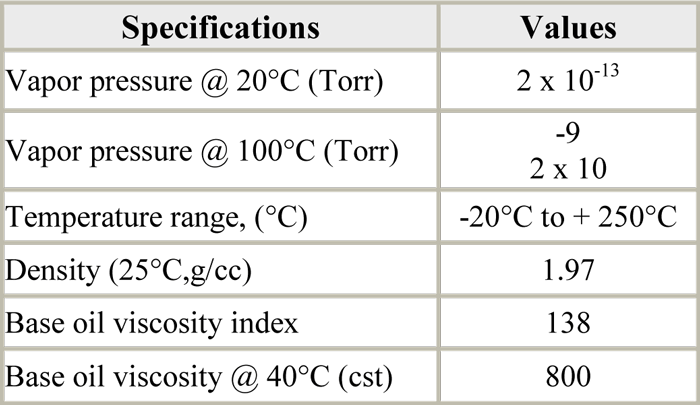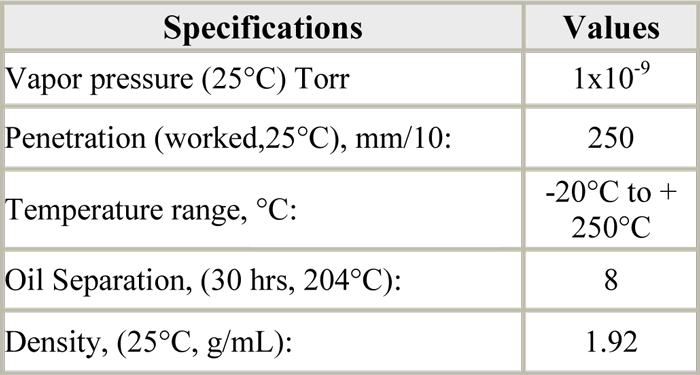 Fomblin is an inert high vacuum grease (Table 4) that is a combination of a low vapor pressure perfluoroalkyl polyester oil and a fluorocarbon resin thickener. This grease is preferred for applications where corrosive chemicals may be present. The grease will not degrade or be dissolved by most solvents, acids, bases, or other highly reactive chemicals. They can be cleaned from surfaces by dissolving the oil portion with solvent.
Fomblin Y VAC 3 is particularly suitable for use as a lubricant of mechanical parts operating at high vacuum and in contact with aggressive chemicals or oxygen. It is considered for "lubrication for life" applications. Its lubricating properties make it suitable for long exposure times at very high operating temperatures, from -20°C to 200°C and is used in the manufacturing, aeronautical, and electromechanical industries.
Fomblin RT 15 (Table 5) is suitable for lubricating mechanical parts in applications where extreme pressure is present. Its operation temperature range is from -20°C to 200°C. Its properties again make it suitable in "lubrication for life" applications.


Krytox® LVP high-vacuum grease (Table 6) is a fluorinated oil with a fluorocarbon thickener and offers complete oxidation resistance. All these features add up to lower wear and longer life for equipment and components—so important when access for component repair or replacement is difficult or impossible.
Braycote greases are perhaps best known for their high chemical inertness which derives from their completely fluorinated chemistry, both in terms of the "base liquid", which is very similar to a diffusion pump fluid, and the solids phase, which is a micro-colloid of tiny polytetrafluoroethylene (PTFE) "dispersion" particles.
Braycote 600 EF (Table 7) is a perfluorinated grease designed to operate in the presence of fuels, oxidizers, and in applications of deep space vacuum. It is used in gears, ball and roller bearings, electrical contacts, and "O" rings. This grease is highly recommended for applications where temperature extremes and/or low vacuums are routine or in hostile chemical environments.


Microcote 096, 196, and 296 (Table 8) are perfluoropolyether greases in three NLGI grades Number 0, 1, and 2 respectively. Each product uses a proprietary base fluid thickened with a special polytetrafluoroethyelene (PTFE) gelling agent with an average particle size of 0.8 µm. These products are specially formulated to provide wear protection in most load and speed conditions under high or extreme vacuum conditions. These products offer excellent lubricity, thermal stability, low volatility, good shear stability, low acute toxicity, and contain no sodium or other alkali metal containing ingredients. These greases are nonflammable and chemically inert.
In Conclusion
Whether your application demands simple vacuum grease or a more sophisticated lubricant formulation there are products in the marketplace specifically engineered for the demands of vacuum service.
References
Hoffman, Dorothy, and Bawa Singh and John H. Thomas III, Handbook of Vacuum Science and Technology, Academic Press, 1998.
Vacuum Technology, Las Positas College, Fall 2002, Chapter 4: Vacuum System Components, Biltoft, Benapfl and Swain.
Wikipedia (wwwwikipedia.com)
Apiezon Product Brochures (www.apiezon.com)
Neyco Product Catalog (www.neyco.fr)
Roth, A., Vacuum Sealing Techniques, American Institute of Physics, 1994.
Herring, Daniel H., The Ubiquitous O-Ring, Industrial Heating, November 2009.