BY JEFF PRITCHARD
There are several factors to be considered in preparing workpieces for vacuum heat treating or brazing. Cleanliness of the workpieces and baskets or fixtures is very important. They must be free of oil, dirt, machining lubricants or other contaminants prior to being loaded into the furnace. Some lubricants contain sulphur compounds which can adversely affect the alloys being heat treated. Inadequate cleaning can also cause staining and discoloring of the end product or result in poor braze alloy flow. Contaminants with high vapour pressures will evaporate during heating causing loss of vacuum. The vapours may eventually condense on colder surfaces in the furnace only to re-vaporize to cause contamination problems in subsequent runs.
It is good practice to check all workpieces for cleanliness prior to loading for vacuum processing. Tubular assemblies or parts with deep holes or recessed passages should be inspected for entrapped lubricants, machining chips or residual casting core debris. Particular attention should be paid to castings. In some cases, they are cleaned in molten salt baths to remove core residues. These corrosive salts may remain entrapped after removal from the salt bath. If not cleaned out prior to vacuum processing they will vaporize during heating. Workpieces should also be inspected for metal identification tags. Both the tag and the wire that is used to attach it to the workpiece should be checked to ensure it is not made from a low melting point material such as aluminum.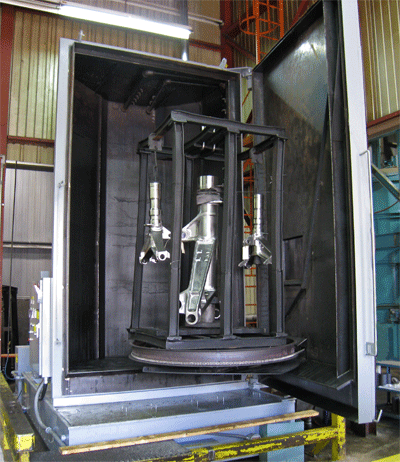 Selection of the cleaning process depends on the prior processing history of the workpiece and the alloy from which it is fabricated. For parts contaminated with stamping lubricants or cutting oils, it is important to know the type of fluid that was used. Performance of some cleaning processes may be adversely affected depending on the nature of the contaminant (ie. mineral- versus water-based oils). When the composition of the contaminant is unknown, solvent or vapour degreasing is usually the first choice for cleaning. However, these cleaners do not work well on water-based contaminants. In these cases, an alkaline or emulsion cleaner should be used. It should also be noted that water can cause the deterioration of many fluids used in vapour degreasing, creating an acidic solution that can attack both the workpiece and degreasing equipment.
Certain materials may require specific cleaning precautions. Titanium, zirconium and their alloys should never be cleaned in chlorinated solvents such as trichlorethylene or methylchloride. Chloride residues can cause stress-corrosion cracking in titanium and zirconium alloys when they are heated above 280ºC (550ºF). Instead, these alloys should be cleaned in non-chlorinated solvents such as acetone or alcohol or in alkaline solutions. Many deep drawing lubricants contain sulphur and lead. Both elements can attack nickel alloy surfaces during heating, causing the formation of low-melting point eutectics that will severely embrittle the base metal. Nickel alloy workpieces must be carefully cleaned to ensure complete removal of the lubricants. After cleaning, workpieces must be thoroughly dried before loading into the furnace. Solvents and water residues will volatilize during heat treating and degrade pumping performance.
VAC AERO engineers can provide expert advice on both heat treating processes and equipment.
Contact us to discuss your requirements.
For more information on VAC AERO's Heat Treating Services please click here.