BY JEFF PRITCHARD
Once a good fixture design has been developed, careful consideration should next be given to the loading of the workpieces.
Heating in a vacuum depends mostly on the transfer of energy through radiation from the elements to the load. For uniform heating and cooling, it is important that the workpieces are not shielded by one another. Pieces within the load should be evenly spaced to ensure even exposure to radiation. The size, shape and high-temperature strength of the workpiece should also be considered during loading. Alloys with complex shapes and relatively low strength at heat treating temperatures may distort during processing. In some cases, it may be necessary to support these components with specially designed fixtures.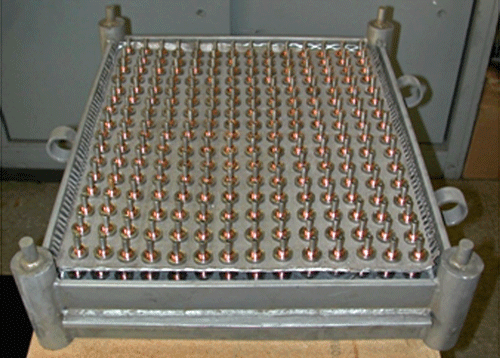 To minimize distortion, long workpieces should be loaded vertically or hung from a fixture, if possible. To ensure that all areas of the load receive the proper soak, the best practice is to attach workload thermocouples to monitor temperatures in the center and outer surfaces of the load. If the use of workload thermocouples is not practical, longer soak times should be used on densely packed loads, particularly at temperatures below 760ºC (1400ºF) where heating by radiation is least efficient (ie. below the "red" or "visible" heat range). Proper spacing is also important for fast cooling. The quench gas should be free to circulate around the entire surface of each workpiece. This is particularly important during vacuum hardening where critical cooling rates must be achieved to develop full mechanical properties in the base metal.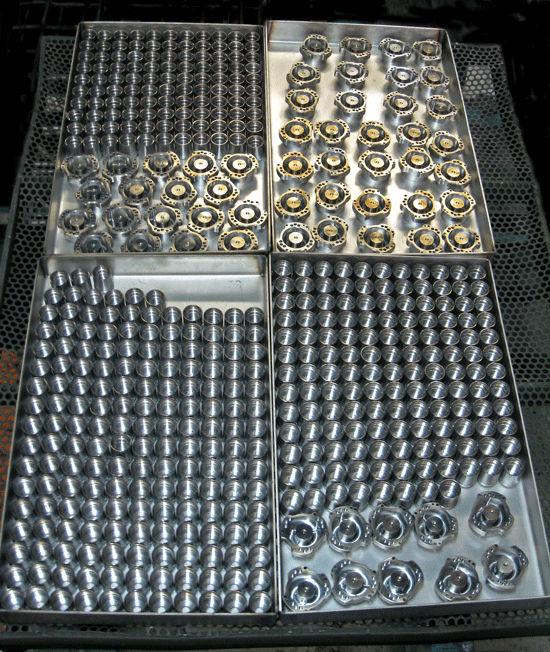 At high temperatures, many alloys will sinter together if left in contact.  The risk of eutectic melting is also of concern when certain dissimilar elements come into contact at temperature.  High purity, stable ceramic materials such as alumina and zirconia can be used to separate reactive metal combinations during vacuum processing.  Stop-off paints consisting of a ceramic powder (usually alumina), a suitable acrylic and a solvent vehicle can be applied to fixtures to prevent sintering or braze alloy wetting.  Prior to production use, the painted fixtures can be vacuum baked to improve adherence of the stop-off and drive off the volatile elements of the mixture. These fixtures should be regularly inspected and touched up in areas where the stop-off gets worn away.  Plasma sprayed stop-off coatings can be applied in greater thicknesses and are much more durable than paints. Typical alumina coatings include Metco 101 and 105.  Zirconia coatings such as Metco 204 have better thermal shock resistance but are more expensive.
Alumina-silica papers and cloths are also used to separate workpieces and fixtures. Many of these use volatile binders in their manufacture.  As a result, they should be vacuum degassed before production use. Ceramic papers should be used sparingly as they tend to break down during gas quenching. Loose abrasive fibers from these papers can be sucked into pumps causing premature wear. Sintered, high purity ceramics in the form of plate and bar are much more durable than papers or cloths and do not generate loose fibers. These have very high maximum operating temperatures but may be available in only limited sizes at a relatively high cost.
VAC AERO's Coating Division specializes in applying durable ceramic coatings to vacuum furnace fixtures. Contact us to see if this technique is right for your processing requirement.