Vacuum furnace hot zones (Fig. 1) are manufactured using materials that can withstand temperatures in the range of 1315ºC (2400ºF) and higher. Of the various types of refractory metals in use, none is more common than molybdenum.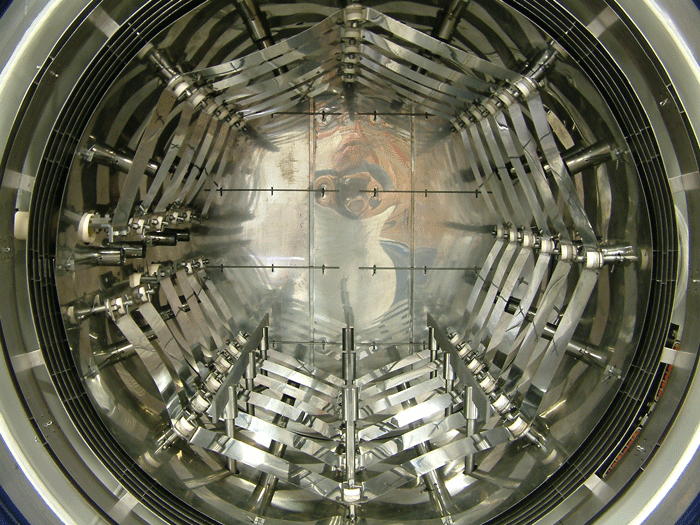 The popularity and widespread use of molybdenum in vacuum furnaces is due to the wide range of properties that it exhibits, namely:
High melting point, 2620ºC (4748ºF)
Low vapor pressure
High strength at elevated temperature
Low thermal expansion
High thermal conductivity
High elastic modulus
High corrosion resistance
Elevated recrystallization temperature, between 800º – 1200ºC (1470º – 2190ºF)
Mechanical properties of molybdenum are influenced by purity, type and composition of any alloying elements and by microstructure. Properties such as strength, ductility, creep resistance and machinability are enhanced by additions of alloys such as titanium, zirconium, hafnium, carbon and potassium along with rare earth element (La, Y, Ce) oxides.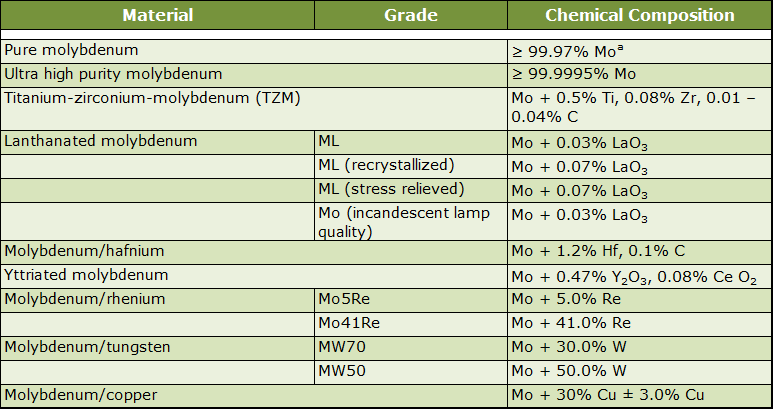 Notes: [a] Purity without tungsten
Molybdenum and molybdenum alloys can be produced by wrought or powder metallurgy methods, the latter allowing for the use of rare earth doping agents such as yttrium oxide (Y2O3) and lanthanum oxide (LaO3). Molybdenum powder is pressed into various shapes and dimensions such as rods and plates and then sintered, usually in a hydrogen atmosphere in the range of 1800º – 2200ºC (3275º – 3990ºF) so as to achieve the mechanical properties (i.e., strength and density) necessary to be processed into semi-finished products by forging, rolling and extrusion being hot worked in the range of 1200º – 1500ºC (2190º – 2730ºF).
Typical production grades of molybdenum are shown in Table 1
Characteristics of Various Grades
Of the various grades of molybdenum in use in vacuum furnaces, pure molybdenum, TZM and lanthanated molybdenum are the most common (Table 2). The choice between these materials often depends on operating temperature and product design.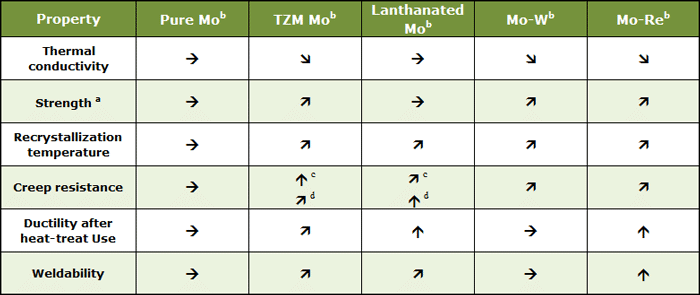 Notes
[a] Room temperature
[b] Arrows have the following designations
[c] At temperatures < 1400ºC (2550ºF)
[d] At temperatures > 1400ºC (2550ºF)

Comparable to pure molybdenum

Greater than pure molybdenum

Less than pure molybdenum

Significantly greater than pure molybdenum
Pure molybdenum is a popular choice for heating elements, hearth supports, and beams (Fig. 2), gas nozzles and some structural supports due in large part to cost for service applications in vacuum furnaces ranging from 900º – 1290ºC (1650º – 2350ºF).
TMZ molybdenum has higher strength, recrystallization temperature and better creep strength than pure molybdenum and recommended application temperatures1 are from 1000º – 1400ºC (1830º – 2550ºF).
Lanthanated molybdenum is stable up to temperatures in excess of 1500ºC (2730ºF) with exceptionally good creep resistance and higher ductility (after use at elevated temperature). For these reasons, it is now used for heating elements, hearth supports, and structural components.
A variety of different partial pressure and backfill gases are used in vacuum furnaces so knowing the effects of these gases on molybdenum is important (Table 3).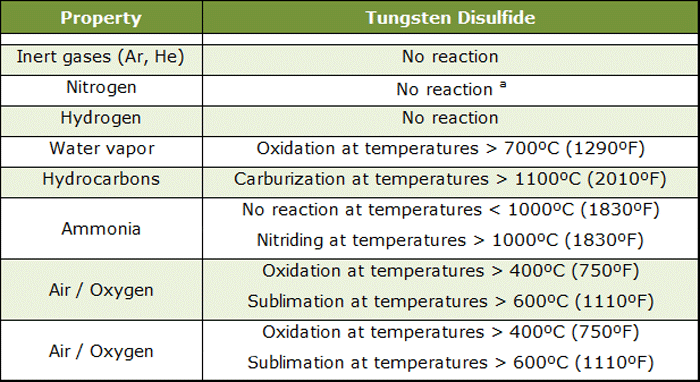 Notes: [a] Pure molybdenum only
Material Limitations
The principal limitations of molybdenum are recrystallization and temperature. Heating of molybdenum and its alloys above their recrystallization temperature causes them to become brittle and susceptible to cracking. This is the result of changes to the grain structure, which is one of the reasons why doped molybdenum (with finely distributed oxide dispersoids) has higher recrystallization temperatures and improved ductility after recrystallization.
The maximum operating temperature of molybdenum is approximately 1900ºC (3450ºF), above which tungsten must be used. In addition, in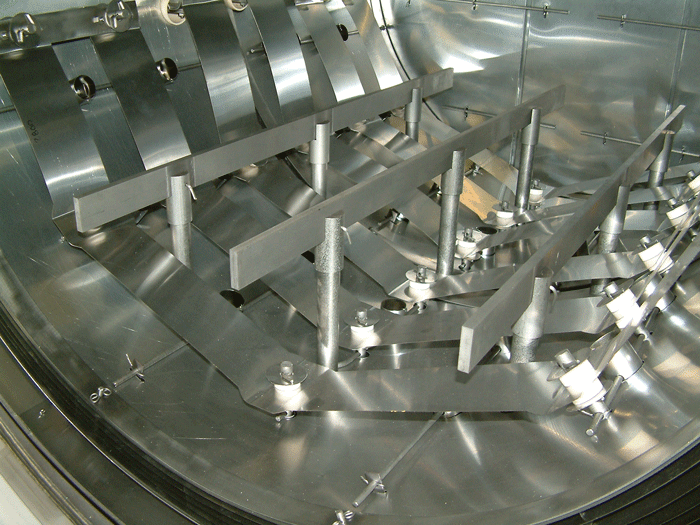 vacuum applications direct contact with graphite at temperatures above 1100ºC (2010ºF) will cause carburization to occur. An important note here is that in partial pressure atmospheres this temperature limit may be 100º – 200ºC (210 – 400ºF) lower.
Summary
Whether supplied as sheet, rod, plate, wire, hex nuts or threaded rod, molybdenum and molybdenum alloys are used extensively in vacuum furnace applications. The selection of the proper molybdenum alloy is highly dependent on the component parts being run, equipment construction, operating temperature (s) and conditions to which the product will be exposed.
References
1. "Molybdenum Material Properties and Applications", Plansee Technical Brochure No. 7000890.