Most base metals typically brazed in vacuum furnaces have a natural oxide "coating" that can inhibit the flow of brazing filler metals. 
Conversely, alloys containing appreciable amounts of reactive elements such as aluminum and titanium tend to form oxides at high temperatures which impede the flow of the brazing filler metal.  Many of the nickel-base superalloys fall into this category and the severity of the problem varies depending on alloy composition.  These materials should be brazed at high vacuum levels of 2 x 10-4 torr or better.  There are several reliable techniques for improving the brazeability of difficult to braze materials.  These include brush nickel plating of the joint surfaces, chemical etching techniques to remove aluminum and titanium from a shallow layer at the joint surface and using special aggressive braze filler metals with self-fluxing characteristics.The oxides of the less reactive metals like iron, nickel and cobalt tend to dissociate (break down) under low pressure and high temperature.  Therefore, alloys such as the 300 and 400 series stainless steels, carbon steels and many tool steels can be successfully brazed in vacuum at relatively high pressures (1 to 50 microns).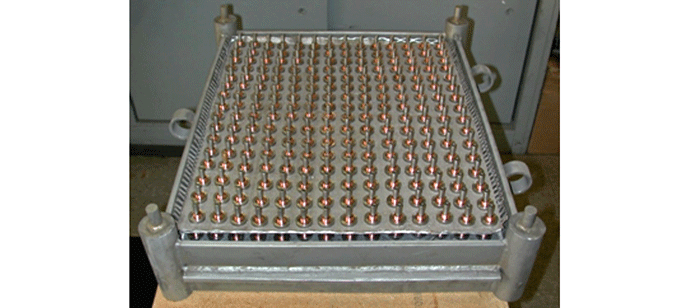 Titanium and zirconium base alloys can be vacuum brazed using specially formulated braze filler metals.  Because of their tendency to become contaminated by even small amounts of oxygen or moisture these alloys must be brazed at high vacuum levels in a clean furnace.  Aluminum and many of its alloys can also be brazed in vacuum.  However, aluminum alloys are normally brazed in dedicated furnaces designed for maximum temperature uniformity at temperatures less than 650ºC (1200ºF).  Outgassing of magnesium during brazing of many aluminum alloys will quickly contaminate furnace equipment and loads subsequently processed at higher temperatures.  For these reasons, it is strongly recommended that vacuum brazing of aluminum be performed in dedicated furnaces only.
Vacuum brazing of dissimilar metals can be readily accomplished provided that differences in thermal expansion are taken into account.  If a base metal component with a high coefficient of thermal expansion surrounds one with a lower coefficient, joint clearances that are satisfactory for capillary flow at room temperature may become too large at the brazing temperature.  The converse can also occur, where tightening of the joint at the brazing temperature prevents alloy from flowing within.  Thermal expansion calculations should be made for all "ring in plug" type joints involving dissimilar metals.  For complex configurations, it may also be necessary to conduct pre-production trials to determine proper joint clearances.
VAC AERO's Thermal Processing Divisions are expert in vacuum brazing of a wide variety of materials, including stainless steels, superalloys, titanium and ceramics.
Contact us for assistance with your difficult brazing applications.
Determining "Brazeability"

Selecting filler metal

Preparation for Brazing" (ie. cleaning)
For more information on VAC AERO's Heat Treating Services please click here.
This is the last in a series of four articles on Vacuum Brazing Tecniques. (read part 1) / (read part 2) / (read part 3) / (read part 4)