Clean, oxide-free surfaces are essential to achieve sound brazed joints. 
Uniform capillary action will occur only when all grease, oil, dirt and oxides have been removed from both the braze alloy and base metal prior to brazing. The length of time that cleaning remains effective depends on the material involved, atmospheric conditions, storage techniques and the amount of handling that may be involved. It is recommended that brazing be performed as soon as possible after the material has been cleaned. The selection of a cleaning technique depends on the nature of the contaminant, the base metals involved and the joint design. The same cleaning practices used for vacuum heat treating (ie. manual cleaning, vapour degreasing, etc.) are applicable to vacuum brazing.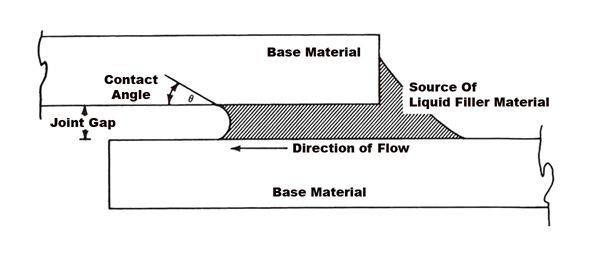 After the materials to be brazed are thoroughly cleaned, the braze alloy is applied. Proper application of braze alloy is best learned through practice but a few general rules apply. Excessive application of braze alloy should be avoided, particularly when brazing thin sections with aggressive fillers. The volume of braze alloy applied should be carefully considered, especially when using braze alloys in the form of paste. Pastes may contain more than 50% binder so the size of the bead applied compared to actual amount of braze alloy delivered can be deceiving. Although braze alloy will flow "uphill" due to capillary action, it should be positioned over the joint to take advantage of gravitational forces whenever possible. During application of pastes, joints should not be completely sealed. Each joint must be allowed to vent during pumpdown of the vacuum furnace. Stop-off paints can be used to limit the flow of braze alloy into unwanted areas.However, for some applications additional cleaning may be required to remove oxides. Mechanical cleaning methods such as grinding, wire brushing, machining or blasting are often used to remove oxides or other objectionable surface conditions. They can also be used to roughen joint surfaces which may promote braze alloy flow. Care must be taken to ensure that no residues of the cleaning media are left on joint surfaces.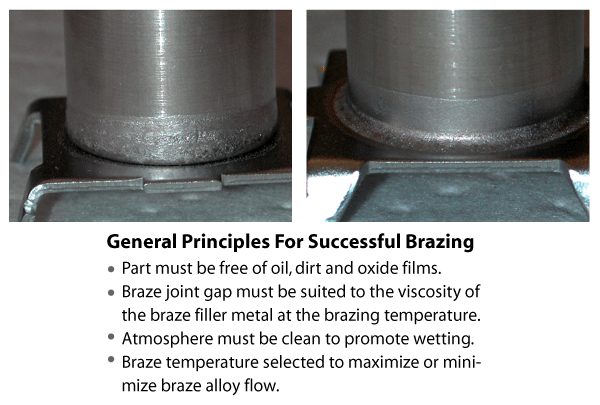 Components to be joined by brazing must be assembled in a fixed position relative to each other and this position must be maintained throughout the brazing cycle. During assembly, care should be taken to ensure that proper joint clearances are also maintained. Whenever possible, parts should be designed so they are self-fixturing. If this is impractical, tack welding is the next best alternative. However, some assemblies may require auxiliary fixturing. Fixturing materials with coefficients of thermal expansion similar to the base metal should be used. Auxiliary fixtures should be low in mass and simple in design.
The use of screws or bolts should be avoided. Threaded fasteners tend to sinter together at high temperatures and are difficult to remove. If springs or clamps are required, these must be able to withstand the temperatures to which they will be exposed during brazing. When using metallic fixtures, all points of contact with the brazed assembly should be masked with stop-off paints. Finally, fixtures should be cleaned and vacuum baked before use to remove all sources of contamination
VAC AERO's Thermal Processing Divisions are expert in vacuum brazing of a wide variety of materials, including stainless steels, superalloys, titanium and ceramics.
Contact us for assistance with your difficult brazing applications.
Determining "Brazeability"

Selecting filler metal

Preparation for Brazing" (ie. cleaning)
For more information on VAC AERO's Heat Treating Services please click here.
This is the last in a series of four articles on Vacuum Brazing Tecniques. (read part 1) / (read part 2) / (read part 3) / (read part 4)