BY JEFF PRITCHARD
In recent years, the operating temperatures of land-based gas turbine engines have increased to improve efficiency.  As a result, greater demands are placed on the materials used in the manufacture of the engine components.  In particular, hot section turbine blades must function in a very severe operating environment. 
The blades are usually manufactured from advanced nickel-based superalloys but these materials on their own are still not durable enough.  To enhance their durability, they are protected from hot corrosion and high-temperature oxidation through the use of special coatings.  The coatings form adherent oxide layers that inhibit the blade material from directly interacting with potentially damaging elements within the combustion gases like oxygen, sulphur, and other contaminants.  A popular approach involves coating the blades with an MCrAlY bond coat topped with a thermal barrier coating (TBC) overlay.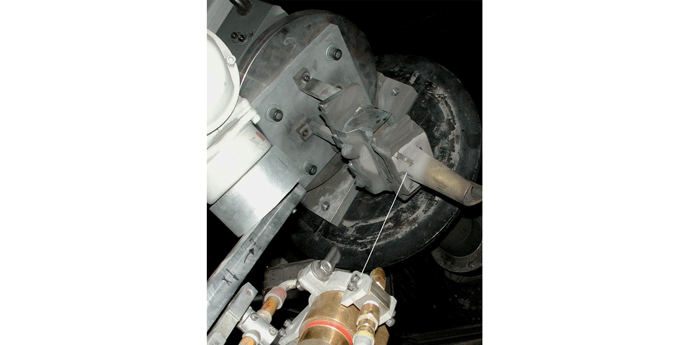 The MCrAlY bond coat has been commonly applied using Low-Pressure Plasma Spray (LPPS).  The process is reliable but expensive and relatively slow.  There became a demand for applying the bond coat on turbine blades and vanes using a process more efficient than LPPS in order to reduce cost and processing time.  VAC AERO's coatings specialists felt that the High-Velocity Oxygen Fuel (HVOF) process was a good candidate for applying this type of coating.  Subsequently, a research program was planned to evaluate the HVOF process for coating specific turbine blades with an MCrAlY bond coat.
At the outset, it was uncertain that the HVOF process could produce an MCrAlY coating of quality similar to or better than the LPPS process.  Furthermore, it was not known if HVOF could achieve the bond coat surface finish necessary for applying the TBC top coat.  A third challenge involved controlling the spray gun motion around the part to maintain coating thickness and integrity within specification limits on complex blade contours.
For turbine blades coated with a two-layer coating (bond coat and overlay), the bond coat surface finish must exhibit a minimum roughness to guarantee good adhesion of the ceramic top coat.  Some coating specifications require that roughness to be between about 350 and 600 Ra (minch).
Typical surface roughness for coatings applied with the HVOF process is in the range 125 to 300 Ra depending on the composition and the particle size distribution of the powder being used for the coating.  Consequently, a minimum roughness of 350 Ra is not readily achievable with HVOF.  So, VAC AERO conducted a series of tests to determine the best combination of spraying parameters and powder particle size distribution to achieve the surface roughness requirement.  This involved experimenting with a multitude of different powder compositions and varying many spray parameters.

The study also involved the development of a very complicated computer program to control the motion of the HVOF spray gun while the coating was being deposited.  There were very stringent specifications on coating thickness and quality that were particularly difficult to meet in the fillet area at the root of the blades.  VAC AERO uses advanced, multi-axis articulated robots for all of its spraying processes.  Even with this sophisticated equipment, properly coating intricate surfaces is challenging.
In the end, VAC AERO's coating specialists came up with a unique solution that involved adjusting powder particle sizes and spraying parameters between deposition passes.  Though more complicated than the standard approach to coating by HVOF, it was still far more cost-effective than the traditional LPPS approach while not compromising coating integrity.
Contact VAC AERO's experienced coating specialists for solutions to your thermal spray coating challenges.