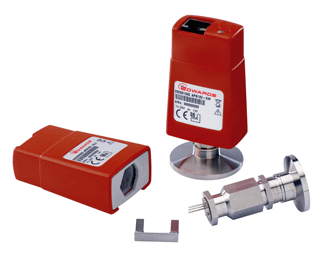 Pirani Gauge
Selecting the correct vacuum gauge or gauges is critical to the success of a heat treatment process. It is important to know how they work and what options are available so that the correct choice can be made. There are several important considerations when using a vacuum gauge. They include the method of operation, the gas composition (inert or reactive, corrosive), the gas sensitivity (calibration factor), and the process being performed in your system.
Given the wide range of pressures encountered when running processes in vacuum furnaces (a staggering 9 orders of magnitude), no one gauge is adequate over the entire range of possible vacuum levels. As with vacuum pumps, multiple gauges are necessary to properly cover the entire operating range with the needed precision and accuracy. Given that it is critical to monitor the vacuum pressure at various points in the process and perhaps multiple locations throughout the vacuum system, the correct selection of each gauge ensures that we achieve optimal results.
Other important considerations in gauge selection are performance and technical factors such as resolution, measurement range, accuracy (the range of systematic error), precision (the level of random error), lifespan and response time, as well as cost (as always).
Pressure Ranges
Different gauges are required for different operating ranges. The gauge selection depends on an understanding of the working principles of the gauge, the range of pressures it can measure, and its accuracy over the required range. These factors have been determined by experience and there is a vacuum gauge for every pressure range.
For low ("rough") vacuum ranges (higher pressures) between atmospheric and 10 Torr, Bourdon tubes, bellows, active strain gauges, and capacitance sensors are all suitable measurement devices.
For mid-range vacuum requirements, those in the 10+1 Torr to 10-3 Torr range there are several choices including the capacitance manometer, for more accurate measurements, or the thermocouple or Pirani type gauges.
For high vacuum, from 10-3 Torr to 10-6 Torr, either cold cathode or Bayard-Alpert hot cathode gauges are used. Both require frequent calibration.
For ultra-high vacuum, below 10-6 Torr, cold cathode or Bayard-Alpert hot cathode gauges are also used.
Direct versus Indirect Acting Gauges
Gauges are divided into two categories, based on the way they measure pressure: those that directly measure pressure (the force exerted by impinging gas molecules) and those that indirectly measure pressure by measuring properties of gases that vary with pressure. Indirect gauges must be calibrated (i.e. have their readings adjusted) based on actual gas present. Their readings are therefore "gas type dependent". Direct gauges are used in the low vacuum range and indirect gauges are used in the middle, high and ultra-high vacuum ranges.
Indirect gauges are further divided into the following groups:
Those that measure molecular drag or viscosity (spinning rotor)
Those that measure heat transfer through the gas (Pirani and thermocouple gauges)
Those that measure number density by ionizing gas molecules, moving them to an electrical contact and measuring the resulting current such as cold-cathode gauges (i.e., Penning gauges) or hot-cathode ionization gauges).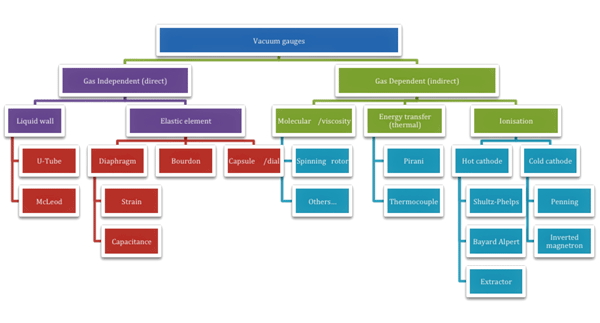 Figure 1
1
 – The relationships and subcategories within the various vacuum gauge types
Before providing examples of the various types of direct and indirect acting gauges, it is important to understand the basic principles of these gauges. We know that the vacuum level in a vessel is determined by the pressure differential between the evacuated volume and the surrounding atmosphere (Table 1). The two basic reference points in all these measurements are standard atmospheric pressure (760 Torr) and perfect vacuum (0 Torr) so calculations involving vacuum systems often require conversions to absolute pressure (psia) or negative pressure (psig).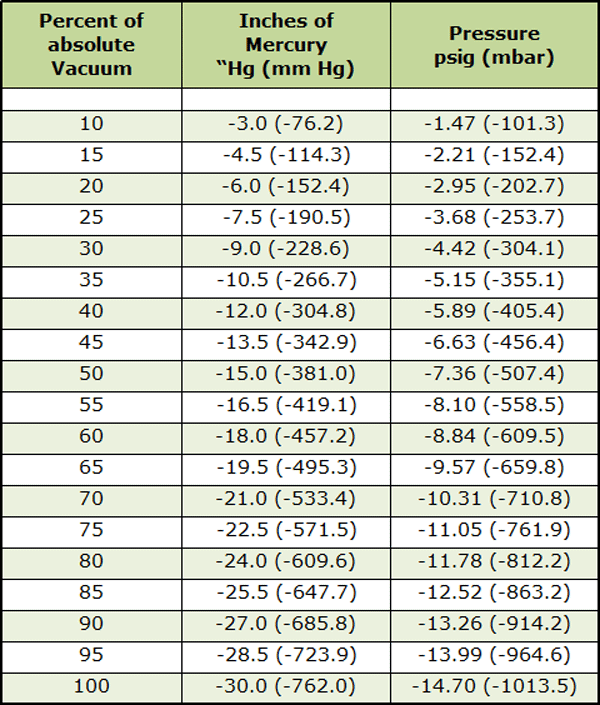 Using the Gas Sensitivity Factor with Indirect Acting Gauges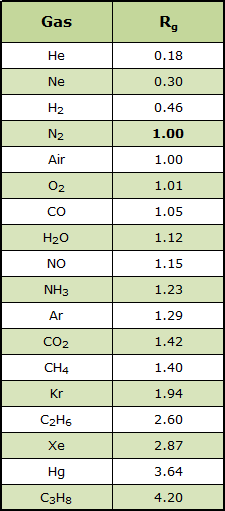 Table 2
3
 – Nominal gas correction factors (N
2
 = 1.0)

The calibration factor used to adjust the reading of indirect acting gauges is referred to as the gas sensitivity factor, which is provided by the gauge manufacturer and is dependent upon the gas type present. The sensitivity factor (usually in Torr-1) is only valid for the gas for which it is specified. The standard gas upon which the sensitivity factor is based is most often nitrogen. Thus the sensitivity factor is called the nominal relative sensitivity factor (Rg). Unless this factor is applied, all readings are considered to be "nitrogen-equivalent" pressures.
Nominal relative sensitivity factors to convert nitrogen-equivalent readings into direct pressure readouts for gases other than nitrogen are available from most gauge manufacturers and other sources. Once the relative sensitivity factor is known, direct pressure readings are calculated.
For example, if the sensitivity for nitrogen is SN2 and the indicated (measured) pressure = PN2 then the sensitivity of the gas being measured (Sgas) is used to calculate the true gas pressure (= Pgas) for any gauge (Equation 1).
                                   SN2
(1)       P True (gas) = ———  PN2
                                   Sgas
In the case where SN2 = 1 then simply: PTrue (gas) = Pindicated(N2)/Sgas
For calibration of ionization gauges where the collector and emitter current are known, the following equation applies:
(2)        P = [ Ic / (Sg · Ie)]
Where:
Sg is the sensitivity factor for gas 'g' [Torr-1]. Here Sg = SN2 · Rg
SN2 is the sensitivity factor for nitrogen [Torr-1] Rg is the gas correction or relative sensitivity factor (Table 2)
Ic is the ion collector current [amps] Ie is the electron emission current [amps]
Next time: Our discussion of vacuum gauges continues with a look at the various types of gauges available, their function and application.
References
1. Chew, Andrew, "Calibration Factors for Vacuum Pressure Gauges, Edwards Vacuum LLC, September 2015.
2. Herring, Daniel H., Vacuum Heat Treatment, BNP Media Group, 2012.
3. "Gas Correction Factors for Bayard-Alpert Ionization Gauges", Stanford Research Systems (www.thinksrs.com)
4. Brunner Jr., William F. and Batzer, Thomas H., Practical Vacuum Techniques, Robert E. Krieger Publishing Company, 1974.