This article continues the series of Five Reasons that vacuum is used in science and industry.
1. To Provide a Working Force
2. To Remove Active and Reactive constituents
3. To Remove Trapped and Dissolved Gases
4. Vacuum used to Decrease Thermal Transfer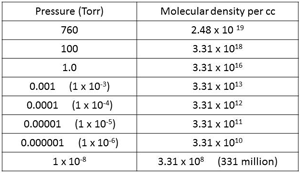 Fig. 1 Molecular Density at different pressures.
If you commute to work by car and your drive is an hour or so, you may well take a coffee or another hot or cold beverage in your own personal container to drink on the way. Often this type of container is a vacuum insulated cup with a lid. A step up from that, if you work on a jobsite for example, would be a vessel that holds several cups of liquid for all day use. You may know these as "Thermos" or "Aladdin" flasks which are two of the trade names for vacuum insulated containers.
Let's discuss the thermodynamics of vacuum insulated vessels and then look at other uses for them.
Gas molecules
Air at atmospheric pressure, 760 Torr or 1013 mbar, contains about 25 million, million, million molecules in each cubic centimeter of volume (Fig.1). This volume can be visualized as being similar to that of a sugar cube or a die. These molecules generally move in straight lines until they either collide with each other or with a surface. They move at a speed of about 1000 miles per hour. At higher pressure such as atmospheric pressure they are more likely to collide with another molecule and will move off in another direction until the next collision. Each molecule will travel only about 2.5 millionths of an inch between collisions at atmospheric pressure. (Fig. 2)
If the molecules are inside a chamber at atmospheric pressure, some molecules will collide with the inner surface of the chamber and any work holders or fixtures. When that occurs, the molecule typically resides on the surface for a fraction of a second and then releases and moves away from the surface in a completely random direction.
There will be different results if the chamber wall is either heated or cooled. If a molecule hits a cooler surface it will lose some of its heat to that surface and may have less energy available to release off the surface. In some cases it may adsorb onto the surface if it loses most of its energy. On the other hand, if the surface is warmer it will gain energy and will release with increased energy.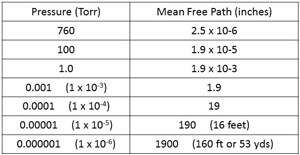 Fig. 2. MFP at different pressures.
So, as these gas molecules are moving randomly around the vacuum chamber they can be constantly gaining or losing energy, depending whether they collide with a hotter or cooler molecule of surface. From that we can state that "Heat is transferred by molecular collisions".
Molecular Density
If we think about the last statement, we can conclude that if there are fewer molecules in the closed vessel, there will be less heat transmitted due to fewer molecular collisions.
That leads us to consider molecular density. How many molecules are there in unit volume at lower pressures than atmospheric conditions? A few examples are shown in Fig.1, starting with 2.48 x 1019 molecules per cc (that is 25 million, million, million) at atmospheric pressure of 760 Torr. These guys are very tiny.
At a typical vacuum furnace pressure of between 10-5 and 10-6 Torr there are still about 33 thousand million to 330 thousand million molecules of gas in each cc of volume. It's not until the pressure is reduced to around 10-10 Torr, ultra high vacuum, that the number of molecules comes down to the 3 million per cc range.
The pressure on the moon's surface is around 10-12 Torr and at that pressure there would still be about 33,000 molecules per cc. Even in outer space (10-22 Torr), and we know from the science shows that there are gas clouds out there, physicists estimate that there are around 4 molecules of gas in every cubic meter of volume.
As the density of the molecules is reduced as the pressure drops, the distance between the individual molecules increase. There are fewer molecules in the volume so they must move a longer distance before colliding with another one. This distance will vary, so the physicists have another term, mean free path, to average the distances for comparison.
Mean Free Path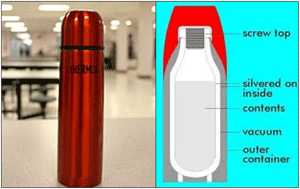 Fig. 3. Thermos flasks for hot or cold liquids.
Mean Free Path is the average distance a gas molecule will move before it collides with another molecule, at a certain pressure. I'm not sure how this is done with tiny molecules that can't be seen. (It is another part of the wonders of science that have slowly been discovered over the last couple of hundred years or so.) See Fig. 2.
At higher pressures the Mean Free Path is very short and the molecules collide frequently. The MFP is 2.5 millionths of an inch at 760 Torr. As the pressure is reduced to 1 Torr the MFP is has increased to about 2 thousandths of an inch, a movement that we can relate to in engineering. As the pressure reduces to the level that a combination of and oil sealed rotary piston vacuum pump and Roots booster can reach (0.001 Torr or 1micron) the MFP has increased to about 2 inches.
If those molecules are in a part of the system larger than about 6 inches diameter, they are still moving in viscous flow. Meaning they are more likely to collide with another molecule than with the vessel wall. If however, the molecules are in the holding pump piping (usually a 25mm line) they will be moving in molecular flow; meaning they are more likely to collide with the inner wall of the piping than with another molecule.
As the pressure drops to about 10-5 Torr the MFP has lengthened to about 16 feet. For most average sized vacuum furnaces that means that molecules of gas inside the vacuum chamber are much more likely to collide with an interior surface of the chamber than with another gas molecule.
Now the physics is explained, let's talk about the application, vacuum as an insulator.
Vacuum Insulated Vessels.
This type of vessel can vary from small "low tech" insulated coffee flasks to large liquid nitrogen storage tanks and the trailers that deliver the bulk liquid to them. In between are many different shapes and sizes of vacuum insulated containers, some called Dewars, and also installed systems where connection pipelines have to be vacuum insulated as well.
Typical insulated flasks for hot and cold liquids look like the one shown in Fig. 3. Although Sir James Dewar invented what is known as the Dewar flask, he never patented it. Two Germans discovered its use for commercial purposes and registered the name Thermos in 1904. The Thermos company still exists today although they have many competitors.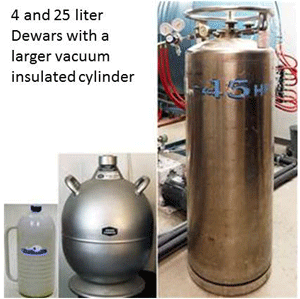 Fig. 4. Lab and hospital sized Dewars.
Vacuum insulation is used because it works well and as long as there are no leaks, the item will last for many years. It is mainly used where the temperature difference between the outside and the inside of the vessel is large and many scientific and industrial applications involve cryogenic liquids.
One of the most popular cryogenic liquids, liquefied gases, is liquid nitrogen. It is usually written as LN2. Liquid nitrogen has a boiling point of -196°C (77°Kelvin) or -321°F. Safety precautions must be taken when handling any cryogenic liquids. They will burn skin and damage your eyes. Gloves and a face mask are required if transferring any cryogenic liquid into or out of an open Dewar flask or other suitable vessel.
Dewar's first container was made of metal, but two containers of glass joined together and sealed under vacuum proved to be a very effective improvement. Obviously glass containers are fragile, and the glass used is quite thin, so care must be taken not to drop or bang them which could break the glass. The vacuum between the two glass vessels reduces heat conduction and convection, and the glass is "silvered" to reduce thermal radiation. The silvered surface reflects heat and is often a coating of evaporated aluminum. (Another vacuum process!)
The laboratory sized Dewars, Fig. 4, are typically made using thicker glass and layers of additional insulation inside the metal or plastic container. These can be carried by hand or on a small cart. The small Dewars shown are typically purchased by the end user and filled in-house from a larger container such as the larger cylinder shown. The larger cylinder would only be handled by a qualified technician due to its weight and value. These vessels are evacuated to the 10-5 Torr region using either turbo or diffusion pump systems, and then left to pump for another 48 hours (Ref. 1). Gas flow through the insulation layers is slow and it takes a while to reach the vacuum level required throughout the whole interspace.
Although the large gas companies such as Air Products, Linde and Air Liquide produce these cryogenic liquids, they have mostly let the distribution of these smaller volumes be carried out by companies such as AirGas and other smaller local distributors. They have a regular schedule of deliveries so that labs and hospitals are never without product.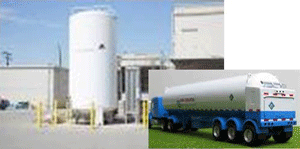 Fig. 5. Large storage tank and road trailer.
The large gas companies look after the large volume storage tanks that have to be refilled by trailer loads of product, Fig. 5. These vessels are very heavy, and the inner vessel requires substantial supports between it and the outer vessel to provide strength, support and the correct spacing. The annular vacuum volume is filled with layers of aluminized material and also Perlite. Perlite is a material similar to natural glass. When heated it expands to between 4 and 20 times its original volume with lots of voids in its structure. It is a good insulator and resists crushing. Literature suggests that Perlite can settle, especially in a vessel such as a road tanker that is subject to vibration over a long period of time. This problem can allow more heat transfer towards the top of the trailer, and may result in a higher "boil off" rate of the LN2 or other cryogenic liquid in the tanker. If too much product is lost by boiling off, this is an additional cost to the gas company and the trailer may have to be serviced.
In Fig.5 you can see the road tanker has a closed area at the rear of the trailer. This is where the valves and piping are to allow for connection to the customers storage tank that is being refilled. In this area would also be a vacuum gauge head on a gauge head connection, to allow the interspace pressure to be checked as needed. The vacuum gauge typically used for this is a battery operated thermocouple gauge. This gauge actually reads the temperature of a hot filament
in the gauge sensor, but instead of reading it in degrees of heat, it reads it as an equivalent vacuum reading.
The hot filament changes temperature as the vacuum level changes. When the pressure drops in the sensor there are fewer molecules of gas to take heat away from the filament, so it gets hotter. This change can be calibrated to indicate the pressure.
When you see these large tank trailers on the highway please allow them plenty of space. They carry a precious and valuable cargo. The gas companies only allow their very best driver/operators to deliver cryogenic liquids.
Reference
1. Bryan Oliver, Cryotec, Inc., Indianapolis, IN.
---
 Howard Tring / Tel: (610) 792-3505 / E-mail: [email protected] / Web: www.vacuumandlowpressure.com
Howard Tring is the owner of Vacuum and Low Pressure Consulting, a company that supplies vacuum pump accessories such as reconditioned inlet traps and exhaust filters and new replacement elements for exhaust filters. Howard also offers on-site vacuum technology and oil sealed vacuum pump repair training and consulting services, customized to the needs of the client. Howard is a member of ASM International and the Heat Treat Society, the AVS, the SME, the SVC and the American Society for Training and Development.
Copyright December 2014, Tring Enterprises LLC – Comments on this article are welcome. I do not profess to know everything about any specific vacuum related subject. However, I have worked in the vacuum pump industry a long time and have seen good, bad and ugly. Please contact me with any comment or question. All messages related to the content of the article will be answered.