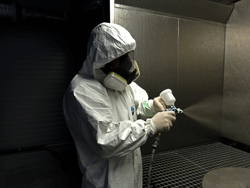 OAKVILLE, Ontario, (October 24, 2011) – First established in 2003 in Kalisz, Poland to offer Metallurgical Services to the burgeoning aerospace industry in Poland, VAC AERO has now opened a second facility located in the town of Rzeszow in southeast Poland. VAC AERO's Polish divisions offer special processing services, including vacuum heat  treating and brazing, vacuum carburizing, air plasma spray (APS) and HVOF protective coatings, as well as corrosion and oxidation resistant paint coatings.
This new addition to the VAC AERO Group of Companies will be the sixth vacuum heat treating, brazing and coating facility worldwide. VAC AERO has been operating its first plant in Kalisz, in central Poland since 2003. According to Scott Rush, VAC AERO's President "the new plant is located in Poland's revitalized aerospace cluster, a zone that fosters a vibrant supply chain for major north American and European aerospace prime contractors."
The company is part of the VAC AERO International group with its headquarters in Oakville (Ontario, Canada) and is a member of the Polish Aviation Valley Association, Polish Canadian Chamber of Commerce, and Wielkopolska Aerospace Cluster. All of VAC AERO employees will be from the local area, selected specialists will be relocating from VAC AERO's Kalisz-Poland plant to assist in the initial plant start-up.
For more information on the services offered at the Rzeszow facility CLICK HERE
Please visit our Polish division WEBSITE