For immediate release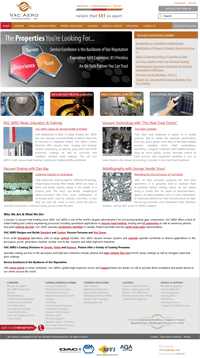 Oakville, Ontario, April 20, 2012 – VAC AERO International today launched its third redesigned website since 2007. In addition to featuring concise overviews on its vacuum furnace systems and coating services, VAC AERO offers hundreds of technical articles relating to the practice and application of vacuum processing and surface engineering in its Resources section.
"Vacuum heat treating, brazing and thermal spray coatings are highly specialized skills and we understand how important education and training are to our industry," says Alan Charky, director of marketing and communications. "That's why we're constantly updating our website with educational resources our customers and their employees need to keep up with the development of new processes, applications and technologies," continues Alan.
The website offers regular monthly feature articles on Vacuum Heat Treating, Vacuum Brazing and Metallography written by industry experts Dan Herring (The Heat Treat Doctor), Dan Kay and George Vander Voort respectively as a well as authorized Industrial Heating Magazine articles. These articles are published and emailed every month in VAC AERO's What's HOT! Newsletter, now in its fifth year of publication. Our website and newsletters are intended to provide metal treaters with a wealth of relevant information to assist them in their ongoing metallurgical challenges, and to educate and encourage promising young individuals," concludes Alan.