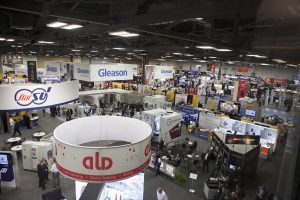 Come Visit us at ASM's 30th Heat Treating Society Conference & Exposition   – Booth 1010, Detroit, MI – October 15-17, 2019
If you plan on attending the show, please be sure to stop by our booth number 1010 to learn more about our latest vacuum furnaces, and most importantly… we're interested in learning about you, your business, and your needs. Our sales reps will be available to answer questions about how VAC AERO can help your business with exactly the vacuum processing solutions that you're looking for! See you there!
Heat Treat 2019, the biennial show from the ASM Heat Treating Society, is considered the premier, can't-miss event for heat treating professionals in North America. This year's conference and expo will feature an exciting mix of new technology, exhibits, technical programming and networking events geared toward the heat treating industry.!
Conference highlights:
3 days of face-to-face networking opportunities with approximately 200 heat treat exhibitors/companies. All of the top companies and big names in the heat treating industry will be represented!
Latest research and industry insights through more than 125 technical sessions, featuring special symposiums on Induction Heat Treating.
"This is Heat Treat" free college student program.
Continued co-location with Motion + Power Technology Expo 2019 (formerly Gear Expo), providing HT attendees with access to an additional network of 4,000 attendees and 250 exhibiting companies. Joint initiatives with Motion + Power Technology Expo 2019 include educational programming, networking events and much more!
For more information please visit: ASM Heat Treating Society Conference & Exposition