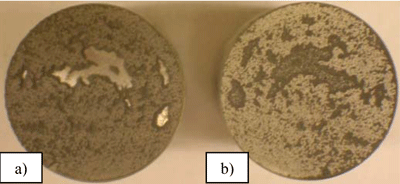 Bond strength specimen from typical cold spray coating. Photograph (a) shows the bonding agent side of the specimen and photograph (b) shows the coated side. Compared to thermal spray processes, VAC AERO's cold spray technique produces excellent coating bond strengths without over-heating of the substrate.
For the last two years, VAC AERO's Boucherville coatings facility has been working with the University of Ottawa to develop cold spray techniques as an addition to conventional thermal spray processes such as flame, air plasma and HVOF.
The cold spray process was originally developed in the 1980's but has undergone considerable improvement since then. The most common thermal spray processes depend on high temperatures to offset low particle velocity or high particle velocity to offset limitations in temperature. This limits the types of materials that can be deposited and the types of substrate that can be coated by each process. Furthermore, because heat is involved in traditional thermal spray, the coating material can undergo metallurgical transformations, such as oxidation, that can have detrimental effects on bond strength and porosity.
Heat from thermal spray processes can also affect the properties of the substrate that is being coated and special precautions may be required to prevent this. Cold spray relies on very high particle velocities and requires no heat source. As a result, undesirable transformations can be avoided in both the coating material and the substrate. This yields a coating with low porosity and high bond strength.
Cold spray also has a very high deposition efficiency compared to thermal spray processes. Its very precise spray plume minimizes overspray and allows it to be used for coating the complex shapes and internal diameters that can be challenging for traditional thermal spray processes.
To date, VAC AERO and the University of Ottawa have developed cold spray techniques for a wide variety of coatings, including; aluminum, copper, nickel, iron, titanium, zinc and their alloys as well as a variety of CoNiCrAlY coatings. Also in development are cold spray techniques for Cermet, WC-Co and nanomaterials.
VAC AERO's Coatings facility offers a variety of solutions for surface enhancement of metallic substrates. These include air plasma spray, HVOF, flame spray, pack aluminide coating, inorganic paints and gas nitriding.
If you need more information or would like us to send our Technical Paper please Contact Us