Since 2001, VAC AERO has been a proud supporter of the University of Toronto's Mechanical Engineering Department by heat treating chassis for their Formula SAE racing cars.
The competition group of thirty students designs, builds and races formula-style race cars against other universities in an international collegiate competition and has enjoyed much success winning three British races in the past five years. The Formula SAE chassis are made of tubular low alloy steel and designed to reduce weight. They are welded, stress-relieved then fully hardened and tempered using VAC AERO's vacuum oil quench process.
"We are continually designing lighter parts for the car, and heat treatment is essential in the reliability of these highly stressed parts during each race. Whether it is stress relieving a complex welded assembly, or hardening a heavily loaded shaft, VAC AERO has always provided high quality, timely service allowing us to compete at a high level" says Stefan Kloppenborg, the team's Technical Director.
About The University of Toronto Formula SAE Racing Team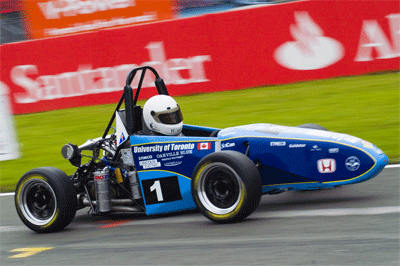 The University of Toronto Formula SAE Racing Team is a student-run Engineering design team that designs, builds and races an open-wheel, open-cockpit race vehicle. Founded in 1997, we built our first competition vehicle (UT99) in 1999 and in the past years have won numerous awards and three Formula Student Championship titles gaining international recognition amongst its peers. The team is based at the University of Toronto: St. George Campus and is comprised of undergraduate and graduate students mainly from the Faculty of Engineering, but also from various other faculties within the University. Members of our team gain valuable technical experience through applying classroom knowledge to real-world problems and applications, enabling them to have a competitive edge that employers seek. Every year, members of our team are hired by industry for internship positions through the University of Toronto Professional Experience Year Program, helping them explore and start potential career paths.