Dan Kay's Biography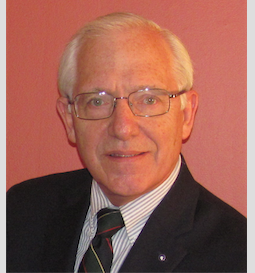 Dan Kay (BMetEng, MBA), operates his own brazing consulting/training company, and has been involved full-time in brazing for 45-years. He received his Bachelor of Metallurgical Engineering degree from Rensselaer Polytechnic Institute in 1966, and his MBA from Michigan State University in 1982.
Dan regularly consults in areas of vacuum and atmosphere brazing, as well as in torch (flame) and induction brazing. His brazing seminars, held a number of times each year around the world, help people learn how to apply the fundamentals of brazing to improve their productivity and lower their costs.
He spent seven years with Handy & Harman, where he not only taught their torch-brazing seminars, but spent a lot of time in the field helping customers solve both flame-brazing, induction-brazing, and furnace brazing problems. From there he went to Wall Colmonoy Corporation, where for fifteen years he worked closely with the late Bob Peaslee in high-temperature furnace brazing (both atmosphere and vacuum) using nickel-based brazing filler metals. Dan taught brazing seminars every year with Bob, while also successfully running, and overseeing, brazing plant operations, and international sales operations, along the way.
Dan can be reached via e-mail at: dan.kay@kaybrazing.com, and his website can be visited at: www.kaybrazing.com
Background and Capabilities:
Brazing Training — Dan has conducted intensive brazing-engineering training seminars for 45-years, and continues to do so. These brazing training seminars (varying in length from 1-day to 5-days) are taught each year around the U.S., Canada, Mexico, and several Pacific-basin countries, consisting of regionalized general brazing seminars, as well as intensive in-house specialized training seminars for individual companies, based on their particular needs.
In the past, Dan conducted, for many years, semi-annual 3-day furnace brazing seminars in Detroit for Wall Colmonoy along with Robert Peaslee. He also taught the ASM Brazing Fundamentals course in Materials Park, Ohio for several years. Prior to that, Dan taught 3-day torch brazing seminars several times each year for more than 7-years while at Handy & Harman.
Consultant — Dan currently visits many companies each year, reviewing and auditing their brazing operations so as to help them define solutions to their brazing and metals-joining problems.
Communicator — Dan speaks several times each year before trade, civic, and church groups, meetings ranging in size up to several thousand people.
Trade Shows — He has participated in many shows around the world during last 40 years, as a technical speaker, as technical-session chair, as host at hospitality suites, and working in booths on the trade show floor.
Brief Brazing Career Chronology:
Kay & Associates, Simsbury, CT. (1996 — present)
(Leading independent US supplier of non-biased brazing training programs, audits, and brazing problem solving)
— Dan continues to be the leading, independent consultant/trainer to the brazing industry on all aspects of brazing engineering, business development, strategic planning, and development of in-house technical expertise for brazing problem solving and problem prevention. Dan's training programs vary from hands-on training in torch and furnace brazing to large brazing forums at hotels around the world.
Wall Colmonoy Corporation, Madison Heights, MI. (l980–1995)
(Manufacturer of nickel-alloy powders for furnace brazing and thermal-spray, and a high temperature heat treat and brazing processor of metal parts)
— While at WCC, Dan held various operating postions, including: Asst. Vice President of Manufacturing (he was responsible for overall operations at all five of WCC's Nicrobraz Division processing plants around the US; plant general manager for the Detroit Processing Plant (this plant manufactured all the company's brazing products, and also had numerous vacuum and atmosphere furnaces for commercial brazing and heat-treating operations); Brazing Products Manager (world-wide); and also was the director of the Brazing Engineering Center (WCC's Detroit-based R&D center for development of brazing products and applications for same).
Handy & Harman, New York, N.Y. (l974–l980)
(Leading manufacturer, supplier, and refiner of precious metal alloys)
— Brazing Products Engineer. Dan was the head brazing engineer on corporate engineering staff involved in customer liaison, brazing-training, new product development, and the marketing and advertising for the brazing product line. Also responsible for trade show development, salesmen training, and problem solving for customers.
Education:
Master of Business Administration (M.B.A.)
Michigan State University, Management Education Center, Troy, MI
Bachelor of Metallurgical Engineering (B. Met. Eng)
Rensselaer Polytechnic Institute, Troy, N.Y.
Publications
Authored article "Brazing Heat-and-Corrosion Resistant Alloys for Robust Service" for September, 2014 issue of Industrial Heating magazine.
Authored article "Liquation of Brazing Filler Metals — Good or Bad?" for November 2009 issue of Industrial Heating magazine.
Authored article "Controlling Suppliers and Customers: Key to Successful In-House Brazing?" for November 2004 issue of Industrial Heating magazine.
Authored article "Honeycomb-Brazing Essentials for Successful Use As Turbine Seals" for November 2003 issue of Industrial Heating magazine.
Authored article "Fillets in Brazing: Good or Bad" for October 2003 issue of the AWS Welding Journal.
Authored article "Ten Reasons to Choose Brazing" for September 2000 issue of the AWS Welding Journal.
Authored article "Repair Brazing" for May/June 2000 issue of Practical Welding Today magazine.
Authored article "Braze-Fixturing: A Key to Higher Productivity or a Thief?"" for January, 1994 issue of Industrial Heating magazine.
Authored article on "Diffusion Brazing" for ASM Handbook, Vol. 6, Welding, Brazing, and Soldering (©1993, ASM Int'l)
Contributed to, and reviewed, brazing information for inclusion in the AWS Welding Handbook, Vol. 4, Metals and their Weldability (Seventh Ed., ©1982, AWS)
Revised and rewrote Chapter 34 (Honeycomb Brazing) for the Fifth Edition (©2007, AWS) of the AWS Brazing Handbook. Also contributed to, and reviewed, brazing information for inclusion in the AWS Brazing Handbook (Fourth Ed., ©1991, AWS).
Have written additional, earlier articles on brazing design and techniques which have appeared in the Welding Journal (American Welding Society), in Heat Treating magazine, in Industrial Heating magazine, and in Practical Welding Today magazine.
Wrote and published the Nicrobraz NewsTM, a highly successful, technical brazing newsletter for Wall Colmonoy Corporation (which was issued 2-3 times per year). It achieved worldwide distribution to over 4000 recipients.
Professional Memberships
Dan is a "Life Member" in both the American Welding Society (AWS) and in ASM International .